About 17 years ago our family experienced our first Disneyland Character Dining Experience. My oldest now 20 and my second child had just turned 3 and 1. We stayed at the Disneyland Hotel and headed on down to Goofy's Kitchen.
Ever since that day we have had so many experiences and so many fond memories of the character dining at the Disneyland Resort. Unlike Walt Disney World with what seems like an endless amount of character dining options, there are only five super fun character dining experiences at Disneyland.
Unfortunately, they book up fast… and can get pricey, so we break down which is the best option for your family.
---
Things to know about Disneyland Character Dining
When it comes to the Disneyland character meals, there are a lot of things to know and consider. We went ahead and broke it all down in our guide below for you!
---
Disneyland Character Dining – What to Expect:
When you book a character dining experience, it is a dining experience unlike any other. The characters come around to your table, make sure to have the kids towards the outside to interact with the characters.
When the characters visit, have those autograph books handy. Also, make sure to have those cameras ready to snap some cute pics with your kiddo and their favorite characters
---
How to Book:
You can book 60 days in advance, online, on the Disneyland app or on the phone at 714-781-DINE.
You can book your dining up to 60 days in advance so mark your calendars because reservations go quickly. Check out our tips on how to score your Disneyland Dining reservations here…especially those last minute ones
---
Where are the Disneyland Character Dining Breakfast Locations
So, let's go over all the options. There are 5 character dining experiences currently at the Disneyland Resort. One inside Disneyland Theme Park, one at the Disneyland Hotel, one at Paradise Pier and 2 at Disney's Grand Californian Hotel & Spa.
---
Princess Breakfast Adventures at Napa Rose!
Let's start off with the newest addition to character dining at the Disneyland Resort. We visited Princess Breakfast Adventures at Napa Rose inside the Grand Californian and were completely WOWED!
This is unlike any other character dining we have ever experienced both at Disneyland and Disney World.
---
To Start:
When you enter the Napa Rose the extravagance begins. The adults were greeted with complimentary champagne while live music was played.
We were escorted to our pre-table where music was playing and our girls enjoyed a game of princess tic tac toe. Then, the kids took their first picture with a princess before sitting down.
---
The Dining Experience
The Disney Princess Breakfast Adventure is offered by Napa Rose, and they serve up a feast fit for royalty! Your meal will begin with a serving of appetizers. Ours included a delicious mini sandwich from Rapunzel's Tower, a Creme Brule Banana with Nutella and some amazing yogurt parfaits.
Along with the tray of appetizers is a basket of bread and scones served with a vanilla bean cream sauce. My word of advice, don't pass up the citrus and vanilla bun because it is delightful.
The second course comes with plenty of different options that you and your kiddos will love. This course is a buffet style with your classics like eggs and Mickey waffles. But the Princess Breakfast takes it a step further with Chicken and Mickey waffles, short ribs, fresh fruit, applewood smoked bacon and much more.
Lastly, dessert comes (if you have room for it) ours was filled with the cutest cake pops you've ever seen (all princess themed.) My personal favorite treat was the mermaid macarons which decorated in the shape of a clamshell.
---
An Incredible Character Experience:
You will obviously be meeting the princesses during this experience, but this truly is not like your standard character breakfast. While we dined we had three princesses come around to the different tables.
What I loved was the restaurant was not large so each princess spent an ample amount of time with my kids. The look on my daughters faces as they met the princesses will be etched in my memory forever.
---
Bonus Surprises & More Princesses
After we finished breakfast our girls were given a bag with some special surprises inside. A drawstring bag with Princess Breakfast Adventures on it and the highlight was a princess necklace.
We then continued on to a separate area where the girls sat down with Pocahontas. There she told a story about her people asked the kids questions and took pictures. Once we said goodbye to Pocahontas it was time to see one more princess.
We met Rapunzel, she signed autographs, laughed with the girls and then took a picture from a Photopass photographer. The photo pass picture is included with your breakfast and can be downloaded from the Disneyland App
---
Overall:
The Disney Princess Breakfast Adventure is truly an experience, and you get much more out of it than your typical character dining. There is storytelling, gifts, an incredible meal and plenty of time for photos. This premier dining experience is $125 per person for children and adults and while it is the most expensive dining experience. It truly is such a memorable time that you and your child will never forget.
---
Minnie & Friends Disneyland Character Dining in the Park
The Minnie & Friends is mine and my oldest daughter's favorite place to have Disneyland character dining inside the park. This experience is located inside Disneyland Park at the Plaza Inn, so you will need to have Theme Park admission to be able to dine here. There are several reasons we love to dine at Minnie & Friends!
---
Early Entry into the Parks
If you book Minnie & Friends early you can enter the park before anyone else. Sure, you can't go on rides, but it is so much fun to walk down a practically empty Main St. Plus, you have time to take some great pictures along main st. as you head towards breakfast.
---
An Incredible Assortment of Characters
When they say Minnie & Friends, they mean a lot of friends. While most character dining experiences have 3-4 characters on our visits to Minnie & Friends we have been visited by at a minimum of 6 characters.
There is such a wide variety and every time we go, it is someone new (well. except Minnie). We have had the fairy godmother, fox from Brer Rabbit, Daisy Duck, Eeyore, Tigger and so many more.
---
Food
The food is not my favorite out of the 4 character dining spots, but it is delicious. There is an omelet bar, a ton of bakery items and of course the oh so delicious Mickey Waffles.
---
Overall
If you are looking for Disneyland Character Dining with a wide variety of characters or you love Minnie Mouse then this is the stop for you.
The price for Minnie & Friends is:
$39 adult/$21 child; add tax and 18% tip and you'll pay $46.00 adult/$27 child
If you book through ARES travel pay only ($38.00 for adults and $22 for kids including Tax & Gratuity) You can book here.
---
Mickey's Tales of Adventure Breakfast Buffet at Storyteller's Cafe in Grand Californian
Mickey's Tale of Adventure Breakfast is a new addition to the Disneyland Character Dining. While character dining is not new Storyteller's cafe, Mickey's Tales of Adventures is new. In the past, Storyteller's had Koda and Kenai from Brother Bear (which to be honest, scared some of my kids).
Then it switched to Chip and Dale, but now Mickey has arrived and I have a feeling it will be this way for a very long time.
---
The Food
What has not changed about Storyteller's Cafe is the incredible food. This is by far and away the best selection of food. They have delicious applewood smoked bacon, Chilaquiles, four cheese quiche, bagels and lox, omelet bar, some incredible chocolate bread pudding, loaded breakfast nachos. I am telling you, in terms of food, this is the spot.
Plus, of course, they have plenty of deliciousness for the kids too with pancakes, french toast, pastries, and Mickey Waffles.
---
Incredible Juices and Cocktails
It doesn't stop with the food at Mickey's Tale of Adventure, the juices and cocktails are incredible too.
You can enjoy Minnie's Aqua Fresca with Pineapple, Cucumber, Mint & Lime or Watermelon Lemon and Basil. Adults can order a mimosa flight, a bloody mary or a sparkling Californian.
---
The Characters
Mickey is a guarantee to be at his breakfast all decked out in his finest hiking gear. It seems to be that most of the time you will also find Minnie, Pluto and Chip & Dale also decked out in their best outdoor gear.
---
Overall
If you want the best food, this is definitely the Disneyland character breakfast to visit. Ages 10 and over: $49.00 plus tax | Ages 3-9: $21.00 plus tax
---
Donald Duck's Seaside Breakfast at PCH Grill
Over at the Paradise Pier hotel, Donal Duck has taken over the character breakfast seen with Donald Duck's seaside breakfast.
My daughter has recently been asking for me to take her to this breakfast for one reason, Stitch. Ella's favorite character has joined Donald and Daisy to serve up some delicious bites.
---
The Food
Try the build-your-own-parfait stations, chef's signature flatbreads, egg white frittatas, chilaquiles, smoothies, smoked salmon and more. Little ones will love the Mickey waffles, Minnie pancakes,
Plus, I absolutely love the Bananas Foster French toast
---
The Characters:
As mentioned above you will have a surfin' good time with Donald, Daisy, and Stitch. To be honest, I find Donald and Stitch to typically be some of the more fun characters to interact with while at the character breakfasts.
---
Overall
This is one of the two premium dining character experiences. Which means it is a bit more pricey. If I had the choice between the two I would visit one of the other character dining experiences. $53 for adults and $32 for children.
---
Important to Note
Right now, the Paradise Pier Hotel is currently going through a refurbishment. We highly recommend staying up-to-date with information about the hotel by visiting their website here.
---
Goofy's Kitchen at Disneyland Hotel
Ahhhhh Goofy's Kitchen. This one warms my heart as I still can picture my little one-year-old Owen (now 20) crawling around on the ground playing with Pluto.
---
The Food
One of the things you will find about Goofy's Kitchen is that your kids will love it. PB &J Pizza, tater tots, Mickey waffles and all that jazz.
There are some great dishes for adults as well, and I typically hit up the omelet bar.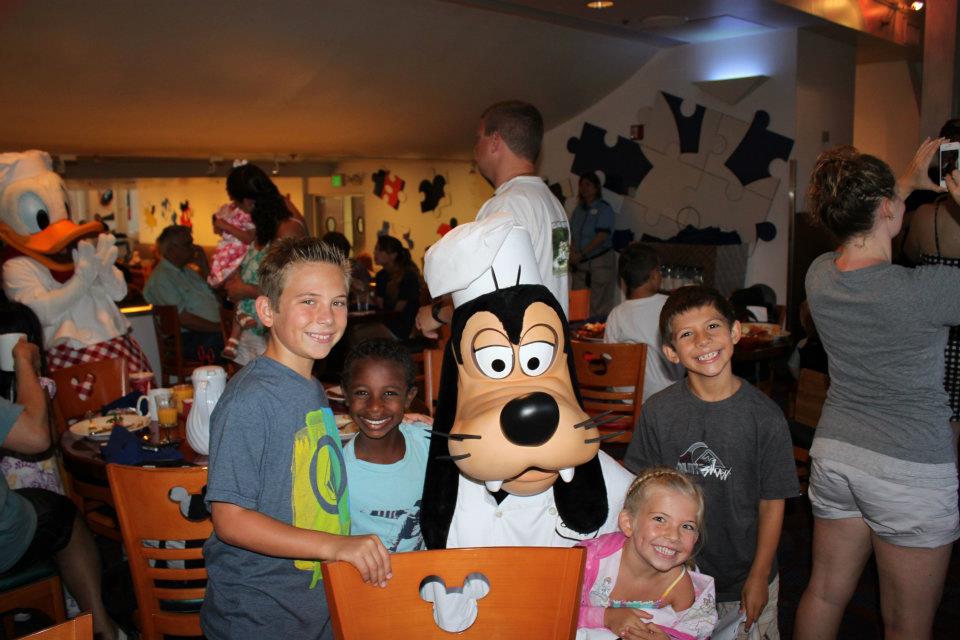 ---
Characters
Expect to see Chef Goofy, Pluto, Mickey & Minnie at the breakfast. The one thing I love about Goofy's Breakfast is once an hour they have a celebration and have the kids wave their napkins over their head as the characters dance around to the music.
---
Overall
This is the original Disney Character Dining Experience and definitely not one to be missed. Pricing is $53 for adults and $32 for children + Tax & Gratuity
---
If you need help planning and booking your magical Walt Disney World vacation, contact our friends at Best Day Ever Vacations. Not only are their services FREE, but they will save you both time and money. They are a great help when it comes to dining reservations.
Pin-it for later: The Complete Guide to Disneyland Character Dining!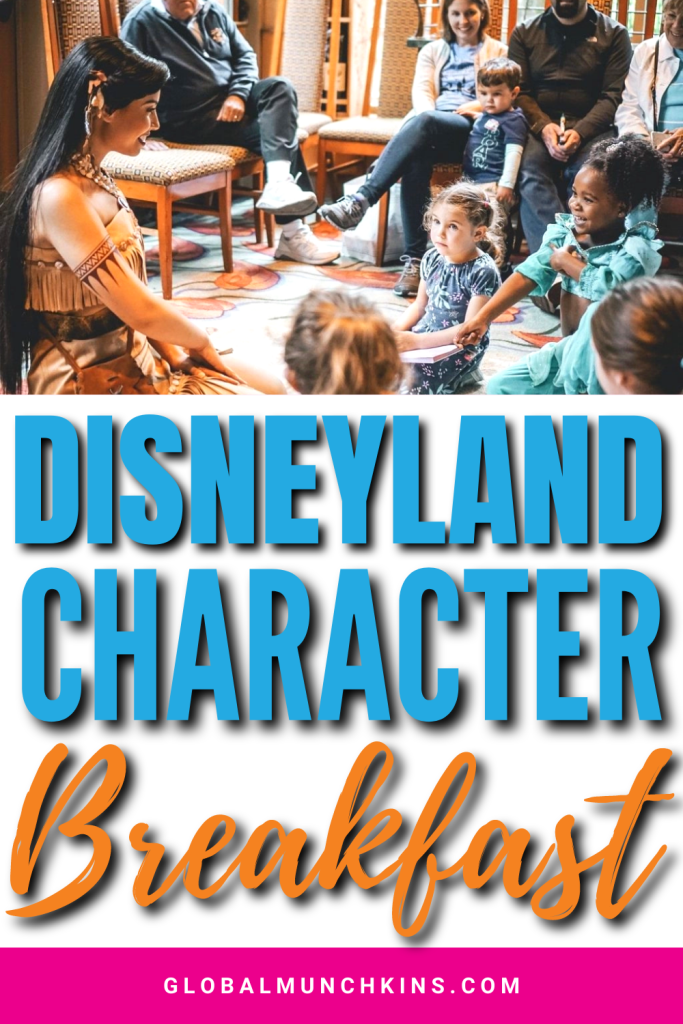 ---
If you enjoyed reading about Disneyland Character Dining, You Might Also Enjoy:
How to Buy Discount Disneyland Tickets; [9 Easy Ways to Save!]
12 Ways to Beat the Heat + Outsmart the Disneyland Crowd
Disneyland Dining Reservations; 5 things you should know!
[4 Reasons] Your Family Will Love an Aulani Character Breakfast
---
Frequently Asked Questions about Disneyland Character Dining
Are you able to see Winnie The Pooh during your Disneyland Character Dining experience?
Yes, guests can see Winnie the Pooh for Disneyland character dining at the "Winnie the Pooh and Friends" character breakfast held at the Plaza Inn in Disneyland Anaheim.
During this character dining experience, guests can dine with Winnie the Pooh, Tigger, and their friends while enjoying a delicious breakfast buffet.
Is Disneyland Character Dining Worth it?
Whether Disney character meals are worth it or not largely depends on personal preferences and priorities. For guests who are fans of Disney characters and enjoy meeting them in person, character meals can be a fun and memorable experience.
Additionally, character meals often offer a more relaxed and intimate setting for character interactions, as opposed to the busy and crowded character meet-and-greet locations in the park.
Latest posts by Mama Munchkin
(see all)