As a busy mom of 6, keeping my family healthy and safe is always a top priority. That's why I've made it a point to incorporate green living and non-toxic products into our daily routine.
My journey to green living and an overall better wellness lifestyle began when I found out through my doctor that I suffer with genetically high cholesterol.
When I was diagnosed, my doctor immediately wanted me to take statin medications. However, I am one of those people who try to avoid western medicine unless it is absolutely necessary.
That said, I hired a nutritionist and started doing my research on improving my wellness.
For me, this looked like incorporating more plant-based recipes into my household and changing my everyday household items to non toxic and overall green!
After many years of research and experimenting with different green living and non-toxic products, I have finally put together some of my favorites and listed them all below for you!
---
What is Green Living?
Green living, from my perspective as a mom who is taking her wellness and non-toxic lifestyle to a new level with her family, is a way of living that focuses on making conscious choices that prioritize the health and well-being of her family and the planet.
It involves making sustainable choices that reduce the family's environmental impact and minimize exposure to harmful toxins, chemicals, and pollutants.
Green living involves incorporating eco-friendly practices into daily life, such as reducing energy and water consumption, using natural and non-toxic cleaning products, choosing organic and locally sourced foods, reducing waste through recycling and composting, and using environmentally friendly transportation options.
It also feels pretty fantastic to reduce your carbon footprint as a family as well as have the confidence to know that you are doing everything you can to reduce toxins into your home.
---
The Environmental Working Group (EWG) Website & App
As a mom of six, I have a lot on my plate, and living a green and non-toxic lifestyle can sometimes feel overwhelming. Fortunately, the Environmental Working Group (EWG) has developed an app and website that can make this process much more manageable.
The EWG is a non-profit organization dedicated to promoting public health and protecting the environment. They have created a database of over 80,000 products, including food, cleaning supplies, personal care products, and more, and have rated them based on their safety and environmental impact.
Using the EWG app and website, you can easily search for products and see their ratings. For example, if you're looking for a new cleaning product, you can search for "all-purpose cleaner" and see a list of products along with their ratings. You can also scan the barcode of a product to see its rating and get more information.
You can check our their website here OR have easy access with your phone by downloading their app here.
---
The Best Green Living and Non Toxic Products
---
Green Living Cleaning Products
Non-toxic cleaning products, are normally made with natural and sustainable ingredients that are safe for both people and the planet.
They are typically free of harmful chemicals like ammonia, chlorine, and phosphates, and instead use plant-based ingredients like vinegar, baking soda, and essential oils. Here are some of my personal favorites that I include in our house!
---
Cleaning with a microfiber towel eliminates the need for harmful chemicals and reduces water usage. Microfiber towels are also reusable and durable, making them a sustainable and eco-friendly option for cleaning. These MagicFiber towels are my personal favorite! Check them out here.
---
I love this window cleaning kit by E-Cloth. Not only are you reducing your paper usage by not using paper towels, you also ONLY need to add water to use them. Check them out here.
---
Grove Co. glass cleaner is a non-toxic and environmentally friendly option for cleaning glass surfaces in our homes. This cleaner is made from natural, plant-based ingredients that are safe for our families and the planet. Check it out here.
I also highly recommend checking out Grove Co. all-purpose cleaner and purchasing their glass bottle container for reusable use with your cleaning products.
---
9 Elements Bathroom Cleaner is a green and non-toxic cleaning product that is designed to effectively clean and sanitize bathroom surfaces without harming the environment or the health of the user. I love the lemon scent and think it makes the bathroom smell so clean and citrusy! Check it out here.
---
Now for a product from one of my favorite stores, Target! Ever Spring All Purpose Cleaner from Target is a non-toxic cleaning product that is made from plant-based ingredients and free from harsh chemicals, making it safe for use around the home and the environment.
The packaging is also made from recycled materials, making it an eco-friendly choice for those looking to reduce their impact on the planet. I LOVE the Rosemary and Mint one! Check it out here.
---
Green Living Kitchen Products
Being mindful on what you bring into your home when it comes to green and non-toxic living is important for your overall wellness journey. This includes being mindful of the products you use in your kitchen, where food is prepared and consumed on a daily basis. Below are some of my personal favorites.
---
Using reusable dish towels is good for the environment because it reduces the amount of paper waste that ends up in landfills. Additionally, reusable dish towels are non-toxic and free from harmful chemicals often found in disposable paper products, making them a safer and more sustainable choice.
I love these reusable dish towels and think they are so cute! Check them out here!
---
Another one of my absolute favorite products are these Stasher reusable food storage bags. Reduce the waste of sandwich bags with these little beauties. Check them out here.
---
Cleaning my sink with Bon Ami allows me to get my sink sparkly clean without worrying about those harsh chemicals that are in normal powder cleaners. Check it out here.
---
Another pick from the 9 Elements brand is their dish soap! Check it out here.
---
Paper towels are really easy to go through and are not fantastic for the environment. I loved incorporating these reusable paper towels into our home and think they are a cute and great option to lower your carbon footprint as a family. Check them out here.
---
These dishwasher pods are free of fragrances, dyes, phosphates, and chlorine bleach! Check them out here.
---
Choosing to use reusable produce bags are sustainable and with definitely reduce your carbon footprint. By using these bags instead of single-use plastic bags, we can decrease the amount of plastic waste that ends up in landfills and oceans. Check them out here.
---
Seventh Generation Free and Clear hand soap is a healthy and environmentally friendly choice, as it is free from harsh chemicals and made with plant-based ingredients that are gentle on skin and the planet. Check it out here.
---
Green Living Laundry Products
Choosing green and non-toxic laundry products is important as a mom because it reduces the exposure of harmful chemicals to your family, protects the environment and can help improve indoor air quality. I listed below some of my favorite for your next load of laundry!
---
Wool dryer balls are a great eco-friendly and non-toxic alternative to traditional dryer sheets and fabric softeners.You also will save a lot of money by not spending it on dryer sheets. Check them out here.
---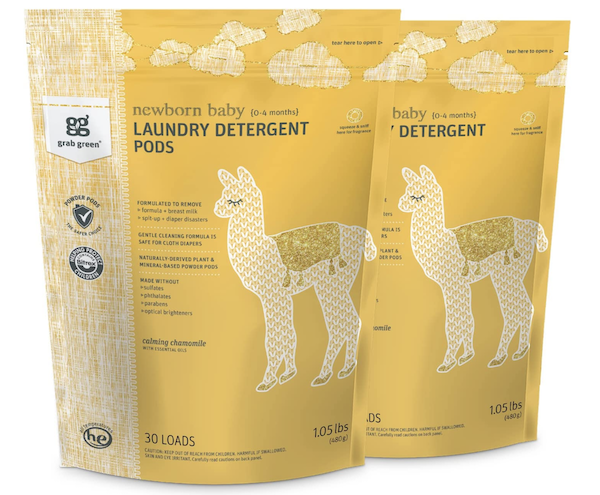 Green laundry detergent pods are a great choice for newborns as they are non-toxic and environmentally friendly, providing a safe and gentle way to clean baby clothes without harsh chemicals. Check it out here.
---
Another great option for your laundry is the Seventh Generation laundry detergent packs. Like most of the Seventh Generation products it is free of synthetic fragrances, dyes and artificial brighteners. Check it out here.
---
Miss Mouth's Stain Treater
This biodegradable, non-toxic stain remover is a great addition to your green living and non-toxic product list! Don't worry about those stains with your kids clothes, check it out here.
---
Green Living Make Up and Skincare Products
As a mom and person who loves make up and good skincare products, it's important to me to use products that are non-toxic and green to keep myself healthy and protect the environment. Below are some of my favorites, starting with my ALL time favorite, Primally Pure!
---
If you follow me on Instagram then you probably know my obsession and love for the brand Primally Pure. I love the brand so much that I often frequent the Primally Pure spa in Murrieta.
The company uses natural, organic ingredients that are safe for both me and the planet, and their commitment to sustainability extends beyond their products to their packaging and business practices.
By using Primally Pure's skincare products, I can feel confident that I am making a responsible choice for my own health and that of the environment.
If you want to try Primally Pure for yourself, you can receive 10% off by using my code MUNCHKINS and visiting them here!
---
This reusable, machine washable make-up eraser cloth is a perfect addition to your make-up bag. It actually erases all make up by just adding water to the cloth! Check it out here.
---
This eco-friendly reusable bamboo cotton rounds are great to have for make-up removal. Check them out here.
---
Do you want that calming spa scent in your shower without the toxins of chemicals? I love using this EuroSpa spray to add that fresh eucalyptus smell to my bathroom. Check it out here.
---
By far, SuperGoop is my favorite sunscreen. It is a little expensive, but it has gone a long way with our family. It is considered one of Sephora's clean beauty products and the perfect addition to your purse or beach bag. Check it out here.
---
Shop All Clean Beauty Finds Here

---
Shop Our Green Living and Non-Toxic Post

---
Frequently Asked Questions about Green Living and Non Toxic Products
What are some examples of Green Living?
Green living refers to a lifestyle that prioritizes reducing one's carbon footprint and living in a more sustainable manner.
Some examples of green living include using reusable water bottles, reducing energy consumption by turning off lights and electronics when not in use, and using public transportation, walking, or biking instead of driving a car.
What is the difference between Green Living and Sustainable Living?
Green living and sustainable living are related concepts, but there are some differences between them. Green living typically focuses on reducing one's impact on the environment by adopting environmentally-friendly practices and behaviors, such as using renewable energy, reducing waste, and using non-toxic products.
Sustainable living, on the other hand, is a broader concept that encompasses not only environmental sustainability, but also social and economic sustainability. It involves meeting the needs of the present without compromising the ability of future generations to meet their own needs. This may include using resources responsibly, supporting local and fair trade, and promoting social equity and justice.
---
Pin-It for later: 24 Best Green Living & Non Toxic Products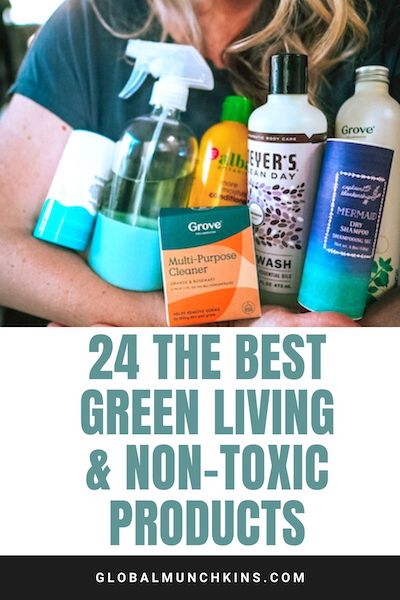 ---
If you enjoyed reading about our green living and non-toxic products, you may also like:
2022'S TOP 10 BEST NON TOXIC COOKWARE; POTS & PANS EDITION
WHY CLEAN SIMPLE EATS MEAL PLAN IS OUR FAVORITE WAY TO STAY HEALTHY!
THE BEST HEALTHY SMOOTHIE CUPS + DAILY HARVEST PROMO CODE
Latest posts by Ashland Hendrix
(see all)