It's a good day when one of your favorite cruise lines announces a NEW SHIP! I don't think I could be any more excited about the NEW Norwegian Bliss. Check out my favorite features on board and which itineraries have me ready to book today.
Norwegian Cruise Line Announces NEW Ship- Norwegian Bliss
If you have followed us for awhile you would know that the munchkins' favorite way to travel is on a cruise boat. In fact, we have taken them on over 10 cruises in the past 7 years. Clearly, we have an affinity for these massive ships. And, Norwegian Cruise Line just happens to be our ship of choice for parents of active kids. You can check out some of our past experiences on NCL here, here, here, and here. As soon as I heard about a new ship on the horizon we started talking travel plans. We are thinking the Norwegian Bliss may be the perfect ship for our 2018 Multi-Gen Family Trip. I mean just check out what this new NCL ship has going on.
My Favorite Features On Board the Norwegian Bliss
Incredible Aqua Park + Ocean Loops
Two multi-story slides. Ocean Loops is a thrilling slide with not one but two loops that extends off the side of the ship. Then there is the AquaRacer a tandem slide allowing you to race your family members. I can see a family competition coming on with this on. There is also a fun kids play area called the Kids' Aqua Park that I know Liv will love.
The Largest Race Track At Sea (+ First in the U.S.)
I mean how cool would it be to drive a race car on the top of a massive cruise ship out at sea. I mean this is so cool!! My boys would absolutely flip for this. And, I love that it is something we have never seen before. Kudos to NCL for keeping it exciting!!
On Board LaserTag
My kids love playing Laser Tag but they have never played it like this before. I can just see them trying to find the itinerary with the most days at sea just so they could soak up time for all the fun things the Norwegian Bliss has going on, on board.
[bctt tweet="Check out our favorite features onboard @cruisenorwegian's newest ship #NorwegianBliss" username="globalmunchkins"]
Madera Spa
Oh, how I love a spa day. I have already spoiled myself on previous NCL ships at the Madera Spa. They offer a Thermal Suite Pass that is just like sweet, sweet heaven. It's one of the reasons cruising with NCL is such a relaxing vacation for me. Which may sound funny but most vacations with 5 kids in tow don't = much time to relax. Mothers take note!
Amazing Dining Options
How about splitting a rack of ribs at sea? Sounds pretty delicious, right? That is exactly what you can do on board the Norwegian Bliss' Texas BBQ restaurant called Q. Or saddle up at Jimmy Buffet's Margaritaville at Sea for a new spin on the cheeseburger in paradise. Feel like some delicious guacamole, they've got Los Lobos on board serving up fresh tacos, guac, & margaritas. They even have a chocolate cafe on board called Coco's which serves chocolate prailines, crepes, coffees & more! There are honestly tons of dining options. It is one thing I LOVE about cruising with Norwegian Cruise Line. They have some of the BEST food at sea we have ever experienced. Yes, most of my favorite restaurants are part of their specialty restaurants but, NCL runs fantastic deals like this one that offers you the choice of FREE specialty dining. Which is definitely what you want to choose.
Worried about staying fit with all that delicious eating? Check out my tips on how to eat what you want + stay fit while cruising here.
Fun Bars & Lounges
Another area Norwegian Cruise Line beats their competition in is their bar and lounge offerings. I have yet to find a better bar than the Sugarcane Mojito Bar (don't believe me? Check out a screenshot from my Instagram feed below. I tried EVERY flavor) AND they've included that bar + others that I cannot wait to check out like The District Brewhouse (they serve another of my favs- craft beer).
Follow my Instagram here for more fun travel ideas with and without kids in tow.
Starbucks
It's on board, need I say more. #StarbucksLover
Family Suites
The Mini Suites on board the Norwegian Bliss are perfect for families. They offer sleeping arrangements for up to 4 per room + they have adjoining cabins for larger families like mine.
Observation Lounge
Can you imagine the view from the 180-degree indoor observation lounge on board? It must be incredible! Grab a quick bite (complimentary) here while enjoying scenes from more than 3,500 square feet of floor-to-ceiling windows.
Jersey Boys
We are always game for a good show at night, it's another thing we love about cruising. There is just so much to do on board. It makes it relaxing for the parents bc once you foot the bill pretty much everything is included. It's fantastic! And, the NEW Norwegian Bliss has quite the line up when it comes to entertainment. I would LOVE to see the Jersey Boys, wouldn't you?
DREAMING: The Haven (#someday)
Okay, this one isn't really a reality for me as it's not in my budget. But, for those of you that can afford some of the finer things in life, you will be in store for quite a treat when it comes to the Norwegian Bliss'. Tucked away at the top of the ship is an exclusive area known at The Haven. This is where you will find the most luxurious, well-appointed, and spacious accommodations on board. They feature private key card access, private 24-hour butler service, a private restaurant, their own observation lounge called the Horizon Lounge, a private sundeck & more. It sounds heavenly! What I would give for just one night… ahhhhh!!!!
2018 Itineraries (starting Summer 2018)
The Norwegian Bliss will begin sailing next Summer (2018) to both Alaska (on our bucket list) and one of our personal favorites the Caribbean. You can't go wrong with either itinerary. I mean on one hand you get things like glaciers, snow-capped mountains, bald eagles and dog-sledding, and on the other hand, you get to soak up the warm, clear Caribbean waters. The only trouble will be choosing which itinerary to pick first.
The ship will also head to the Mexican Riviera porting out of Los Angeles (as a native SoCal girl I am stoked about this one). And, they have a Panama cruise. I mean seriously, Norwegian Cruise Line nailed it with this ship. I cannot wait!!! I want to sail on each of these itineraries. Maybe I will win the lotto (fingers crossed).
What are you most excited about on board the NEW Norwegian Bliss?
****Check out my article on why we loved the Norwegian Getaway! Click Here!
12 Incredible Things You Did NOT KNOW About the Norwegian Bliss + Photos
A look at the 15 Incredible Norwegian Bliss Restaurants + Amazing Treats!
Pin for later-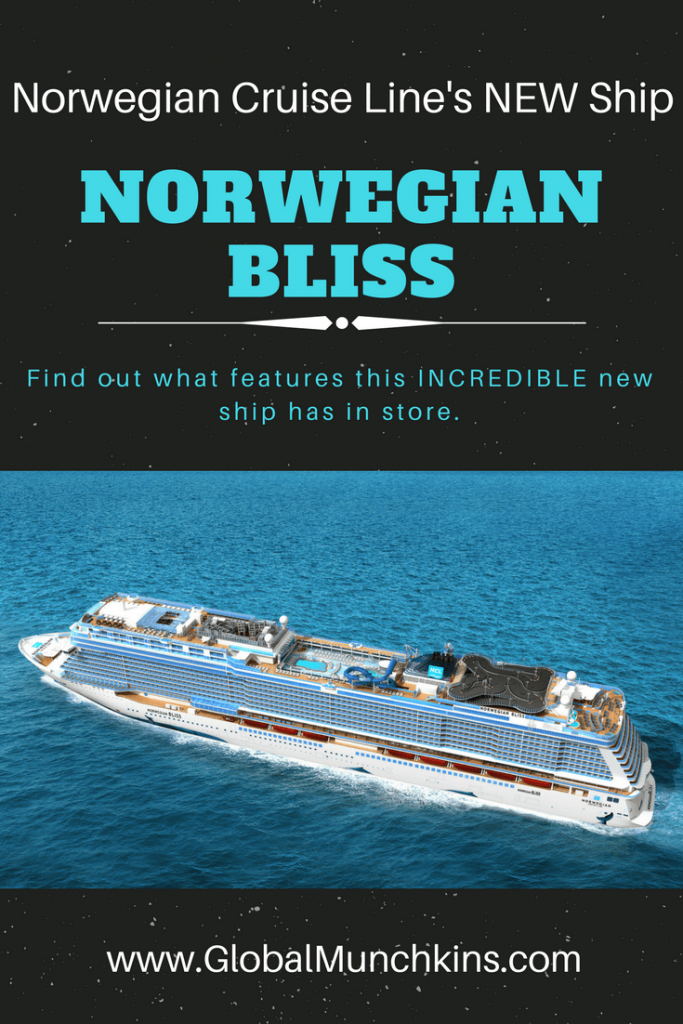 *Images of the Norwegian Bliss are courtesy of Norwegian Cruise Line.