Are you taking your family on a vacation anytime soon to Orlando, Florida? Are you wanting to know what there is to do before you go there so you can make sure there's plenty of adventure waiting for your children?
Read on to learn more about what you can do to make your vacation a memorable event for all and all the activities to do in Orlando with kids!
---
Why You Should Go
If your child loves playing with legos, they would absolutely love a theme park that is dedicated to the well-loved brand! Even if they do not, there is still a lot to do. There is a theme park, with over 50 rides, shows and attractions. If you're coming down during the summer, I'm sure your kids would love to cool off at a waterpark, which they also have available! It has all of the fun stuff that a typical waterpark would, including a wave pool, a fun lazy river, and water slides.
The best part about the lazy river is you can actually "build" your own raft! The lazy river is over a thousand feet long, which gives you and your children plenty of time to be as creative as possible with your raft! There is also Peppa Pig World, which is fun for children who love Peppa Pig!
Are you looking for discounted ticket to Legoland? Check out our post here!
---
Why You Should Go
This is a fun one for those who also love creativity! This is located in the Florida Mall, which is in the Orlando area, as almost all of these are. They have extended hours during the summer, where they open at about 10 AM. You can buy your ticket up to an hour prior to the event; it isn't required to have them in advance, but you will save a bit of money if you purchase them through their website beforehand. You must be there half an hour before the attraction closes.
There is a lot of stuff for the kids to do, and they even have their own places to eat in there. Kids can play with their own "Scribble Scrubbie" which is listed on the website as a "washable pet perfect for hours of creative fun." They have a really cool event coming up called "Sensory Sundays" which goes from 9 in the morning to 11 in the morning on August 28. They basically have adapted their attractions for those with sensory needs. I wish this would be a regular thing, and maybe it will be eventually!
---
Why You Should Go
We are going to switch gears for a bit and talk about the West Orange Trail. We've been talking about things that require money to do, but this next one is free! And perfect for those kids who just have a little too much energy—remember those days? Anyway, this is a trail that runs from Winter Garden to Apopka, roughly estimated to be about 20.8 miles long.
It's a fun place to ride bikes or just run if you need to! If you don't have a bike, you can always rent one at Killarney Station in Oakland, or at the Winter Garden Station. There is also a playground structure available which the kids will be sure to love playing on. This place is open from sunrise to sunset!
---
Why You Should Go
There's a lot you can do at the Kennedy Space Center, such as chatting with an astronaut! Let me just say, I would have loved to do this as a kid (also nowadays!) Also, it is important to note that this books up quickly. It occurs twice a day with a real life astronaut, normally once at 10 in the morning and the next 2 in the afternoon. However, these are subject to change.
Breakfast is served in the morning and there is a chef's choice of samplings available during the afternoon. For an adult, this forty-five minute long Q&A session with an astronaut would cost $50, and for the kids it would cost $35. Everyone also gets a signed portrait of the astronaut. This is in addition to a normal general admission ticket. A ticket for one-day admission costs about $61, before tax.
---
Why You Should Go
Museums were almost always a must on my list whenever I went on vacation with my family. There was always something about learning that intrigued me. Of course, this is a sad event that happened and will always be a huge part of history. One of their permanent exhibits (they have three of those) is about Anne Frank.
It's called "Behind the Bookcase" and it's a virtual reality experience that takes you to the Secret Annex where Anne Frank and her family hid away. Another one of their permanent exhibits is one where you look at pictures of the past and hear testimonials from those who experienced it firsthand and are now living in Central Florida. Admission is free, but they do ask for reservations and will accept donations to keep the education going.
---
Why You Should Go
The Clearwater Beach Pirate Cruise Adventure is fun for the whole family! The prices are different depending on what time of day. The daytime cruise is $40 per adult and per child is $33 if your child is between the age of 3 to 12. A ticket for a child 2 or younger costs $11.
Reservations are recommended, especially with the summer holiday, but not required. Chips and snacks can be purchased on the ship, but no full meals. It's also recommended to arrive an hour before the cruise is supposed to leave. You can also have pirate themed birthday parties on the ship as well!
---
Why You Should Go
This is also a place that is dedicated to another piece of our history that needs to be remembered. The Pulse Interim Memorial is a memorial dedicated to the forty-nine people who had lost their lives during the Pulse shooting back in 2016.
This is described as a "sanctuary of quiet reflection and love dedicated to honoring the senseless loss of innocent life." The memorial is open daily from 7:30 in the morning to midnight. The mission of this place is to educate others as well as encourage thoughtful discussion.
---
Why You Should Go
On the subject of free things to do in Orlando, this next one is amazing for all! It is called "Movieola" and it takes place at Lake Eola Park, which is located near Downtown Orlando. Every second Thursday of each month, you can watch a movie on a big screen.
It starts around 7:00 at night and each time they show a different movie, always something that is family friendly of course! It's important to note though, you should bring something to sit on, whether that be chairs, or blankets!
---
Why You Should Go
And with the last museum on our list is none other than the Rollins Museum of Art! It features exhibits that are always changing, which is good for diversity! There are also events that are always happening, which makes it enjoyable as it is always something different. It is open all year round and includes European Old Master paintings, and it's the only one of its kind in the area.
It was the first college museum to ever be accredited by the American Alliance of Museums and currently in 2022 is one of four to be accredited. It is closed on Mondays, open on Tuesdays at 10 to 7; Wednesdays through Fridays it is open from 10 to 4 and on the weekends it is open from noon to five. Admission is free to the general public because of their members that help support financially!
---
Why You Should Go
This next one is a bit different than the others mentioned in the sense that it is more of a chilled, laid-back kind of thing than a hyped up activity. It's probably not as exciting as going out to a theme park, such as Disney World, but it's definitely an area worth looking into!
It's a 50,000 square-foot space that holds select sculptures from The Lewis Collection. It has eight of those sculptures, to be exact. It would be a fun spot to walk around in, and if you need to stop for a minute to just relax, they have tables for you to sit at while the young ones go exploring the sculptures!
---
Why You Should Go
This takes place at the Orlando Repertory Theater, or the REP. It is mostly meant for toddlers that are between the ages of 2 and 3. It only happens during certain times of the year, as of right now it's going on between September 25 and April 9th. According to their website, classes are being held on Saturday mornings at 9.
It takes half an hour and it is a fun class for kids to experience creativity through the Loch Haven Park. You do not have to reserve a spot, but you can if you would like to. Each ticket costs $10 and is good for one child and two adults! The story that gets "told" at the Story Stroll each week changes.
---
Are you looking for ALL the discounted tickets in Orlando? Check it out here!
Map of Activities to do in Orlando with Kids
Frequently Asked Questions about Activities to do in Orlando with kids
What can you do in Orlando with kids?
Boggy Creek Airboat Adventures
Legoland
Central Florida Zoo & Botanical Gardens
Lake Eola
Epic Paddle Adventures
Fun Spot America
Story Stroll with Orlando Repertory Theater
Gatorland
Lake Nona Sculpture Garden
Get Up and Go Kayaking
Giraffe Ranch
Orlando Tree Trek Adventure Park
When is the best time to visit Orlando?
Between March or April and September to October for decent weather and less crowds.
If you enjoyed our list of activities to do in Orlando with kids, you might also like:
21 AMAZINGLY FUN THINGS TO DO IN ORLANDO! [#17 INVOLVES A COFFIN!]
UNIVERSAL CITYWALK ORLANDO: 11 OF THE BEST THINGS TO DO AND MORE
THE BEST TIPS FOR BUYING CHEAP PARK TICKETS ORLANDO
15 EXCITING THINGS TO DO IN ORLANDO FOR ADULTS
Pin for later: 11 Awesome Activities to do in Orlando with Kids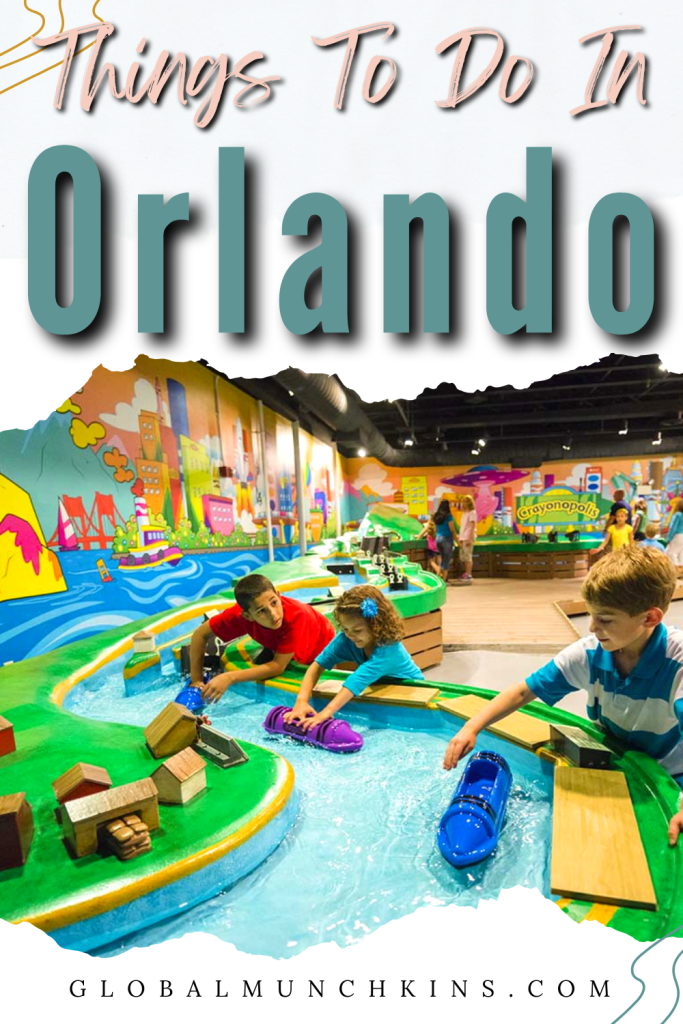 Latest posts by Ashland Hendrix
(see all)