The new generation of parents is changing the way things have been done for so long, especially when it comes to how we vacation. The world is smaller than ever since travel is becoming more and more accessible. One thing that will never change, though, is how magical a Disneyland vacation can be. Our family has become pro at getting the most out of our Disney vacations because with 5 kids it can get costly, and an Airbnb near Disneyland is one big way to save some dough. So let's get started with some Disney inspired Airbnb Anaheim locations. Well, not all the Airbnb's are Disney inspired, some are just super cool. 
17 Incredible Disney Inspired Airbnb's Close to Disneyland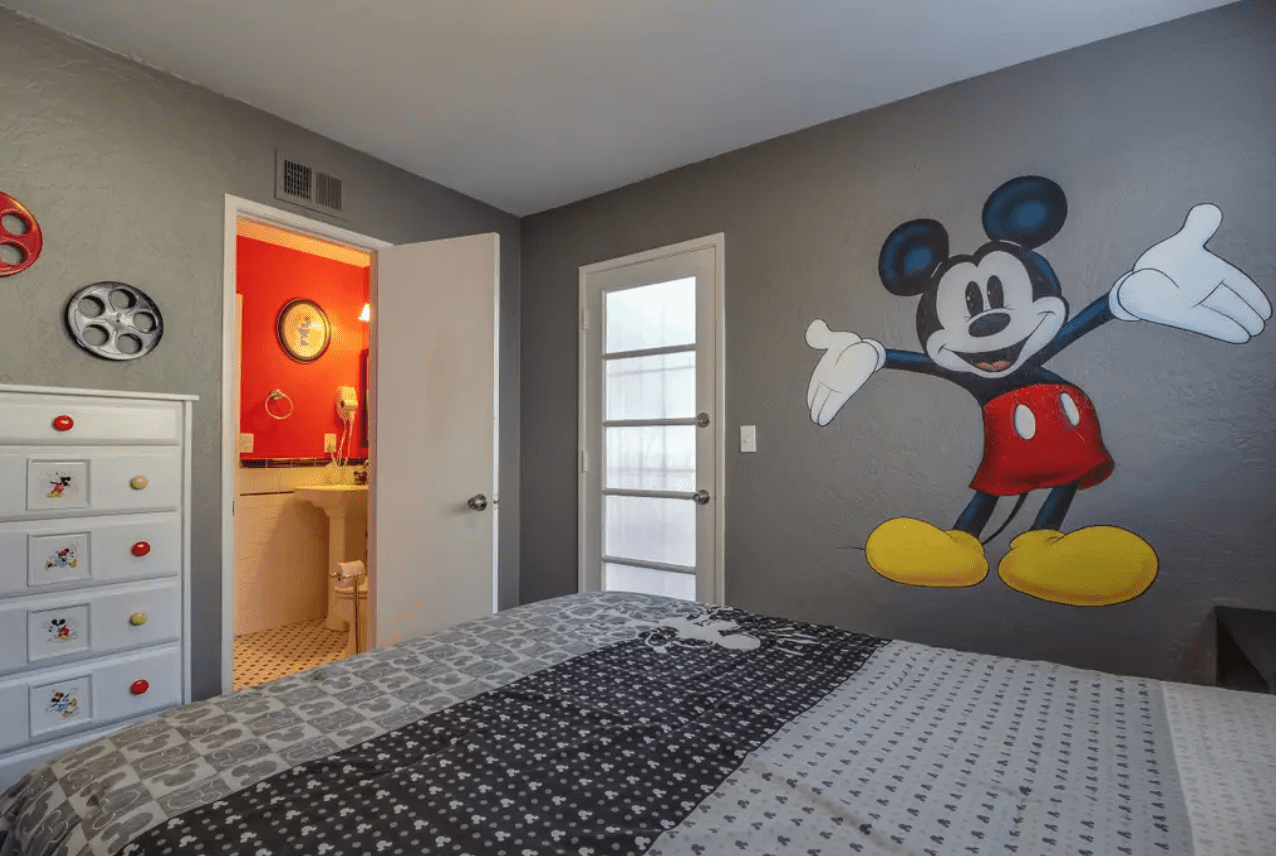 One way to do a Disneyland vacation a little more budget friendly is to book an awesome Airbnb, rather than spending all that you've saved on a pricey hotel. Not only is it budget friendly, but there are some truly cool Airbnb's around Anaheim. It can be a much more relaxing experience because you get to escape the crowds at the park for a bit, eat some meals from home, and have plenty of space for whoever you'd like to bring along.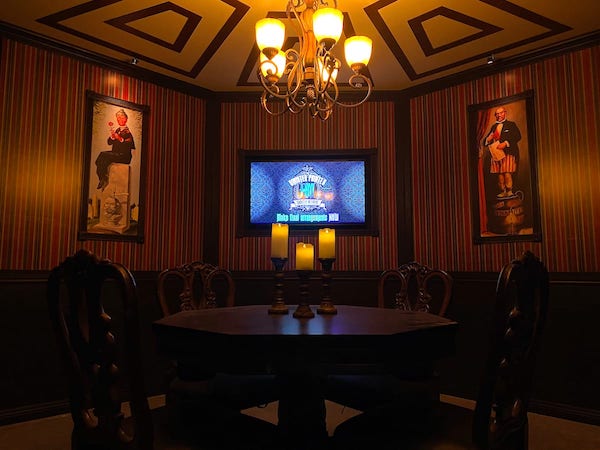 The newest addition to our Anaheim Airbnb list is a spooky delight. For those Haunted Mansion fans this is the ultimate place to enjoy your trip to Disneyland.
Enjoy this ghostly, delightfully inspired and frightfully immersive retreat (at least for a few nights) and escape from the living world. You and your loved ones will find a multitude of Haunted Mansion replications that make you feel like you are truly staying in Disney's Haunted Mansion for the night, fantastic illusions, sights and sounds.
You may hear strange and terrifying sounds echoing in the halls while you sleep during your stay. But do not worry, this is simply a sign of the presence of ghosts who practice their terror with gloomy pleasure! This interactive haunted house contains light-hearted elements of illusion, vision and sound which happen during your whole stay. These elements, which are fun and part of the experience can be remotely deactivated by the homeowner on request.
Check Haunted Mansion Availability Here!
Belle's Castle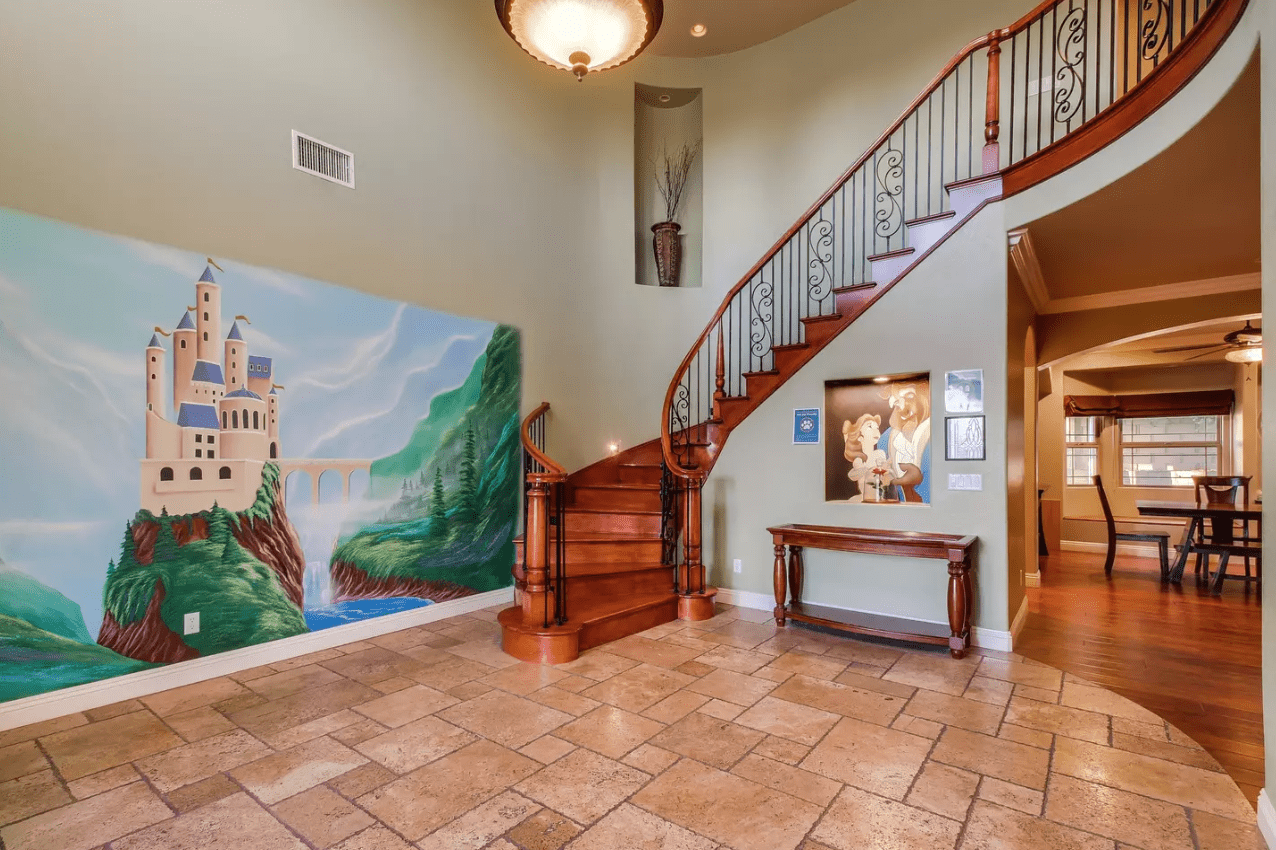 Walking into this Disneyland Airbnb will lead you straight to a dreamy staircase perfect for princesses, not to mention the fun mural of the castle right on the wall. The home is very private and safely gated with a dreamy backyard. You will be just a 5-minute drive from Disneyland with your 16 guests. Yeah, that's right this home can hold 16 people in 12 beds! It's no wonder the hosts of this home are qualified Superhosts because they have created a seriously magical environment. Check out the magic here.
---
Cars Inspired Airbnb near Disney with Giant Pool – Walking Distance to Disneyland

You don't have to stay in a Disney resort to be able to walk straight into the parks. This Airbnb Anaheim home is about a 20-minute walk to the park, which is actually way quicker and more convenient than trying to park. The home is actually Cars themed, so make sure to check this one out if you've got a big fan. It has a nice pool to take a break from the heat in and 5 bedrooms which can hold 13 guests. Read all about it here.
---
Lazy River Airbnb Near Disneyland
Enjoy a Disney Vacation and then come back to an amazing pool with its very own lazy river. This home also has themed rooms, with a Cars room and Disney Princess room. It's an amazing Anaheim Airbnb. This home has been beautifully updated on the inside and has rock features and palm trees on the outside. All this is conveniently located in a sweet spot close to all the Anaheim attractions; Disneyland, the Honda Center, Angels Stadium, and Knott's Berry Farm. Get all the deets here.
---
Red, White, and Black Mickey's House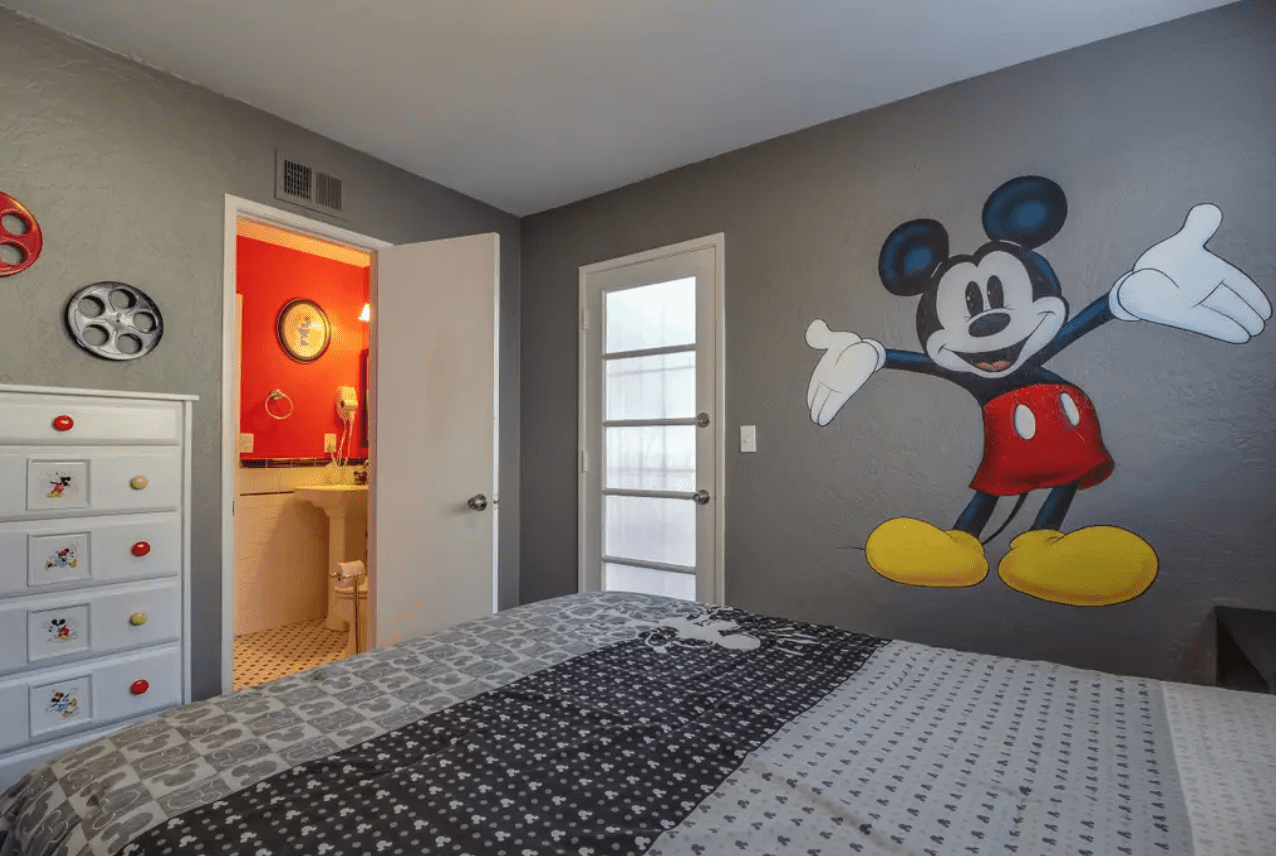 If you've had a toddler in the last 7 or so years, you are probably pretty familiar with Mickey Mouse Clubhouse and the infamous song. This Airbnb Anaheim house is a modern super cool version of that. There is room for your whole family to sprawl out in the 6 bedrooms and very spacious living spaces. On top of that, there's a great backyard to spend some of your time in. Here's Mickey's house, give it a look.
---
The Trendy Modern
One of the coolest things about staying in an Airbnb is that you can find something that perfectly fits your style. Goodbye outdated hotels! This house has a great vibe and will give you a break from all things Disney. The kitchen and the giant pool are definitely highlights. I wish this house was mine, and I think you might just wish the same after checking it out. Go, go, go!
---
Mini Resort
If you are looking for the luxurious resort feel without the whole resort, you will want to take a look at this amazing Anaheim Airbnb listing. This sprawling house will make you and up to 16 guests feel like you've book a private resort. With every corner you turn, you will see family-oriented touches. The backyard kitchen will make you want to eat every meal at the house right by the gorgeous pool. Did I mention there is a Pepsi soda machine and a pool slide? Words can't describe this perfect extended family getaway, so you will have to take a look for yourself here.
---
Pirate's Lair
Aye aye, mateys! While there's plenty of different Disney things going on in this Airbnb Anaheim Disneyland style house, the Pirates of the Caribbean room is definitely the coolest. This Airbnb is only 1.5 miles away from Disneyland in a very quiet safe family friendly area. Our kiddos would absolutely love the pool table and ping pong in the garage, and I bet your family would too. Here's Pirate's Lair.
---
The Gated Estate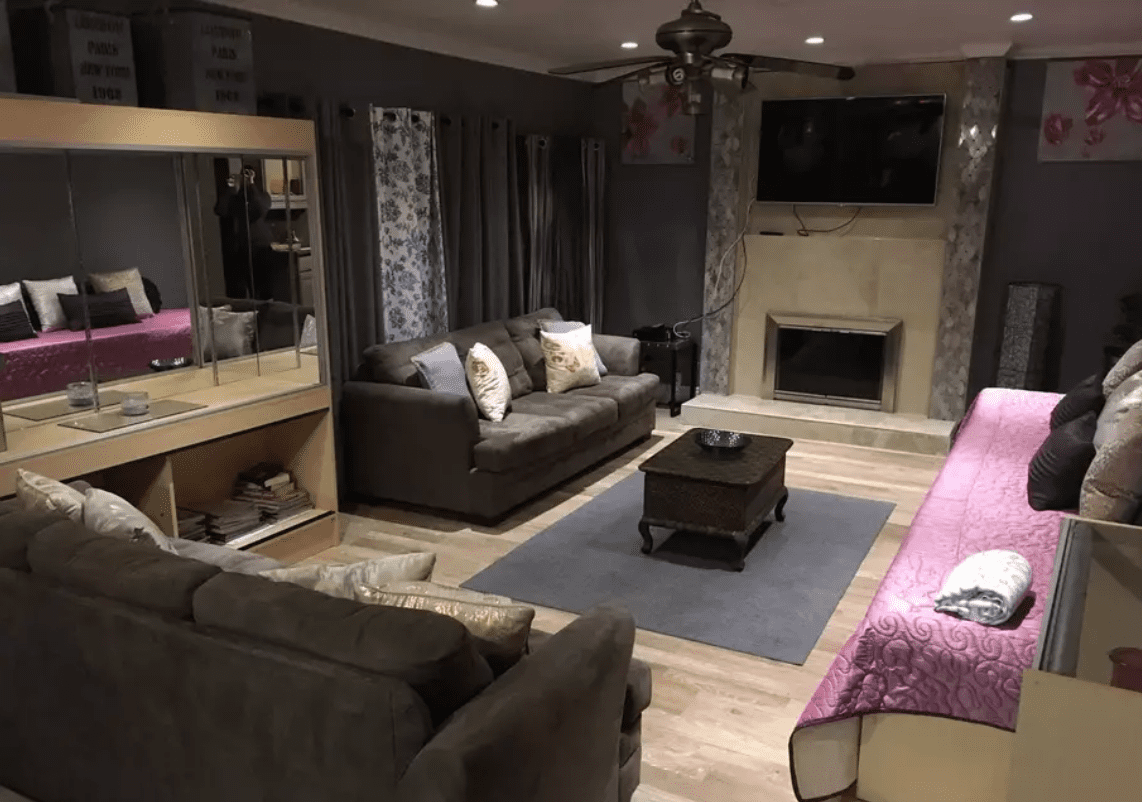 You've got to see it to believe how perfect the pool is at this AirBnb in Anaheim. I think if we stayed here, we probably wouldn't even make it to see any other Anaheim attractions. The whole estate is gated and even has a tennis court. It's definitely the place to be for moms and dads who want to relax while their kids are kept busy at the house. Read more about it!
---
Casa de Mickey
This beautiful Spanish home with its own splash park is exactly what a SoCal vacation should include. Although the house is just about a mile away from Disney, it's also located right off the freeway so it's a good place to stay if you plan on traveling around a bit. Like most of the homes, we included on this list the pool and outdoor dining area are spectacular. Find out more here.
---
Disney Oasis
This Airbnb Anaheim house basically has a Mickey shaped pool, so that alone should be enough to convince you it's a great spot for a big family vacation. There's room for 11 guests in 8 beds. You can walk to the Disney parks in just under 15 minutes. They do charge a $30 fee per day to heat the pool, so make sure to calculate that into your costs. Click here to take a look at the rest of the house!
---
The 5 Star Resort Home
This home is probably nicer than most hotels I have stayed in. It's perfectly decorated from the kitchen to the bedrooms and even the bathrooms. You'll also never be bored with the great backyard plus a gameroom. Take a look at this dreamy home.
---
Princess Dreamin'
We rented this Airbnb for my Daughter's Birthday trip to Disneyland. The beautiful pool is perfect for a night swim after a long day at the park. There's also a really fun princess themed bedroom with a Cinderella carriage bed frame, so put this house at the top of your list if you're bringing along your own sweet princess. Here it is!
---
The Smart House
This Airbnb Anaheim home just gives off vibes of the future, especially with its smartlock self check in feature which is really easy to use and means you can show up whenever you'd like. It's clean, modern, and fits up to 13 guests. With 5 bathrooms there's definitely room for everyone to get ready. Click here to find out more about this amazing Anaheim AirBnb.
---
The Backyard Dreams Are Made Of
This backyard is straight out of a 5 star resort's pool area. The giant pool has a mini splash park and hot tub at one end. There's also a luxurious and spacious outdoor seating area. It's beautifully decorated inside as well with cool modern touches and plenty of comfort. You've got to see it, click here.
---
Walt's Place
Last but not least, we give you Walt's place. It also has an awesome pool with a splash area shared by 2 other properties meaning your kiddos can make some friends. There's touches of Disney throughout and it's hosted by awesome superhosts who will make sure your stay is as smooth as possible. Take a look!
If you need help planning and booking your magical Disneyland vacation, contact our friends at Tink's Magical Vacations. They are truly Disney Experts, and not only are their services FREE, but they will save you both time and money.
You might also enjoy
How to Buy Discount Disneyland Tickets – 9 Easy Ways to Save!
Disney Fastpass Secrets; How to use Disney MaxPass like a Pro
Airbnb San Diego – 11 Amazing Houses that are Perfect for every budget!
12 Ways to Beat the Heat + Outsmart the Disneyland Crowd
Pin for later – Airbnb Anaheim – 17 Incredible Disney Inspired Homes Close to Disneyland
Latest posts by Mama Munchkin
(see all)