If someone would have told me 15 years ago, when I began traveling with my kids, that I would be touting Disney Travel as the most incredible partner for traveling families I would have never believed it. Now don't get me wrong being raised in Southern CA with a father who was a Disney Imagineer definitely meant Disney was embedded in my DNA. It's just that travel to me meant far-off destinations, new languages, strange new sights, and sounds- and, it definitely didn't include the mouse. However, over the course of many years and several extra special experiences that is exactly where I find myself. I can say without a doubt that Disney Travel has become one of the key ingredients to our family's best family vacation experiences. Let's take a look at how Disney has sprinkled our vacations with pixie dust over the years!!
Disney Travel- Magic or Hype? [the Disney Difference]
Looking back I realized that Disney has been a part of our family's travel lifestyle right from the beginning. It started with a trip my husband and I took before we were ever married. In fact, it was our very first vacation together. While visiting the parks and having a blast we inquired about Disney Vacation Club. Young and a little bit foolish we wishfully watched the adorable families walking by as we sat there on the boardwalk in front of Disney's Beach Club and we dreamt of someday returning with our very own children and grandchildren. Those happy families sparked our first purchase of DVC Points.
As we've welcomed each of our children home over the years Disney vacations have been weaved into their stories. Whether it was a weekend getaway at our nearby park in Anaheim, a summer trip to Disney World, setting sail on the high seas with Disney Cruise Line or hopping over to the gorgeous island of Oahu to visit Aulani we have been able to use our DVC points to help us get out and have fun together as a family. I also credit these trips as one of the main reasons our family shares such incredibly close bonds. Travel is like a pause button for us, we get to leave the chaotic schedules and demands of daily life behind. We get to focus instead on being present with each other and it's during these times we create some of our most precious family memories.
So, what is it exactly about Disney Travel that makes a family vacation extra special? Let's discuss.
Nostalgia
I think something could be said about the nostalgia wrapped up in the Disney brand. The fact that many of us grew up celebrating special moments in the parks, visiting on family vacations, or maybe just dreaming about it. I know that is the case for me for sure. There is just something so special about sharing some of my favorite childhood memories (check out me in the Mickey shirt below) with my own children.
Then there is the nostalgia my own family has created over the past 15 years. It's returning home to Beach Club year after year and being greeted by the captain in the lobby and Rauf out by the pool. Making the kids take the same cheesy photos year after year so I can see how much they've grown. And, its the sense of comfort of a familiar place. Especially, one that holds some of our favorite family memories.
Cast Members
One of the most notable key differences that I see when we travel with Disney is the kindness and consideration of the Cast Members. These individuals are truly remarkable, they have the guests best interests in mind and they go out of their way to offer exceptional service. Plus, Disney's retention is crazy good with its employees. I know this because as we return year after year we are greeted by many of the same cast members. Several of which have truly become like family to us. Check out the story of our honorary Ohana- Alyssa below.
Values
I love supporting a brand that aligns with our family's values and there is no better example than Disney. Disney teaches our kids to be dreamers, to reach for the stars because anything is possible.
Disney teaches our children to question status quo, to follow their passions, and to be open to new ideas.
And, Disney teaches our children to be compassionate too. In fact, Disney sets a great example for our children when it comes to being inclusive. I am always impressed at how Disney goes the extra mile to take care of guests with special needs, people with food allergies and how amazing the cast members are at making everyone feel valued and loved.
Inspires World Travel
I've written before how traveling with Disney has inspired our family to become world travelers. After frequent visits to Disney World, we became obsessed with exploring the countries in Epcot and chatting with the cast members at both Epcot and Animal Kingdom about their native countries. We learned about new cultures, enjoyed tasting diverse ethnic cuisine and we did it in an environment that was perfect for little ones.
The next stage was taking the kids out of the country while sailing with Disney cruises. We visited several different Caribbean islands and Puerto Rico. A few years later we finally got brave enough to take the kids to Europe where we visited several countries including France, so of course, we had to visit Disneyland Paris. Next, we are hoping to experience one of the Adventure by Disney experiences. They go all over the world now including their newest destination JAPAN!!!
Consistency
Disney does an incredible job when it comes to exceeding guests expectations and I believe that part of this comes from their incredible consistency. I know when I book a Disney Vacation exactly what I can expect. We will be greeted by incredible customer service, our room will be clean, the property well manicured, and I know that special surprises will be around every corner for my kids.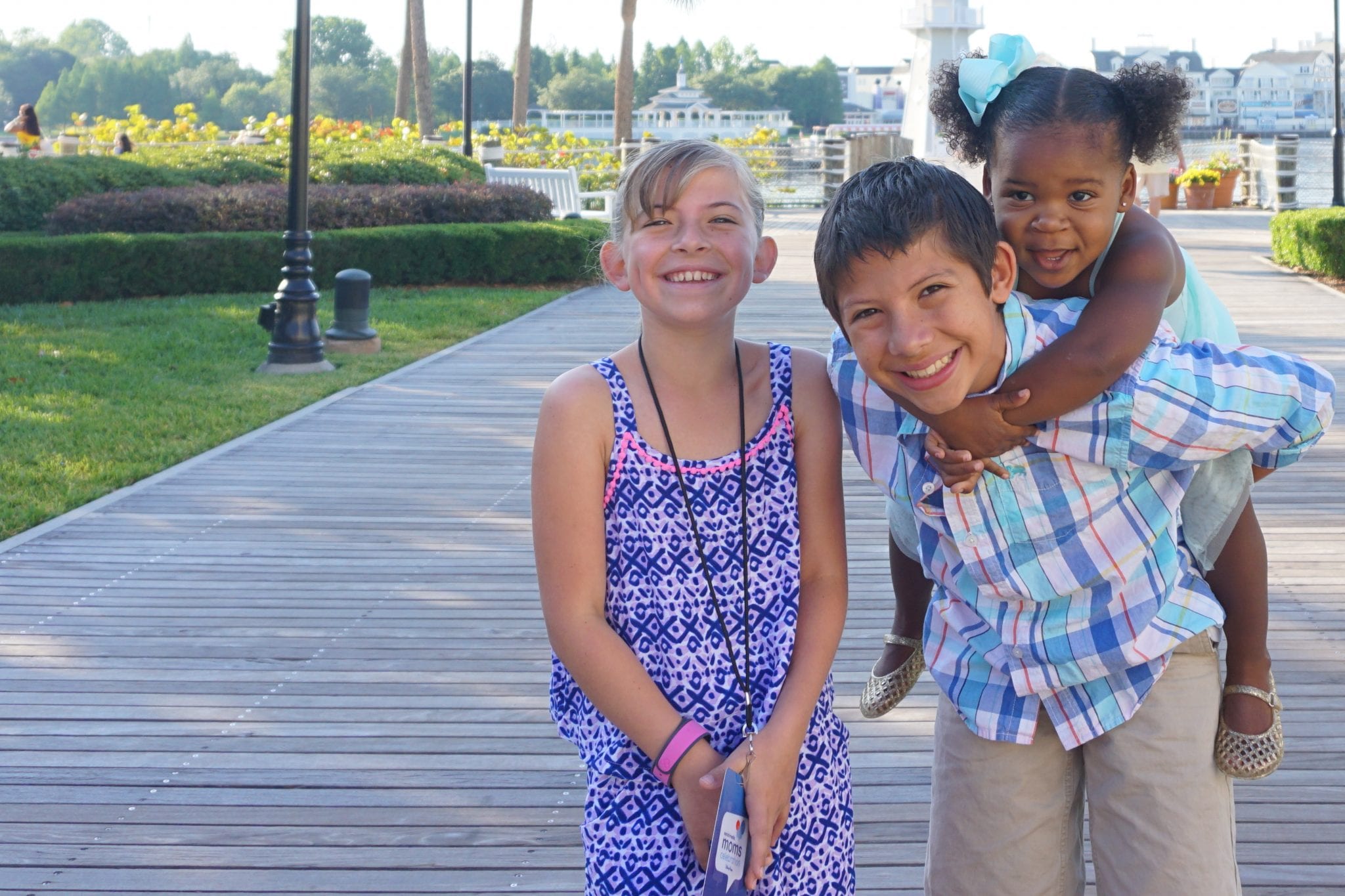 I have especially come to love Disney's Luxury Resorts. In the past 5 years, we have stayed at some of the most amazing luxury resorts all over the world. But, so many of them are unwelcoming to our large family. With Disney not only do we get to experience luxurious accommodations but we get to enjoy them in a place where our children are not only welcomed but celebrated.
Special Celebrations
Another reason Disney evokes so many amazing memories is the fact that so many of our family's celebrations have been spent with Disney. Disney is such a special place that it sets the perfect stage to make any celebration even more special. We love the complimentary celebration buttons that you can claim at guest services, not only are they a great souvenir but they also help cast members notice guests who are celebrating something and they do an amazing job recognizing those individuals. I can't tell you the joy I have received watching my little ones light up as Cast Members wished them a Happy Birthday by name as they pranced through the park on their birthdays.
In fact, Disney celebrations became part of our family traditions. About five years ago we traded in material gifts for experiences. Our children could choose a place to go and celebrate their birthday in lieu of an actual gift. I cannot tell you how much our kids have loved this switch, even after initially being very concerned about it. They quickly realized that the anticipation of the trip + the incredible memories they made lasted much longer than the joy they received from a material gift. Now where did my kids choose to go? The most requested place, of course, was a unanimous Disneyland!!
A Family Affair
Many of our Disney vacations have been with extended family. Now multi-generational trips can be super tricky but we've found that with Disney things are simplified. The magic of Disney truly has no age limit and because the resorts, parks, cruise were all designed with all ages in mind there is something for each member of the family to enjoy.
One of our favorite family reunion destinations is Disney's Aulani Resort. In fact, we've returned almost every Thanksgiving for the past 7 years!
Some of our Personal MAGICAL Disney Stories
A Cast Member Who Became Family
There are many cast members who have touched our lives and created magical Disney memories for us but there is one cast member in particular that I have to mention and her name is Alyssa. On our very first trip to Disney's Aulani Resort & Spa, our oldest son was playing on the beach by himself as his younger siblings were building sand castles. Alyssa, who was then part of the Recreation Team at Aulani, spotted him and quickly went over to make friends.
She introduced him to several of the outdoor activities and games that were available and our son began having a blast. Each day on the vacation he would ask to return to the beach to find Alyssa, and each day she would find new games for him to play.
We returned to Aulani many times since that trip and without hesitation, the first thing our munchkins do when we arrive is to look for their friend Alyssa. Over the 6 1/2 years that we have been visiting Aulani (I think a total of 7 trips bc one year we visited twice), Alyssa has become much more than a special Cast Member she has truly become part of our Ohana.
In fact, when my husband's father suffered from a massive heart attack two years ago and was transported to a hospital in Oahu (he lives in Maui) we felt helpless. We were trying to catch the first flights out from California but we hated knowing he was alone. We messaged Alyssa and she immediately joined my father in law at the hospital and refused to leave his side until my husband and his sister arrived. I mean seriously she could not have a bigger heart. It's amazing people like Alyssa who represent the Disney brand so well. They embody everything that Walt envisioned and they work crazy hard to ensure that every guest leaves with a magical experience. This happens at the parks, the resorts, and onboard the Disney Cruise.
Shea's First Real Smile
When Shea came home from Ethiopia life was hard. We had a scared toddler who didn't speak a word of English, we were dealing with health issues, sleepless nights, food sensitivities and an overall difficult transition. But, there was one thing he loved and that was MICKEY!!
So, we decided we would take the family to Disneyland to give everyone a break. I remember worrying about what Shea would think of the characters, clearly, he loved Mickey but a giant character walking around- I was scared it would freak him out. I also worried about our lack of communication. It was difficult to explain things to Shea in those early days, plus I was worried about over stimulating him with all the excitement.
My worries were eased when we met with guest services who helped us navigate the parks with a child that had some of the difficulties Shea had back in those days. They helped to set us up with a special needs pass that helped us avoid some of Shea's triggers and we were able to have a blissful day in the parks.
In fact, it was at Disneyland that I first saw Shea's real smile. It sounds funny but it's true! When Shea first came home from Ethiopia he was so stressed he would only give us a forced smile. But, at Disneyland he was so joyous his gorgeous REAL SMILE came out!!
Of course, it was only fitting that Shea's first big vacation was to Walt Disney World where we saw much more of that beautiful smile! And, to this day the kid's FAVORITE vacation is onboard a Disney Cruise.
Remembering Grandma Diana
Disney has also helped us build a legacy out of a tragic loss in our family. My husband's mother Diana was a child at heart. She loved the Disney parks and she loved traveling with her grandkids to Disney World. Unfortunately, we lost Diana to ALS soon after we were married and before we were finished building our family. Thankfully, those special memories we created at the parks allow us to share memories and stories with our children about their grandmother allowing us to share with our children the lessons about living life to it's fullest that Diana embodied so well.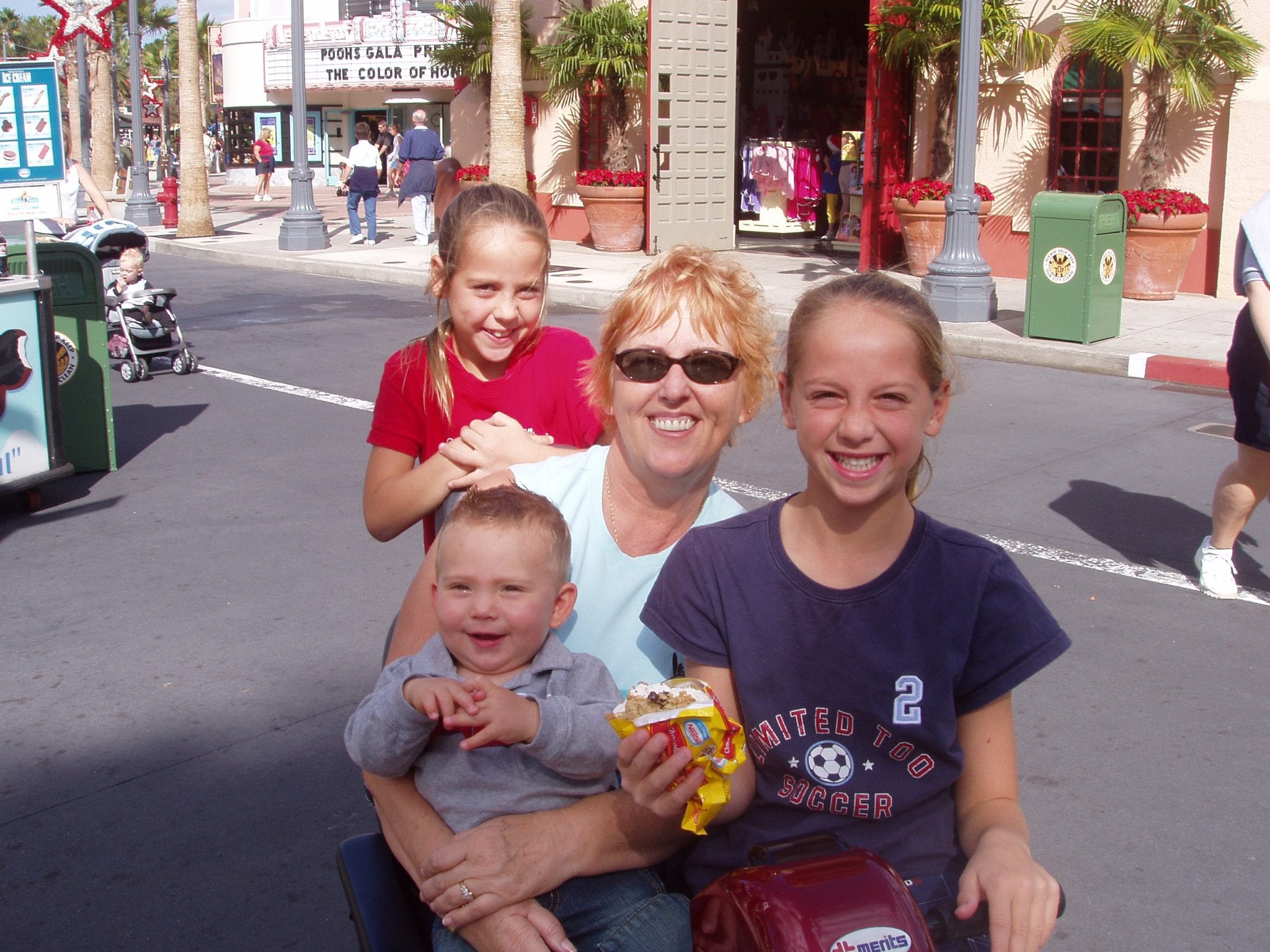 Traveling to Disney World with Diana also allowed us to see how wonderfully accommodating the Disney parks and individual cast members are when it comes to taking care of guests traveling in a wheelchair. They made it simple for Diana to get around whether it was a bus driver helping to load and unload her chair or the beautifully designed handicap accessible rooms that were available.
Bringing Miss Liv Home
Miss Olivia was born in the state of Florida and we were fortunate enough to be able to adopt her at birth. The way that adoptions work though is that you cannot leave the birth state until your state of residence approves some of your paperwork. California chose to take their time with our case and so we were essentially stuck in Florida.
After several days in a suburb outside of Miami, there was still no sign of us being able to return home so we did what any Disney loving family would do and we loaded up the kids and the new baby and we headed up to Orlando.
We used our DVC membership to stay at Disney's Beach Club Villas because to us that resort is like a second home. I remember walking through the doors with sweet little Liv and just feeling a rush of calm come over my body. I knew I was going to be well taken care of now.
It was a super crazy time in our lives as we waited on pins and needles for the state of CA to sign off on our papers and allow us to return home. But, Disney made the stress so much more manageable. My husband took our two older kids to the parks and the pool, the housekeeping staff to extra special care to ensure our room was always incredibly clean for the baby and the manager was kind enough to work with us as we were never sure when exactly we were going to be allowed back home.
After spending a week in Florida, my husband and the two older kids returned home but because California had not signed our paperwork yet Liv and I had to remain in Orlando. That's when the staff really kicked in and would call to check on me daily. They were just the sweetest!!
Have you experienced the magic of traveling with Disney?
Pin this Disney Travel Post for later-


Latest posts by Mama Munchkin
(see all)