Dreaming of the perfect family vacation for some well-deserved R&R? Look no further than the pristine beaches and stunning vacation rentals of Fort Morgan, Alabama!
Numerous beachfront properties in Fort Morgan provide immediate access to the breathtaking Gulf of Mexico and the renowned Bon Secour Bay beaches. Just steps away from the Gulf Shores, these rentals also place you close to the myriad of attractions that are elevating Fort Morgan, AL as a sought-after travel destination.
Discover the 5 best Fort Morgan Beach rentals and book the perfect vacation home for your next family trip below!
Our Favorite Fort Morgan Beach Rentals
This 4-bedroom, 2-bathroom Fort Morgan property provides quick access to the beach, as well as its very own private boardwalk on which you and your guests may stroll at sundown and take in the beautiful sunset and Gulf view.
Grab your family, friends, their friends, and maybe even a few co-workers, because this house rental sleeps twelve comfortably, making it the ultimate escape for big families, extended families, or large groups looking for a good time on the sandy West Gulf Coast shores.
What else does this illustrious property include?
We're talking a walk-in shower in the master bathroom, a spacious open living room floor plan, high ceilings, and a washer and dryer on site for when you need to get the sand and saltwater out of all your clothes before hitting the town for dinner and drinks!
If you're looking for comprehensive digs for you, the whole family, and then some, you'll have plenty of space in a rental like this one!
Amenities
Free Wifi
AC & Heating
Fully-Equipped Kitchen
Full-Sized Washer and Dryer
---
Looking for pet-friendly rentals?
This 1-bed, 1.5-bath condo is just what you're looking for. You and your furry best friend can curl up in the king-sized bed after spending a day on the beach for some dog-friendly fun in the sun. You'll find you get way more room than you could ever envision needing if you're riding solo, but the place can comfortably sleep up to six guests between the master bed and a set of twin bunk beds.
From your beachfront condo, you have quick access to the Gulf, but that doesn't mean you have to go there if sand isn't your thing. The complex offers a private pool for those who prefer lounging from a pool deck in the sun instead, with the Gulf view and sound of the waves serving as a great backdrop for the perfect pool day.

They also have an indoor pool, if you like swimming but not so much the hot Alabama sun.
Amenities
Free Wifi
AC & Heating
Fully-Equipped Kitchen
Washer and Dryer
Private Balcony
Access to Complex Amenities (a sauna, indoor and outdoor pools, and an exercise room)
---
What is a vacation but an excuse to unwind while living the high life?
That's why you want a vacation rental that offers sophisticated design, modern luxuries, and amenities galore. And that's exactly what you'll get from this 2-bed, 1-bath condo, perfectly placed on the shores of West Beach.
The room accommodations are well-suited for the minimalists, providing a place to sleep, a modern kitchen with stainless steel appliances, and, of course, a balcony from which you can take it all in while unwinding with a glass of wine or ice-cold beverage of your choice.
But it's what's outside that counts here.
The complex includes access to a number of pools, including a hot tub jacuzzi for guest use, two private piers for fishing, a private launch for the sailors in your party, a guest-exclusive pavilion for social functions, and tennis courts if you're looking for a little friendly competition.
You'll feel right at home in this rental. In fact, it may even inspire you to purchase a condo of your own in this very complex so you can make Fort Morgan your go-to annual destination for years to come!
Amenities
Free Wifi
AC
Fully-Equipped Kitchen
Access to Complex Amenities (pool and hot tub, tennis courts, shuffleboard, and events)
Gulf Shores Surf and Racquet Club's Private Beachfront and Piers
---
Some folks were made for that beach life, ready to step off their front porch and onto the warm white sands of the Gulf Coast beaches. Others love the quick access to the water but prefer more of a country vibe.
That's what makes this 2-bed, 2-bath waterfront cottage such a great pick for your next family vacation. You're still within walking distance of Bon Secour Bay, getting fairly immediate access to the water whenever the mood strikes, but you also get the benefit of having a whole cottage at your disposal.
The first floor is a real jaw-dropper, featuring an open kitchen, dining room, and living room floor plan so that the whole family can hang out together whether you're fixing breakfast at the stove, munching on a bowl of cereal at the table, or sprawled out on the couch for a quiet morning before your big day.

Bedrooms are located off the main floor, so the only reason to head upstairs is to enjoy a little more privacy from the second-floor sitting area or the balcony outside. And outside is where the real magic is. You get a breezy hammock for lazy afternoons and a fire pit for evening use.
As they say, it's all about location, location, location; and this rental is located in close proximity to a plethora of attractions, including the Foley Sports Complex, Foley Railroad Museum & Model Train Exhibit, and Tanger Outlets, to name a few.
You're also near destinations like Gravity Island Wake Park, Hope Floats Kayak Adventures, Wolf Creek Kayak Launch Park, Gulf Shores Public Beach, and Orange Beach Waterfront Park.
Amenities
Free Wifi
AC
Fireplace
Fully-Equipped Kitchen
Washer and Dryer
Screened in Patio
Propane Grill
---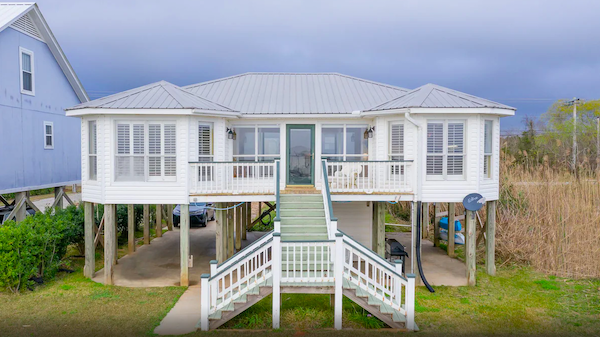 What's better than a waterfront home rental? How about a waterfront home rental with its very own private dock?
Whether you yearn to stand at the edge of the dock and take in the beautiful sunrise and/or sunset over Mobile Bay, or you fancy yourself a fisherman, boater, or other nautical-loving individual, you'll really love the accommodations at this 3-bed, 2-bath house rental.
While the outside is a sea lover's dream come true, the inside offers impressive digs as well, including an open floor plan, stainless steel kitchen appliances, beautifully polished countertops, and bedrooms that sleep up to seven guests.
Not only do you have everything you could need at this rental, but you're near the charming Fairhope downtown district where you can shop, eat, and spend a day taking in the sights and sounds. You're also not far from the bustling city of Mobile, making a real city experience a very realistic possibility and a great way to break up the beach vibes for a night or two.
Amenities
Free Wifi
AC
Fully-Equipped Kitchen
Washer and Dryer
Kayaks
Outdoor Hammock
---
Whether you're dreaming of sun-soaked days by the Gulf or adventurous outings to local attractions, these Fort Morgan Beach rentals offer a diverse range of options to cater to every vacation wish. Dive into the comfort, luxury, and unbeatable beachfront views these rentals provide, and make your next getaway truly unforgettable!
---
Frequently Asked Questions about Fort Morgan Beach Rentals
What are the best beaches in Fort Morgan, AL?
One of the biggest draws to the area is the amazing beaches. Locals often consider them among the some of the best along the Gulf Coast.
If you're planning to rent a beach rental in Fort Morgan, you should plan to visit one of the following beaches, if not all of them!
Fort Morgan Beach: Most consider this the "main beach" of the area. It's perfect for sunbathing, swimming, and beachcombing.
Gulf Shores Public Beach: While not technically in Fort Morgan, Gulf Shores Public Beach is nearby and makes for a great semi-local day trip. The beach itself is fantastic, but there are also a bunch of restaurants, shops, and amenities making it worthwhile.
Bon Secour National Wildlife Refuge Beach: Just east of Fort Morgan, the Bon Secour National Wildlife Refuge features a natural, less developed beach that's perfect for beach goers who love to be among nature, as well as birdwatching enthusiasts.
Whether you're into watersports, stretches of sandy shoreline for long beach walks, or just sunbathing and relaxing, you'll find plenty of great places to do just that in Fort Morgan.
What else is there to do in Fort Morgan, AL?
Take a Ferry to Dauphin Island: Trade your run-of-the-mill beach day for an island adventure and hop a ferry to nearby Dauphin Island. Check out the Dauphin Island Sea Lab, the historic Fort Gaines, or the Audubon Bird Sanctuary while you're there, and you're bound to have a great time!
Explore Bon Secour National Wildlife Refuge: The Bon Secour National Wildlife Refuge is a natural haven for wildlife and nature enthusiasts. It's perfect for the outdoorsy folks in your group, offering hiking, birdwatching, and a variety of coastal habitats like dunes, marshes, and forests.
Play Golf: There are several golf courses in the area if you're trying to play 18 while you're on vacation. One of the best is Kiva Dunes Golf Course, which is consistently ranked as one of the top courses in Alabama.
Visit Historic Mobile: Mobile is only a quick drive from Fort Morgan, offering a great escape from the coastal paradise to a historic district that's rich with culture. Explore the Historic District, visit the USS Alabama Battleship Memorial Park, discover the Mobile Museum of Art, or take a stroll along the Mobile Waterfront.
Where are the best places to eat in Fort Morgan?
If you're an accomplished angler or fantastic fisherman, Fort Morgan is known for a wide variety of tasty fish that can be caught in the Gulf of Mexico, Bon Secour Bay, Mobile Bay, and other bodies of water in the region.
Still, if you'd rather dine out than catch and prepare your own dinner, there are many great options in Fort Morgan. Here are a few of our favorites:
Tacky Jacks
Sassy Bass Amazin' Grill
The Village Hideaway
Kiva Grill
Frost Bites
No matter what you're in the mood for, you're sure to find it in Fort Morgan! If you liked our list of the best Fort Morgan Beach Rentals, you might also like:
TOP 10 PLACES FOR THE BEST COASTAL VACATION RENTALS IN THE UNITED STATES
19 EXCITING THINGS TO DO IN RALEIGH WITH KIDS!
22 THINGS TO DO IN LOUISVILLE WITH KIDS! [+ AWESOME FREE ACTIVITIES]
Pin for Later – Top 5 of the Best Fort Morgan Beach Rentals