Everyone knows breakfast is the most important meal of the day. Well, if you find yourself in La Jolla, California it will also be the most exciting meal of your day too.
La Jolla, a neighborhood in San Diego, has no shortage of unique and delicious dining options to please every member of your family. Make sure to take a break from seal sightseeing and check out one (or all!) of the 6 best breakfast spots in La Jolla.
---
Our Picks for the Best Breakfast Spots in La Jolla
La Jolla, California is known for its breathtaking coastline, world-class shopping, and excellent dining options.
If you're looking for a delicious breakfast brunch spot, you won't be disappointed in La Jolla. Here are a few recommendations to satisfy your cravings for breakfast items like brioche French toast, eggs Benedict, and lemon ricotta pancakes.
---
The Cottage La Jolla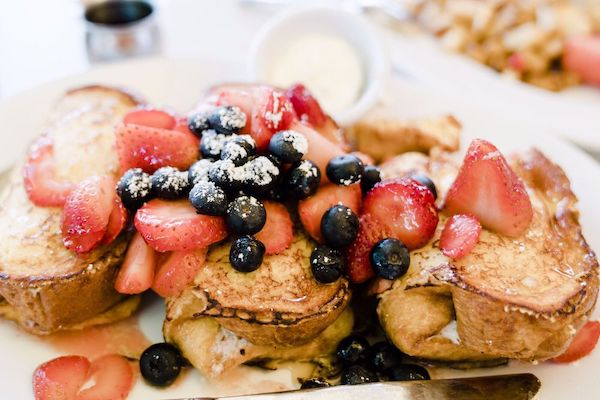 Why You Should Go
First up is The Cottage, a charming and cozy restaurant that serves breakfast all day.
The menu boasts a variety of breakfast items, including the popular brioche French toast. This decadent dish is made with thick slices of brioche bread dipped in a vanilla-cinnamon egg mixture, then grilled to perfection and topped with powdered sugar and fresh berries.
The Cottage La Jolla is a casual dining restaurant that has been serving up breakfast to residents and tourists of La Jolla, California for over 25 years. You can enjoy your meal inside their Victorian-style interior, or you can sit outside under an oversized umbrella. 
An oversized appetite is a nonissue at this La Jolla gem, as their menu has something for everyone and plenty of it!
Food at The Cottage La Jolla
The Cottage menu has all of the expected items you would hope to dine on for breakfast, but they add their own special twist on classic staples.
The Wild Caught Shrimp Omelet has shrimp, poblano chili, shaved asparagus, cheddar and jack cheese, lemon zest, and a roasted bell pepper sauce for just a hint of heat.
The Crab and Prosciutto Benedict may have you wondering if crab and prosciutto work together on the plate, and I can assure you that they do. This dish comes with poached egg, Indonesian Blue Crab, crisp prosciutto, that is then covered in Old Bay Hollandaise. The entire thing sits on top of rosemary and olive oil bread.
If you want something more familiar that still excites your palate, The Cottage also has buttermilk pancakes, a roasted vegetable omelet, and Steel Cut Irish Oatmeal.
For the kiddos The Cottage has a small children's menu with items such as pancakes, French toast, and a fruit plate.
---
The Shorehouse Kitchen
Why You Should Go
The Shorehouse Kitchen is a cafe that serves locally roasted coffee and consistently delicious breakfast dishes that will leave you wanting more.
If you're a dog lover and strive to bring your best pal everywhere you go then you and your pup will love the Shorehouse Kitchen. Not only is this cafe dog-friendly, it has its own doggie menu too!
The Food at The Shorehouse Kitchen
The premium cocktail menu offers sweet and punchy drinks that pair perfectly with their breakfast menu.
Have a Cutwater Bloody Mary with the Brioche Breakfast Cheese Sandwich. This mouthwatering dish is a spinach and white cheddar omelet that sits nestled between two pieces of pillowy brioche.
Sip on the Margarita Fresca while you enjoy the Pork Carnitas and Poblano Cornbread. This spicy dish comes with Tillamook pepper jack, Treviso radicchio, a tomatillo sauce, fried hominy, red jalapeno, and Hollandaise.
If you're wondering what's on the menu for your furry friend, you and your pooch can choose from things like the Brunch Bark Bowl that has scrambled eggs and honey cured bacon, or Fido's Finest which is a seared grass-fed ground beef patty topped with turkey and bacon bits.
Can you say bow WOW?!
---
Harry's Coffee Shop
Why You Should Go
Harry's Coffee Shop boasts the title of La Jolla's oldest diner. This family-run restaurant has been in business since 1960. You and your family can cozy up together in a booth or sit at the counter in this restaurant which still feels like a diner of yesteryear. But this La Jolla institution has kept up with the times.
Harry's Coffee Shop has been featured in Travel & Leisure, Food and Wine Magazine, and America's Best Diners just to name a few.
The Food at Harry's Coffee Shop
Harry's Coffee Shop features American diner classics such as the Pancake Combo that comes with two eggs and bacon, the Denver Omelet with ham, bell peppers, onions, and cheddar cheese, and the Chicken Fried Steak.
If you're in the mood to try something a little different, the Pineapple Banana Coconut Oreo French Toast with whipped cream is a sweet treat that adults and children will both love.
If you would rather drink your breakfast than eat it, consider ordering one of 9 milkshakes on the menu like The Surfer Milkshake that contains vanilla ice cream, peanut butter and banana, or the Espresso Shake which is like getting your coffee and dessert in one shot. It has vanilla ice cream, espresso, banana, and milk.
---
Sugar and Scribe
Why You Should Go
Sugar and Scribe hits the delicate balance between beauty and sophisticated simplicity. Its quaint dining area feels both elegant and homey that you'll want it to become your new favorite hangout spot. What makes Sugar and Scribe extra special is that you can opt to do sit-down dining or relax on the dog-friendly patio.
Make sure not to skip out on the bakery, also located at Sugar and Scribe, so save room for dessert as their selection of cakes, cupcakes, and pastries are worth the calories.
The Food at Sugar and Scribe
If you're in the mood for something savory and tart, the Lemon Curd Pancakes with orange cardamom syrup and berries will hit the spot.
If you want a spin on a common UK snack, the Scotch Egg is the one for you. It is a soft-boiled egg that is coated in chicken sausage and deep fried and topped off with red eye gravy.
At Sugar and Scribe, a salad isn't just a salad. The Mr. Jones Salad has crab cakes, greens, charred corn, tomatoes, sherry vinaigrette and remoulade.
Your little ones will love the Unicorn Hot Chocolate. This white hot chocolate and whipped cream crowd pleaser is topped with edible glitter.
---
Brockton Villa
Why You Should Go
Next, we have Brockton Villa, a seaside restaurant located in a historic cottage overlooking the La Jolla Cove.
The restaurant's brunch menu is a crowd-pleaser, with options like the lemon ricotta pancakes. These fluffy pancakes are made with ricotta cheese and lemon zest, giving them a light and tangy flavor. The menu also includes classic breakfast items like eggs Benedict, which can be ordered with smoked salmon or spinach instead of the traditional Canadian bacon.
If you want to talk about a meal with a view, then you have to visit Brockton Villa. This former cottage sits on the hillside above La Jolla Cove, so you can take in breathtaking views of the sand and surf with your breakfast.
Brockton Villa has been in business for nearly 30 years and with the spectacular landscapes and the food to match it is easy to see why.
The Food at Brockton Villa
If you're in the mood for a hearty breakfast, Brockton Villa has you covered with their Cove Combo. This plate comes with two eggs, potatoes, toast, and your choice of bacon, ham, or sausage links.
On the opposite end, you can order the Avocado Toast off of their "mini menu." This modest offering has avocado atop multigrain bread with feta, scallions, and tomato.
Don't miss out on the sides though! You can get one piece of their famous French toast or a helping of their Rosemary Fennel Potatoes.
---
Richard Walker's Pancake House
Why You Should Go
If you want to rock n' roll all night and pancake every day, then you have to race over to Richard Walker's Pancake House.
The Walker family has been in the breakfast business since 1948. They opened their first California location in 2006 and the rest is history.
You may be thinking "hey, I can get pancakes anywhere. Why should I go to Walker's?" It is true that pancakes can be found in almost any American establishment that serves breakfast, but I assure you that you will not find pancakes like the ones at Richard Walker's Pancake House.
The Food at Richard Walker's Pancake House
Let's get to the main event, shall we?
The pancakes are the star of this show. Richard Walker's offers a fine selection of traditional pancakes such as their Blueberry Pancakes and Chocolate Chip Pancakes, but they put their own twist on the traditional pancake that I dare you to find anywhere else: They have baked pancakes.
Yes, you read that correctly. If you so desire, you can order one of their 5 baked pancake options such as the Baked Pecan Pancake that has Georgian pecans and cinnamon glaze and is baked for 20 minutes.
Maybe you want to have the German Pancake, which is described on their menu as "gargantuan." This one may require loosening your belt a notch because it is a giant pancake formed in a bowl shape, baked, then served with butter, lemon, and powdered sugar.
If you're hoping to dine on something more traditional then don't worry, this restaurant offers a huge variety of other breakfast options such as Cherry Waffles, Corned Beef Hash, and a Western Omelet.
---
Map of Best Breakfast Spots in La Jolla
---
Frequently Asked Questions about Best Breakfast Spots in La Jolla
Is there easy parking for the Cottage?
Parking for this restaurant is notoriously difficult since you have to rely on parking curbside. 
It is recommended that you give yourself plenty of time to find a spot before your reservation or maybe just take an Uber and save yourself the hassle.
Does the Shorehouse Kitchen take reservations?
The Shorehouse Kitchen does not take reservations. 
If you visit their website, click "join the waitlist" to check to see if there is currently a wait and to add yourself to the list. When you get to the restaurant check in with the host and let them know your party is there.
What time does breakfast service end at Harry's Coffee Shop?
It doesn't! 
Breakfast is served all day long. Keep in mind that Harry's Coffee Shop closes at 3:00 PM, so you may not get to have breakfast for dinner, but you can have breakfast for lunch!
Does Brockton Villa do takeout?
While I urge you to sit down at this stunning restaurant, Brockton Villa does do takeout out if you would rather dine in instead of dining out.
Using Toasttab, you can order from their menu and pick it up or have it delivered to you.
---
If you enjoyed our list of the best breakfast spots in La Jolla, you might also like:
THE COMPLETE GUIDE TO THE BEST BREAKFAST IN TEMECULA
SAN DIEGO TIDE POOLS; GUIDE TO THE 10 MOST INCREDIBLE TIDE POOLS
10 BEST SAN DIEGO BEACH HOUSE RENTALS ON VRBO YOU'LL LOVE!
TOP 5 THINGS TO DO IN SAN DIEGO WITH KIDS
AIRBNB SAN DIEGO – 11 AMAZING PLACES – PERFECT FOR EVERY BUDGET!
---
Pin for later: Best Breakfast Spots in La Jolla