We absolutely love Utah and have come to learn over the years that it's one of the best places for a little family getaway. A new love of ours is Park City in the summer.  It is a good mix of both outdoor activities and downtown activities, which I think every family can take advantage of.
Not to mention like most of Utah, it is an absolutely beautiful city. There's so much to do in this ski town, it's honestly hard to narrow it all down. We did our best to do so though, and have broken it all down for you in this Ultimate Guide to a Park City in Summer.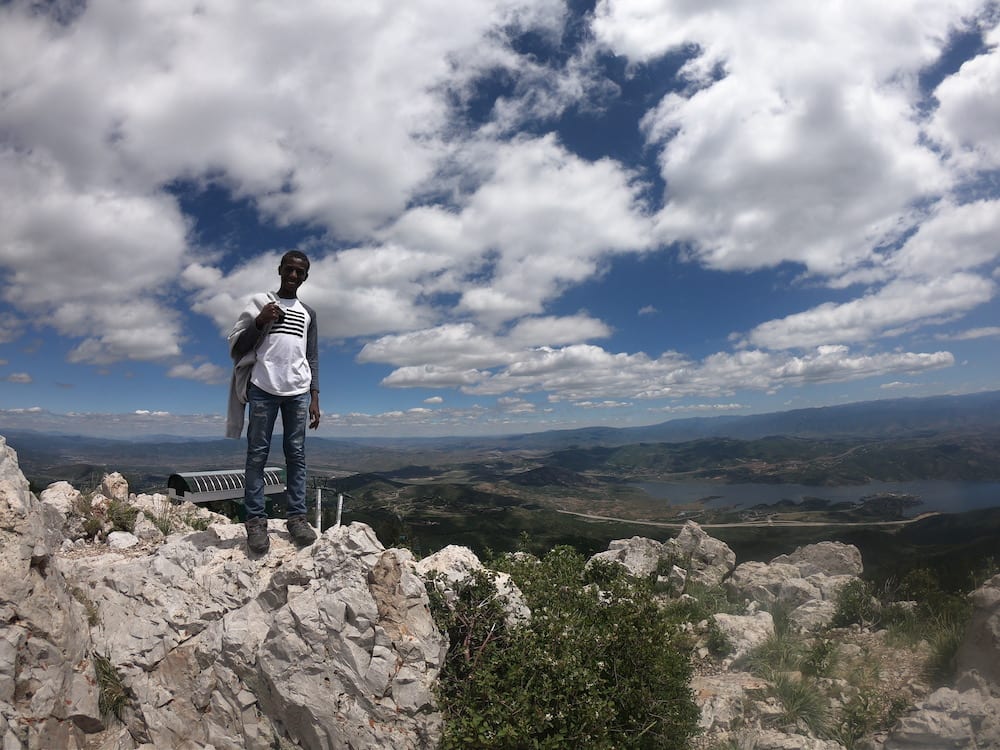 ---
Visit Utah Olympic Park
The Utah Olympic Park is definitely one of the coolest Park City summer activities. They have so many different activities that I don't even know where to start! The gold pass includes:
Tubing Down a Nordic Hill
First, we started with tubing down the Nordic hill (yes the ski jumping hill) now clearly you do not go off the jump, you slide down the lower half of the hill. They have two different heights 60 m and 90 m and both are an intense incredibly fun experience.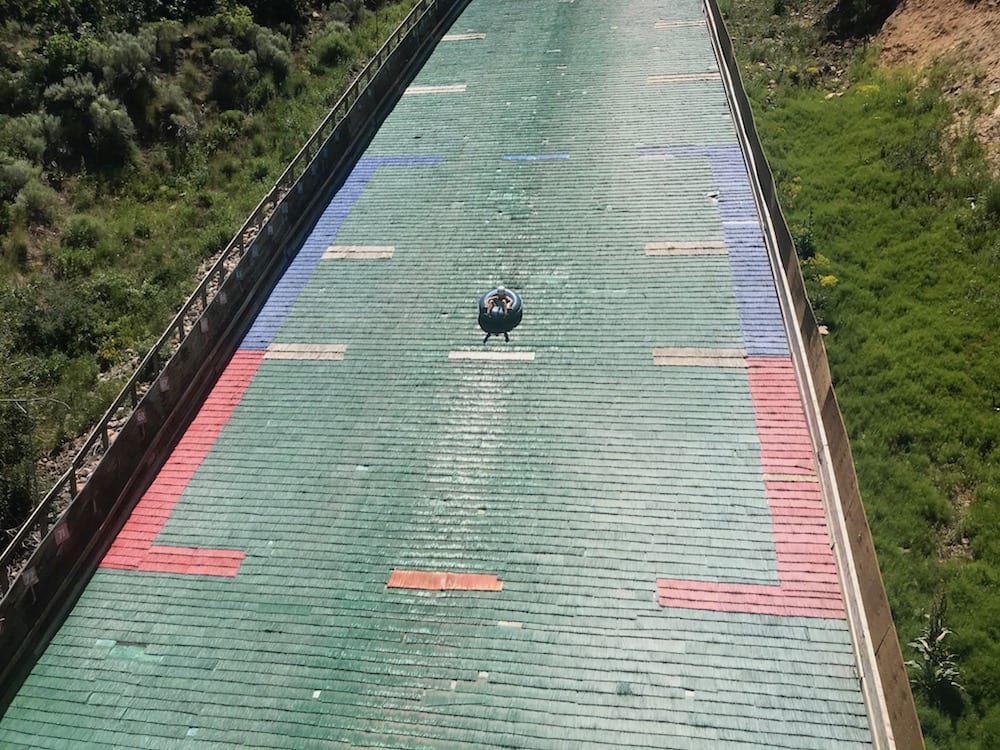 Ziplining throughout the Park
Throughout the park, you will see there are zip lines galore and people flying around overhead. Ziplining is an amazing activity to add to your Park City Summer plans!
Rope Swings and Climbing Nets
It's basically a giant playground with tons of ropes to swing from and climbing nets. For those looking for excitement here's what they've got to offer; beautiful bike trails surrounding the park, tubing down the Nordic Jump, zip-lining, and ropes courses.
There is also a museum and gift shop worth checking out as well. Check out their website to be up to date with everything they have going on. Check it out!
Watch an Incredible Freestyle Show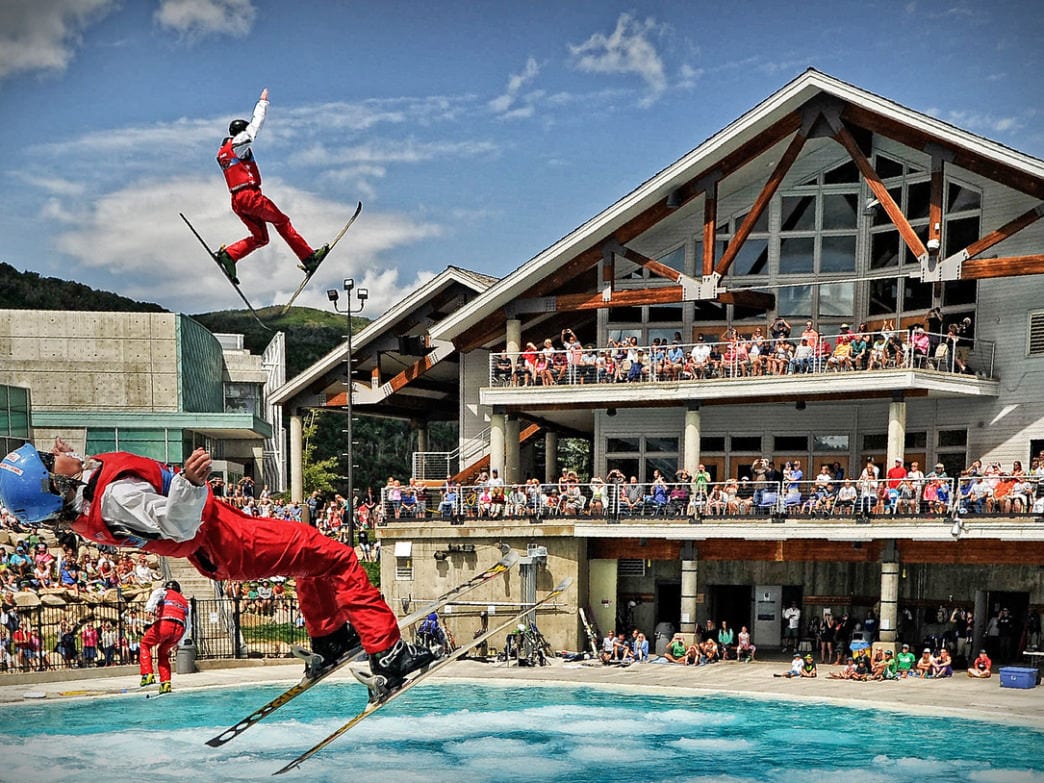 Unfortunately for us, the freestyle show was not happening the day we were at Olympic Park as the show is only on the weekends. See Olympians and National Team skiers and snowboarders perform acrobatic feats as they soar up to 60 feet in the air before landing in the Park's Spence Eccles Olympic Freestyle Pool.
Take a Ride on a Bobsled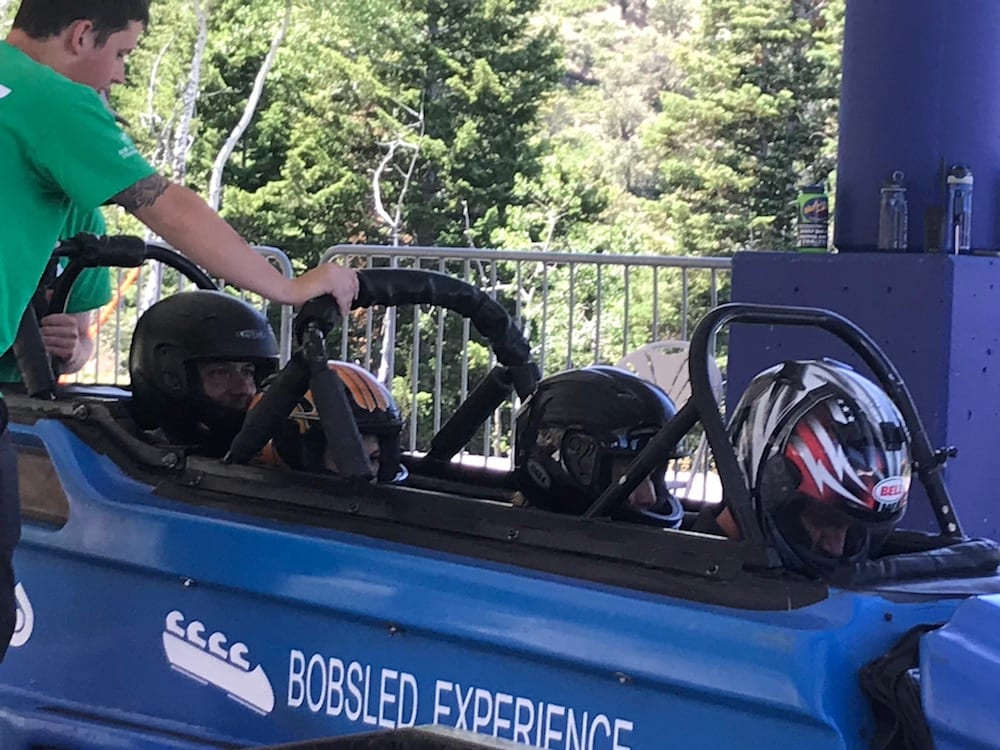 One oof the most thrilling activities to add to your Park City summer vacation is bobsledding. This is also at the Olympic Park and is one of the coolest things you can do during a Park City Summer.
In the summer the Olympic Parks set up the bobsleds to have wheels so they are ready to slide right down the cement track. Before you get nervous, but don't worry a professional will keep you safe while you hit that 60 mph speed in under a minute (in fact we hit 70 mph)!
I have to say this was an incredibly intense experience as going 70 mph so close to the ground and banking around turns is something I have never experienced and I absolutely loved it.
The driver can take up to three passengers along on the ride. Please note there are strict age and weight limits in place for riding, you must be 13 and over 100 lbs.
We definitely recommend adding this to your Park City Things To Do Summer List if you are visiting with teens.
---
Adventure on a River Raft
This is definitely one of my favorite Park City summer activities. We have had some pretty great adventures in river rafting over the years! I know, a little surprising if you know us. It is so exhilarating though! Park City is one of the top places to experience river rafting.
All Seasons Adventures is one of the most popular companies to go with and they raft in the Weber River. Their guides are really well trained and will make sure you're safe but still have a blast.
Most rafting tours will take up about half a day, so make sure to block out some time if this is something you'd like to do as a Park City summer can get pretty warm!
---
Go Fly Fishing at Provo River
One of our favorite summer activities in Park City is fly fishing. The Provo River is known for its fantastic trout fishing, and there are plenty of guided tours available for those who want to try their hand at catching some fish. It's a great way to bond with the kids and enjoy the great outdoors.
---
Go on a Hot Air Balloon Ride
Another highlight of our summer in Park City was taking a hot air balloon ride over the majestic mountains. The views are simply breathtaking, and it's an experience that none of us will ever forget. We even got to help with the set-up and take-down of the balloon, which was a unique and exciting experience in itself.
---
Zip Down the Alpine Slide and Coaster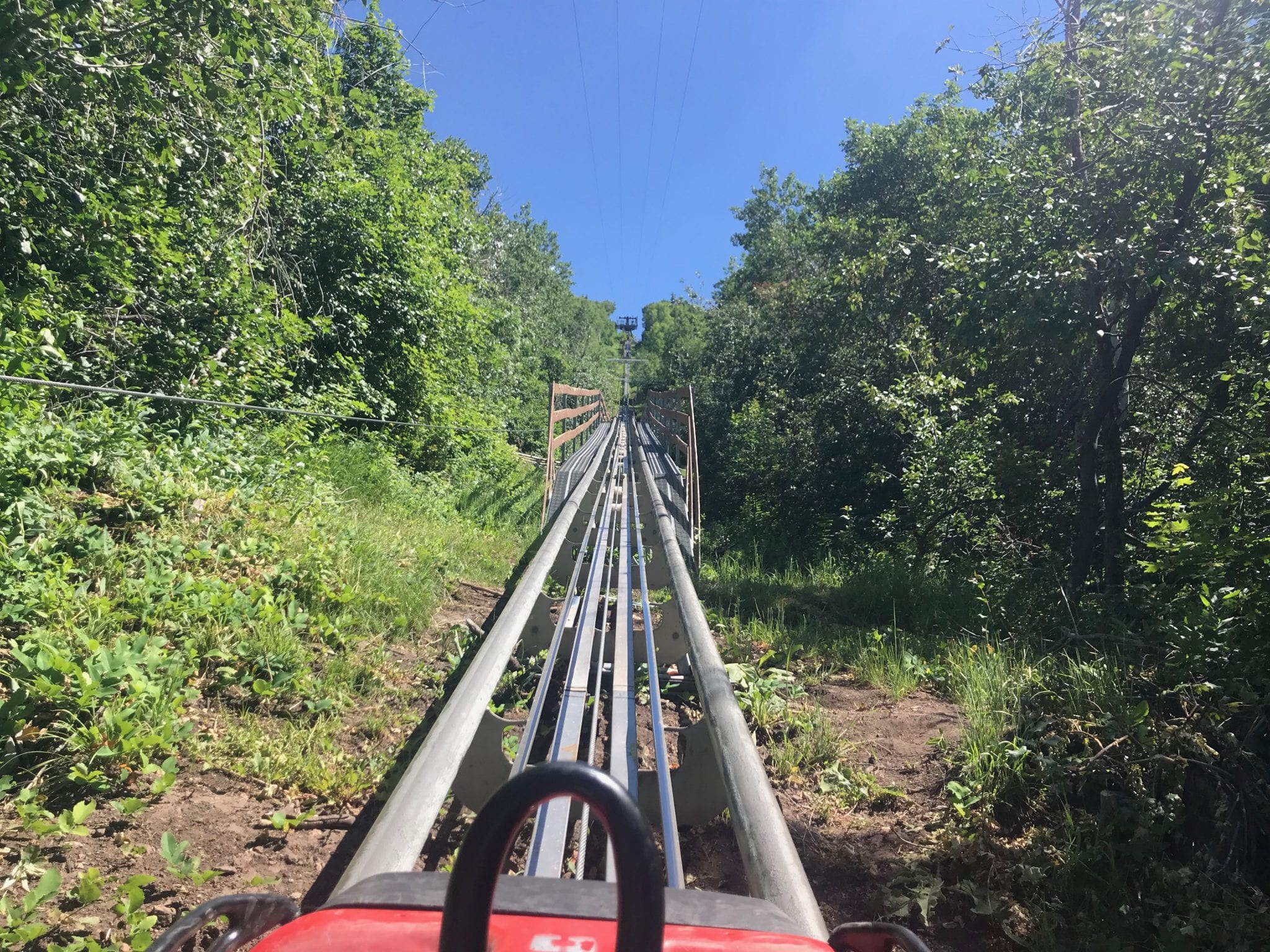 Looking for something suited for little ones while visiting Park City Utah in summer? The Alpine Slide is basically a less intense version of bobsledding, but don't worry there's still plenty of excitement.
You can really book it down the hill, trust me my husband was flying down the hill with my daughter and I thought I was going to have a heart attack.
But, you can also control your speed which is nice. Plus, anyone in your group 16 years or older can actually drive! It's 3,000 ft long, making it one of the longest slides in the world.
The Alpine Coaster, on the other hand, is on a raised track that winds through the beautiful scenery of Park City making sharp turns and loops along the way. This one is really fun because you press down to release the brake and you can fly through the track.
If you are over 54 in, you can be the driver on this thrill ride. All the kids absolutely loved it.
---
Canyon Village Zip Line
Another activity located in the same center as the Alpine Slide and Alpine coaster is the Canyon Village Zipline. There are plenty of activities to keep you busy in Canyon Village at the Canyon Resort, including this awesome zipline.
They have two different lines and both are pretty exhilarating. An added bonus is definitely the view you get while flying down the mountain.
---
Hike Down the Rail Trail or All the Way Up Bald Mountain
We'll be some of the first to tell you that we aren't the most outdoorsy family, but a good family hike is something we'll always be up for.
The historic Rail Trail is 28 miles long, but don't let scare you too much. You can just do little portions of it, and the whole thing is beautiful. About 3 miles of the trail is actually paved, which is a big plus if you have little ones.
It extends from Park City to Echo Reservoir and you'll have views of the mountains and wildflowers along the way. Keep in mind you can bike along this trail too if that's more your thing!
Also, check out our adventure to the top of Bald Mountain here. We may have cheated a bit and taken a ski lift part of the way up, and there's a great restaurant right where it drops you off mid-mountain.
Another great hiking experience is the Mid Mountain Trail! It's a 22-mile trail that takes you through some of the most stunning scenery in the area, with breathtaking views of the Wasatch Mountains. We packed a picnic lunch and made a day of it, enjoying the fresh mountain air and the beautiful scenery.
---
Eat at One of Their Amazing Restaurants
Park City has something to make everybody's taste buds happy and everybody's wallet. There are some really yummy affordable eats like Deer Valley Grocery Cafe and for Harvest Park City is an amazing place to grab some breakfast as well.
Grab a coffee and a quick snack to keep you fueled at Hugo Coffee or breakfast at The Bridge. The seared ahi at Legend's Bar and Grill is another choice that you just can't go wrong with. Last but not least, you can't do a summer vacation right without ice cream.
Java Cow Coffee & Ice Cream is worth a try as well as the Cortona Italian Cafe gelato.
---
Go on a Horseback Ride
While our family loves all seasons in Park City UT, summer is by far my personal favorite. And it's all because of horseback riding! Any place with beautiful weather and beautiful nature is somewhere I want to go horseback riding. It's just such a cool, unique experience.
Whether it's your first time riding or your thousandth Park City is an awesome place to do it. Check out The Stillman Ranch and Blue Sky Utah.
Both have tons of options so you should be able to find the ride that fits exactly the experience you want. You can also book through bouldermountainranch.com.
---
Visit Luna Lobos Dog Sledding Camp
Dog sledding in the snow is one of the top experiences we've ever had as a family. While there won't be snow around in the summer months, dog sledding is actually still an option. They have plenty of options for rides, so make sure to check them all out.
At Luna Lobos, you can also just visit and go on a tour to see how the dogs live. They even have a summer camp for kiddos that they can go to for a single day or an entire week.
They will learn a ton about dogs and sledding but they will also learn outdoor survival skills, archery, try out an obstacle course, work on team building, and learn a little about the history of the west.
---
Enjoy a Summer Night Concert!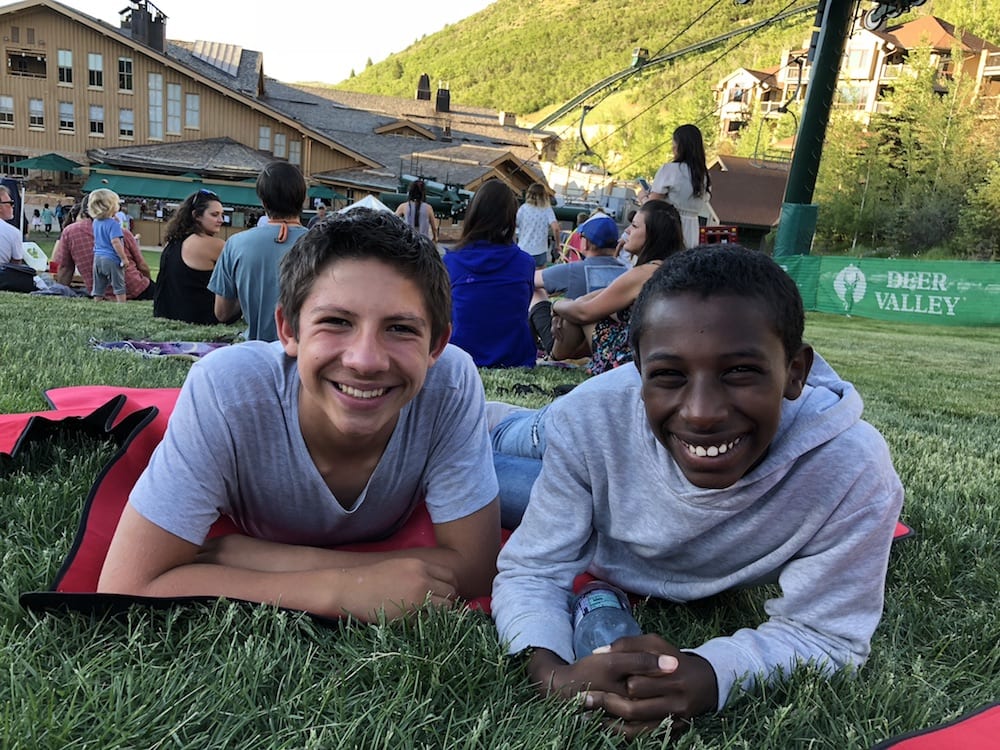 When I asked the locals, "What they loved about Park City?" the one thing I heard over and over was that it wasn't just a mountain town for tourists, it was a real town with a real community. This led us to one of the popular Park City activities Summer Night Concerts.
One of the ways you can experience this feeling of community is one of the 40 (yes 40) free Deer Valley concerts at the Snow Park Amphitheater.
Grab a blanket or lawn chair and sit back and enjoy some live music, it's a great place for kids to run around and play while parents relax.
---
Take a Family Bike Ride
We already mentioned that you can bike along the Rail Trail, but there's plenty of other biking spots around Park City too. In fact, there are over 400 miles of trail, from leisure trips to mountain biking. Much of the summer in Utah is sunny and beautiful out, making for the perfect biking weather.
There are trails around town for all different skill levels. No need to be a pro! Here's a good place to check out all the mountain trails; https://www.utahmountainbiking.com/trails/
---
Catch a Movie at the Sundance Institute
The Sundance Institute is a non-profit organization all about discovering new independent artists. While the main film festival, which is one of the best in the world, is in January they have other events going on throughout the year as well.
Make sure to check out what they have going on by clicking here because there might just be something your whole family will love or it can make for a perfect vacation date night for mom & dad!
---
Explore Main St. & Do Some Shopping or Visit a local Eatery/Pub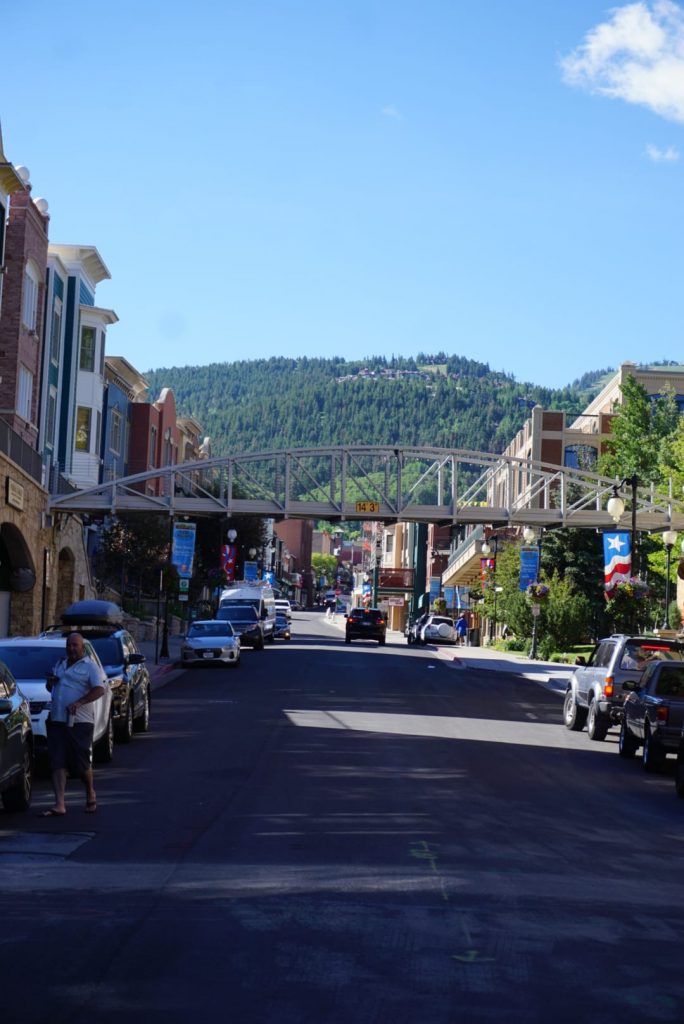 Main St in Park City has such a fun and energetic vibe. Established in the 1800's Main St. is one of the most historic parts of this old mining town. You can stroll down the street and find some truly unique shops.
It is also home to some great restaurants including a fantastic sushi stop. Plus, if you are looking for a place to go out in the evening, Main St is definitely the spot to be.
---
Stroll Around Park Silly Sunday Market
If you happen to be looking for things to do in Park City summer on a Sunday morning, make sure to check out the Park Silly Sunday Market. It's an open-air market, but it feels as if it's tied into a street festival as well. You will get a real feel for this funky tight-knit community.
You'll be able to find everything from snacks, to a beer garden, to crafts made by local artisans. On top of all that, the market is very family-friendly and you'll be able to find various activities to keep them entertained. It's all hosted right on Park City's historic Main Street making it even more of a must-do experience.
---
Enjoy Stand-up Paddle Boarding
Right across from the Silver Baron Lodge is a large pond where you can do some Stand-Up Paddleboarding. It is a great place to do some paddleboarding as you can head out on the smooth water and enjoy all the views of Deer Valley.
I loved paddle boarding here with the kids because since there are no waves it allowed the kids to really get comfortable with paddleboarding (unlike some of our previous attempts).
You'll also love hanging out with the owner's dog at the Paddleboard shop who often sets out for some paddleboarding himself (the dog was too cute!).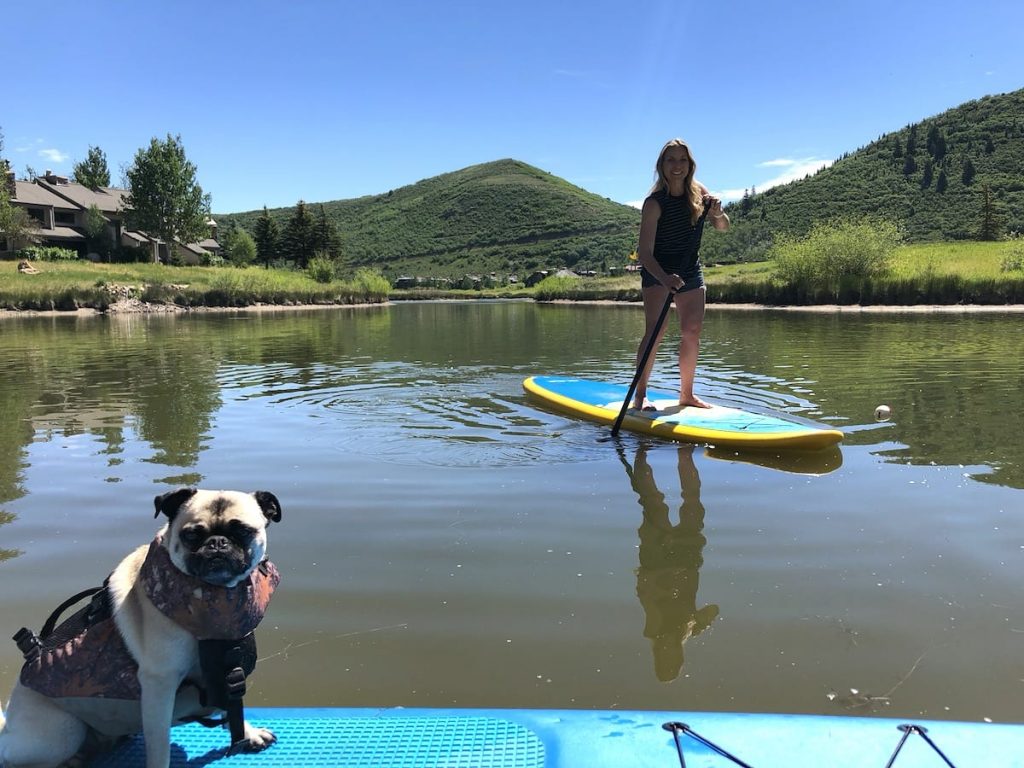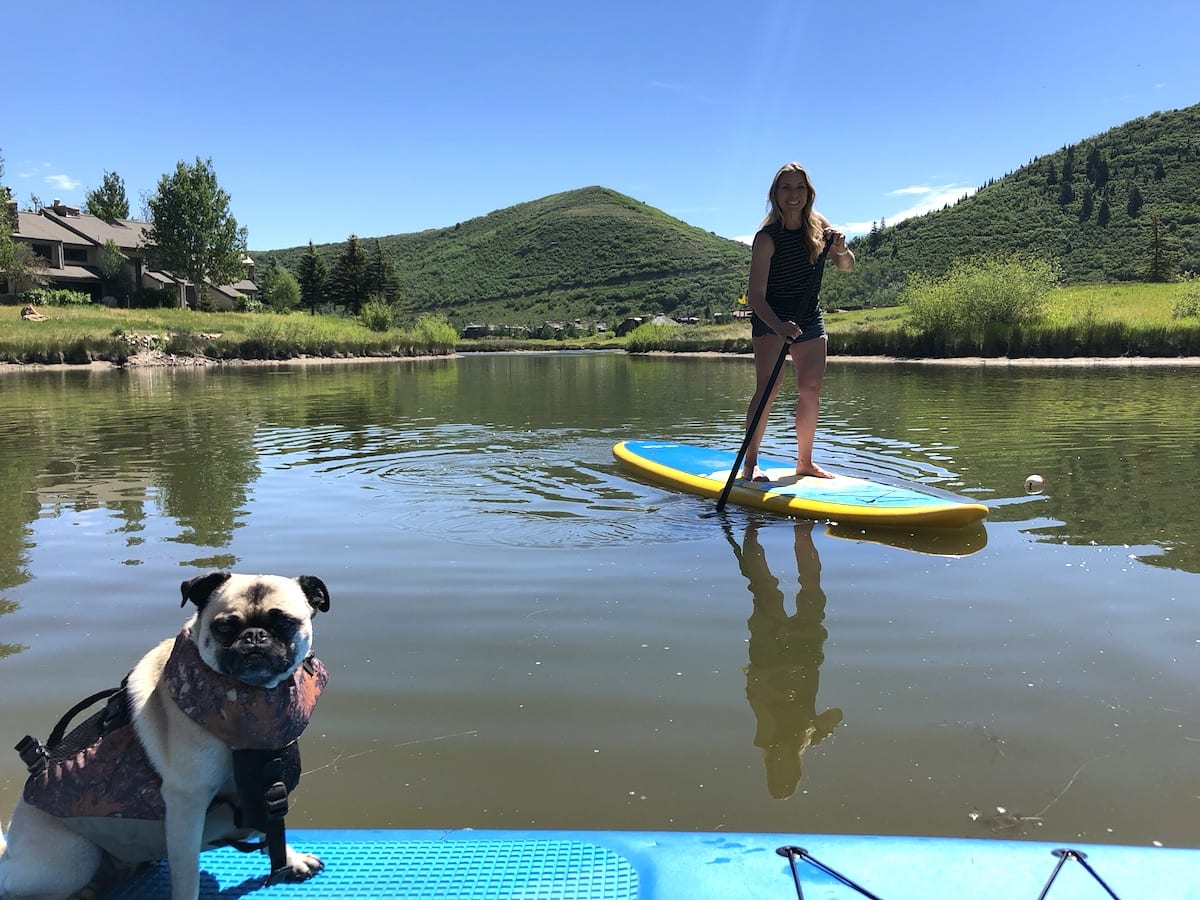 ---
Explore the Uinta National Forest
The Uinta National Forest is easily accessible from Park City and has tons of areas to explore. We mentioned hiking above, but if you would like a more leisurely activity you could simply take a drive around this area and take in all there is to see! Mirror Lake Highway is a great scenic drive. 
---
Take a visit to Salt Lake City
Of course, no summer in Park City would be complete without a visit to Salt Lake City. It's only a short drive away and offers even more activities, like visiting Temple Square, exploring the Natural History Museum of Utah, or catching a Utah Jazz basketball game.
---
Why You Should Go
We hope this article has helped you answer that question! Basically, Park City summers are filled with an endless amount of activities. It is hard to imagine running out of things to do. The weather is perfect and the locals are incredibly friendly which is why I love coming here in the summer.
---
Map of Things to Do during your Park City Summer
---
Have you been to Park City in the Summer? Let me know your favorite place to visit.
---
Frequently Asked Questions about Park City Summer
What to do in Park City with kids?
Alf Engen Ski Museum Foundation
Black Diamond Gymnastics & Sports Center
Heber Valley Railroad
Ice Castles
Kimball Art Center
Paint Fusion
Park City Mountain
Summer in Park
Park City Ice Arena & Sports Complex
Park City Library
Dog Sledding
Go to Ski-School
Ice Skate
Snow Tubing at Woodward Park City
Swimming at the Homestead Crater Geothermal Pool
Visit the Escape Room 
Explore Downtown Main Street
Visit the Utah Olympic Park
What is there to do during your Park City summer if you don't ski?
Well there is plenty more to do than just hit the slopes in this awesome city, during the winter time and the summer time!
The Escape Room 
Tubing at Woodward
Stroll Historic Main Street
The Paint Mixer
Fitness and Wellness
Kimball Art Center
Swimming at the Homestead Crater Geothermal Pool
What can you do in Park City for free?
There are so many places to visit in Park City and some of them are even free! Check out Historic Park City, Utah Olympic Park and Kimball Art Center. Drive through Guardsman Pass Scenic Backway or visit High West Distillery & Saloon. High West Distillery & Saloon!
---
Pin It for Later: Park City Summer – [21 Incredible] Activities You'll Love]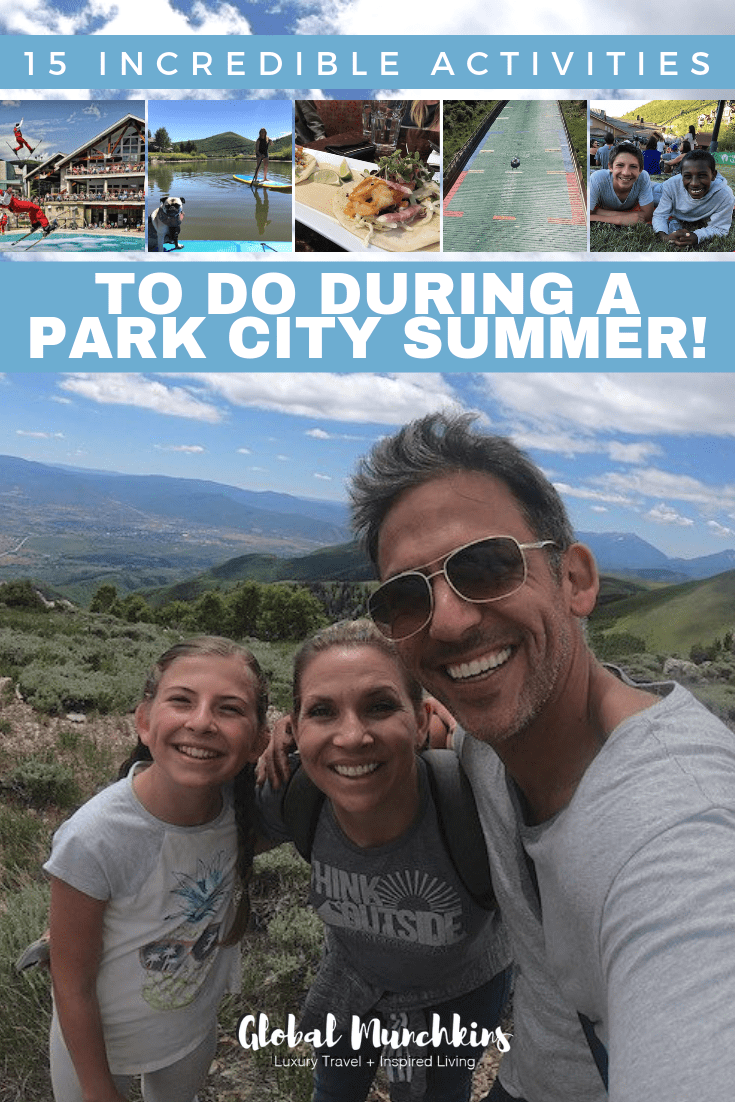 ---
If you enjoyed this list of things to do during your Park City Summer you might also enjoy:
Deer Valley Summer! – The Ultimate Guide to Deer Valley in the Summer
Top 5 things to do in Moab Utah! Experience the beauty of Moab!
The ULTIMATE Guide to Steamboat Springs Ski Resort [CO]
Latest posts by Mama Munchkin
(see all)