Are you looking for some delicious Super Bowl food ideas for your up and coming Super Bowl party? No worries, we got you!
We LOVE football in our house! Well, Mike loves football, hence the HUGE 49ers jersey that gets hung up on the mantel every game! Since we love family time and football, we also love to get family and friends together to watch the game and eat good food!
I went ahead and put together a list of our favorite and delicious Super Bowl food ideas for your next Super Bowl Party!
We compiled the list below of our own personal recipes as well as some of our favorites from other recipe developers we love!
---
Our Favorite Super Bowl Food Ideas
Do you enjoy Mediterranean food? If the answer is yes, then you are going to LOVE our spiced Mediterranean burger recipe. This delicious recipe will quickly become a party meal favorite and be a HIT at your Super Bowl gathering!
---
To continue our list of Super Bowl food ideas, we have to remind you of one of our favorites, our Keto Nachos! Is there anything more delicious than a platter of nachos?
Just because you are living the low carb lifestyle or counting your macros doesn't mean you can't still enjoy them at your Super Bowl party, right? In fact, I think my Keto Nachos rival any of the nachos we've ever had. So what are you waiting for?
---
If you have been following us for awhile, you know this cookie recipe is a family favorite. If you're a fan of chocolate chip cookies, you're going to love this browned butter sea salt double chocolate chip cookie recipe.
Not only do they have the classic chocolate chip cookie flavor that we all know and love, but they also have a rich, nutty flavor thanks to the browned butter. This recipe is a definite add to our list of Super Bowl food ideas.
---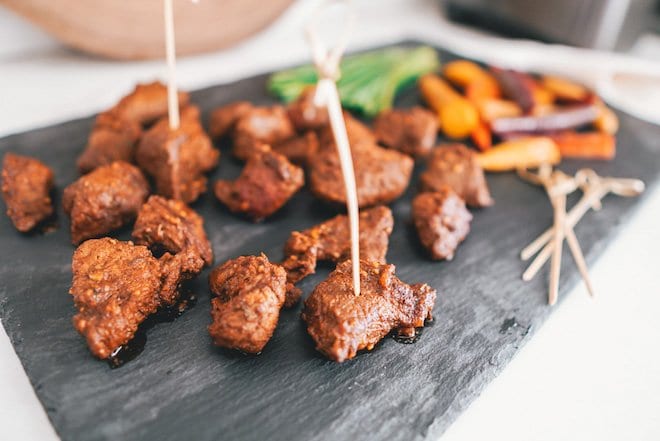 ---
Need an appetizer recipe for your guests that are steak lovers? Try our delicious and easy cajun butter steak bites! You can prepare steak tips in all sorts of fun ways- you can slice them and make steak tacos, pop them into a delicious stew, or make steak bites (our personal fav).
Not only are these SUPER QUICK to make, they are a great appetizer for your Super Bowl party!
---
Everyone loves a good food bar during a party! We loved putting together this DIY Taco Bar and think it would be a great addition to your Super Bowl party! We also have a delicious authentic guacamole recipe to add to your taco bar!
---
If you are looking to bust out the barbeque for Super Bowl weekend, then you are going to want to try our delicious Polynesian flat iron steak recipe! This is one of my go-to recipes that my entire family loves!
---
Other Super Bowl Food Ideas from our Favorite Bloggers
We have a lot of blogger friends out there and some of them have AMAZING and DELICIOUS recipes that will be perfect for your Super Bowl party! Here are some of our favorites!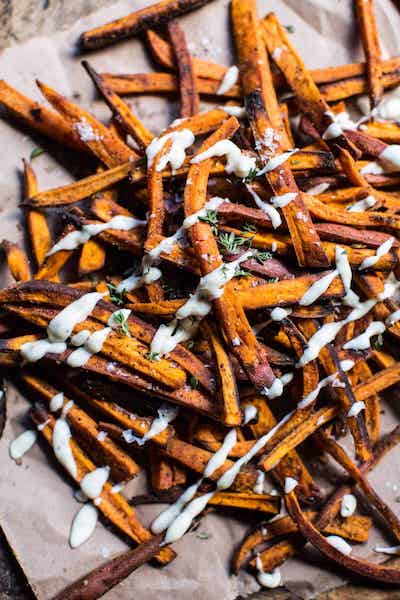 Half Baked Harvest is one of our favorite food bloggers! Everything that she creates is so delicious and easy to make. These skinny cajun sweet potato fries with garlic cheese sauce will be a for sure hit at your Super Bowl Party! Check out the full recipe here.
---
Another delicious recipe from Half Baked Harvest are these Sriracha Buffalo Cauliflower Bites. These spicy little bites will easily become a party favorite and have your Guests rushing back from more. Check out the full recipe here.
---
If you have not heard of the food blogger, Love & Lemons, then you can thank us later! Head over to their website and check out all their delicious recipes, like this Jalapeño Poppers recipe!
Jalapeño Poppers are always a great hit for parties and we think you will love this one! Check out the whole recipe by Love & Lemons here.
---
Are you looking for a vegan dish for your Super Bowl party? You will definitely want to check out this yummy and easy vegan seven layer dip by Love & Lemons! Check out the entire recipe here.
Interested in other vegan food bloggers? Check out our favorites here.
Interested in some of our favorite vegan cookbooks? Check out our list here.
---
Pin-it for later: Recipe Round Up: Our Top 10 Delicious Super Bowl Food Ideas
---
If you enjoyed reading about our Super Bowl Food Ideas, you might also enjoy:
OUR TOP 4 FAVORITE VEGAN RECIPE BLOGGERS
DELICIOUS ALMOND COW VEGAN CHOCOLATE CASHEW MILK RECIPE
OUR FESTIVE GINGERBREAD PARTY WITH WALMART'S HOLIDAY HOME