When it comes to searching for a vacation, if we are heading for some sunshine, one of the first things I look for is an incredible hotel pool.
With 5 kids in tow, a great hotel pool gives mom and dad a chance to kick back and relax for a while, or most of the time, mom relaxes by the pool and I am jumping in with the kids.
After 17 years of traveling all over the world with our kids and a little help from fellow travel bloggers, here are our Best Hotel Pools for Families in 2023!
---
Grand Wailea is one of our favorite hotels on the planet and one of the top reasons is the incredible pool.
Interconnecting Pools
If you visit Grand Wailea you will find your kids enjoying 6 pools connected by 7 different water slides. Your kids never have to leave the water as, once you get to the bottom of the water slides, you can take the world's only water elevator which takes you back to the top of the slides.
Rope Swing, Scuba Pool & More
The interconnecting waterslides are for all ages and Grand Wailea has two larger slides for kids and adults over 48″ tall. In addition, there is a rope swing, lazy river, volleyball, multiple jacuzzis and a cave bar for the grown-ups. Heck, you can even learn to scuba dive for free in their scuba pool. There truly is something for everyone at this resort.
If mom and dad want a break from the chaos, there is an adult pool and of course the amazing beach. You can check out my full review of Grand Wailea here!
---
Another favorite Hawaiian spot for us is Disney's Aulani Resort & Spa (check out my full review here). We often travel to Aulani for a few days and then over to Maui and hit up Grand Wailea. Guests who visit Aulani, often find themselves rarely leaving the hotel because there is so much to do.
Waterslides & Splash Area
The pool itself features two incredible waterslides (one tube slide and one body slide) but the fun does not stop there. Guests can enjoy the lazy river which takes them around the giant pool area.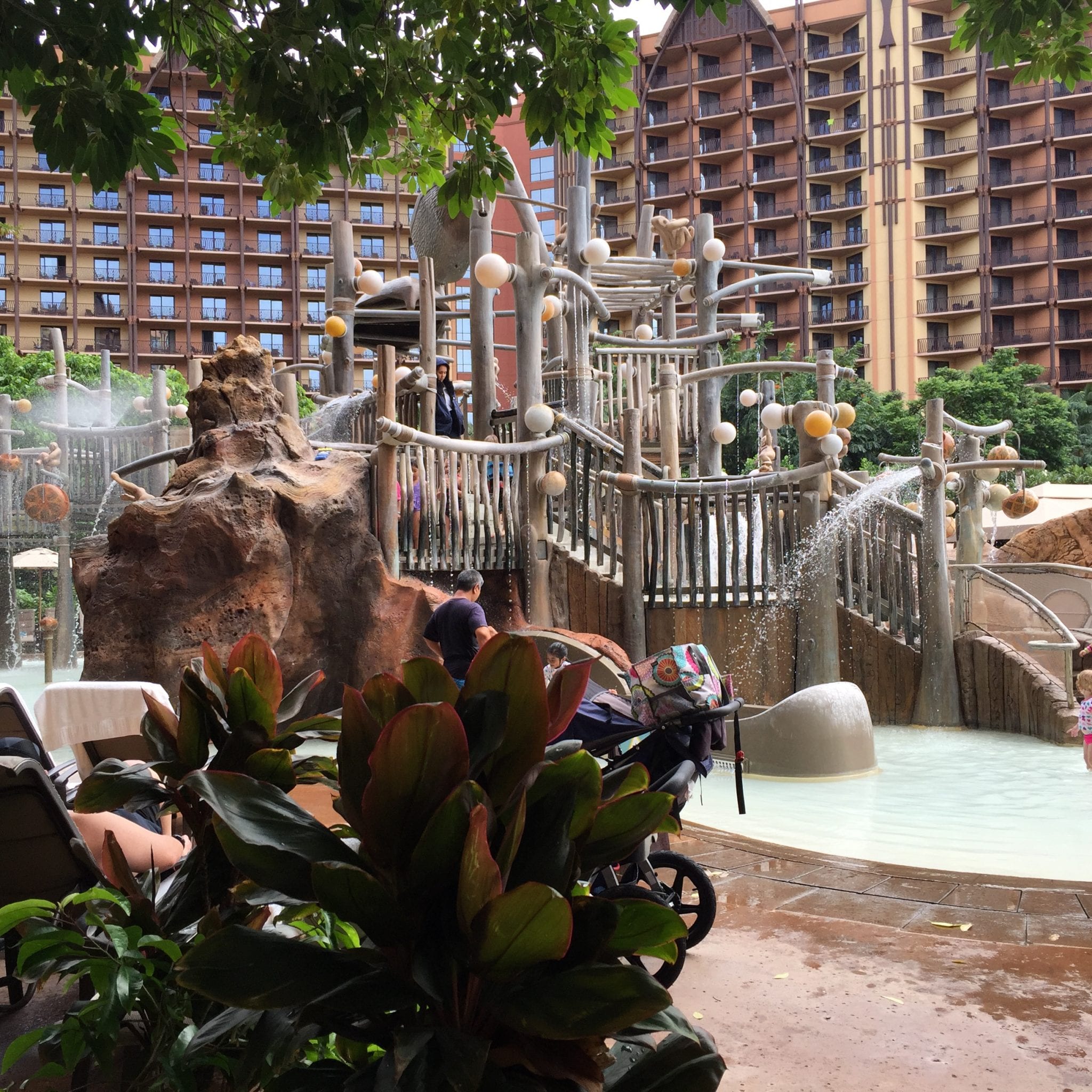 For the little ones, they can enjoy two different play areas. The Menehune splash area is a giant splash pad with waterslides and shooting water and more. For the small toddlers, Opihi play area offers little spouts of water that shoot up and is the perfect amount of fun for your tiny tots
Pool Parties, Snorkeling & More
A couple of times a week, Disney has a poolside party with Goofy, Mickey & Minnie where kids get to splash around with Mickey and the crew. In addition, if your kids want to try to snorkel you can snorkel in Aulani's private snorkel pool where you will see hundreds of incredible fish. When the kids are not in the pool, they can enjoy the Menehune trail which is an interactive adventure that makes different structures around the pool come alive, including a spouting whale or magical waterfalls.
For the Grown-Ups
Did you know that there is an adults only pool at Aulani? There is an adult pool area as well as a grown-up two-level jacuzzi which has an incredible view of the sunset. In addition, there are servers throughout the resort offering delicious Hawaiian cocktails.
Overall, Aulani is truly one of the best hotel pools for families and will be for quite a while.
Save 50% on Aulani Rooms by booking a Room through David's Vacation Club Rentals
Hawaii isn't the only one who knows how to have an incredible pool, the west coast offers some incredible options for families looking for an incredible poolside experience
---
We discovered the Arizona Grand resort back about 10 years ago. This resort has one of the most iconic waterparks and it is exclusive only to resort guests. The resort hosts a giant 40-foot water slide that will scare the jeepers out of you. In addition, the massive pool has a giant lazy river area, movie nights in the pool, basketball hoops, volleyball and much more.
You can find yourself spending multiple days at this amazing pool. Check out my full review here!
---
Disney's Beach Club Resort is probably our most visited hotel. We have stayed at this hotel numerous times because of it's an amazing location and incredible pool. The pool is massive and the most iconic part of the pool is the Giant Pirate ship which is, in turn, a waterslide that takes you from the beach to the resort pool.
The pool is broken up into three different areas. The main pool is a sand bottom pool and where many Disney resort games and activities are played by the staff and include a fun whirlpool. The second area is a lazy river, where you can float around and relax after a long day at the parks. The last area is a sand and water and play area for the little ones.
Free sand buckets are left around for the kids to make sandcastles. This pool is truly one of the best hotel pools for families as it has something for everyone.
Save 50% OFF Disney World stays when you book from David's Vacation Rentals
---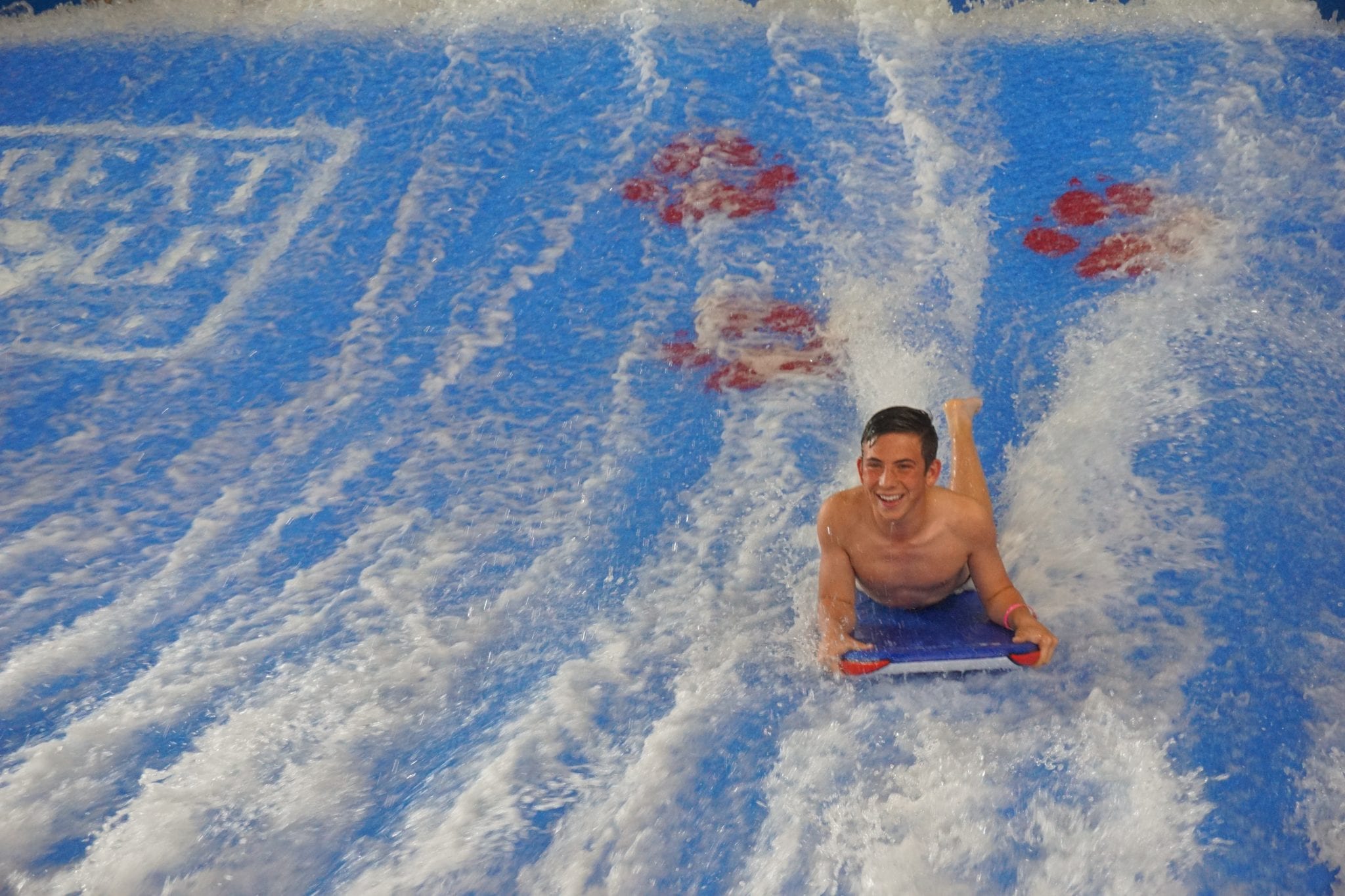 Now, you wouldn't think an indoor pool and water park would appear in California, but the Great Wolf Lodge in Buena Park exceeded our expectations. In fact, it is really close to Disneyland, so if you are looking for a place to stay check it out near Disney, check it out.
There are 8 incredible water slides, including a family raft ride that is simply unbelievable. You truly are in an immersive water park.
Besides the slides, you can find yourself on a FlowRider, shooting baskets in one of 10 pool basketball hoops, floating in the lazy river, wave pool, or enjoying the adventure courses.
For the little ones, there is a private play area with smaller slides and a splash area.
If you do want to get out in the sun, there is an outdoor pool area, where you can take in the warm sun, but we found ourselves in the giant water park most of the time.
---
If luxury is your cup of tea, then take a break and visit the Finest Resorts in Playa Mujeres. Book yourself a Family Swim-up Suite and your kids may never want to go anywhere else.
You can relax in a hammock outside of your room while your kids splash and play to their delight. Servers come by to offer unlimited refreshments and food.
If your kids want some adventure, head to the kids club where there are water slides and a massive splash pad. Then head to the beach for some kayaks, snorkeling and more. All included. (Check out my full review here)
---
If you are looking for a stay where you may never leave the resort than Atlantis is your spot. This is absolutely an incredible resort with so much to do. You can swim with dolphins, check out one of the world's largest aquariums, and enjoy an incredible water park.
The water park is simply massive with numerous slides, the most adventurous lazy river you will ever have been on. You definitely can spend a few days at this hotel pool with the family without a need to explore anywhere else. It is that large.
---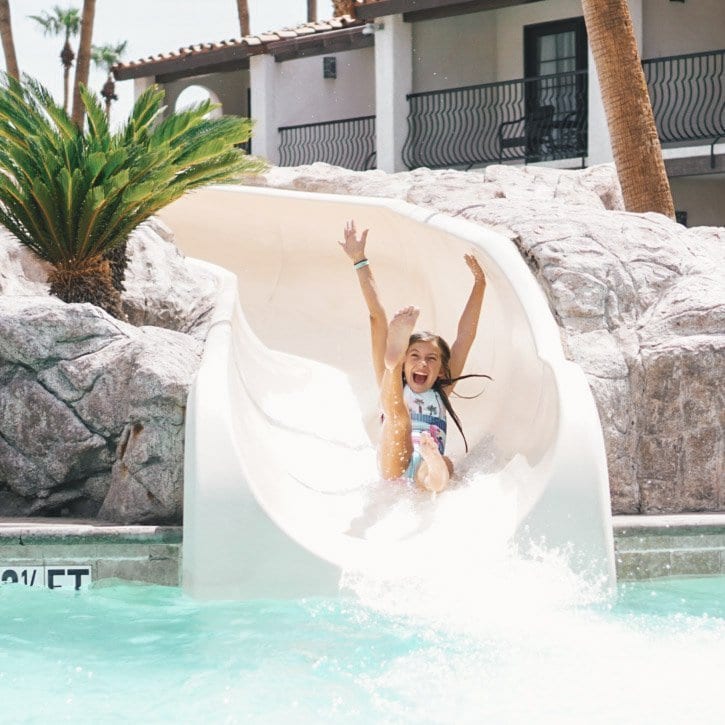 We visited Rancho Las Palmas this year for the first time and it has an absolutely amazing pool. Ranchos Las Palmas has two duel racing slides, a fun lazy river and a great splash pad for the kiddos.
---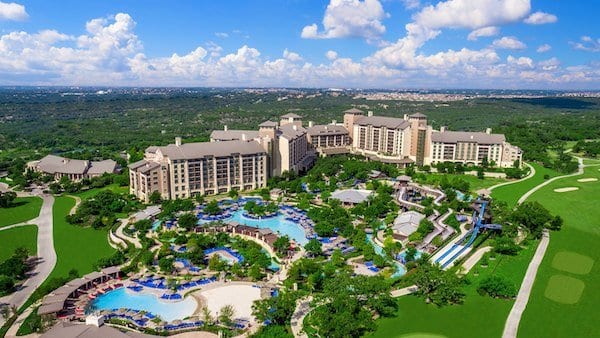 There are Resort pools and there are Resort water parks. Nestled amid 600 acres of oak-covered hills, JW Marriott San Antonio Hill Country Resort & Spa is just stunning. Thrill the family with their River Bluff Water Experience, a nine-acre water park featuring a 1,100-foot lazy river, perfect for both the kiddos who need a rush and dad who needs a nap). They have a 275-foot water tower tube slides, zero-section youngsters' pool, a grown-up pool, whirlpools, and tons of interactive water features
---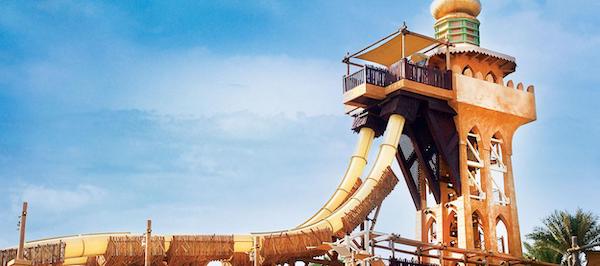 A few years back we visited Dubai and stayed at the Jumeriah Beach Hotel. Located along the Persian Gulf, not only will you enjoy incredible views, a wonderful beach, but the hotel has access to the Wild Wadi Waterpark. The water park is one of a kind with incredible water roller coasters, drop slides, lazy river, FlowRiders and more.
---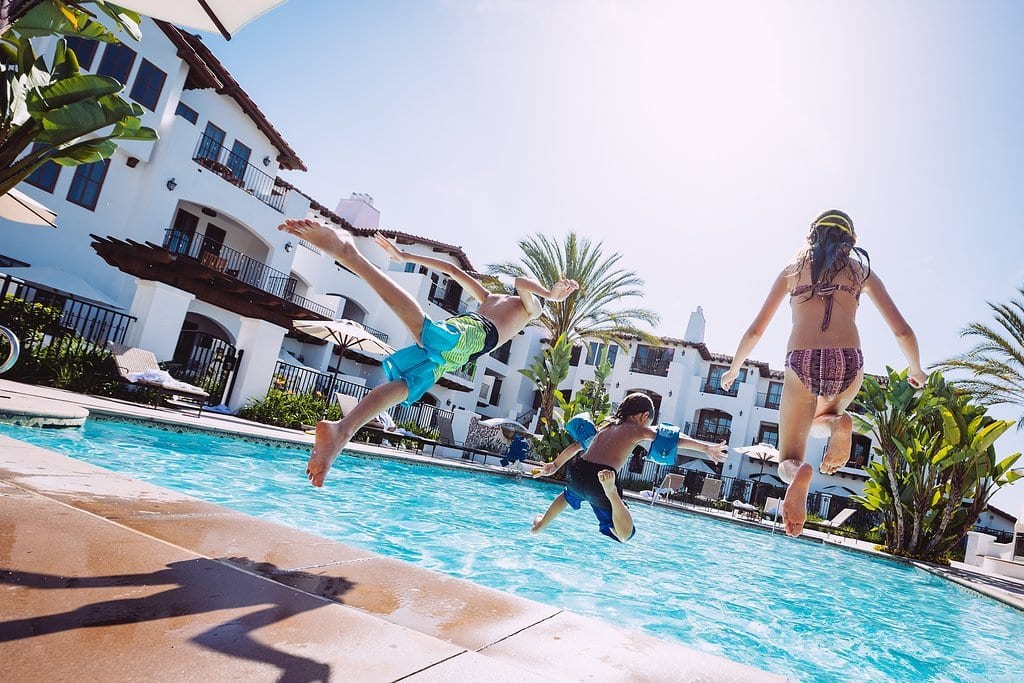 Carlsbad is my dream place to live. It has perfect weather, great beaches, and a great overall vibe. That being said, Omni La Costa fits perfectly into this amazing town. The resort is great and their pools are super fun for families. There are 4 different pools a splash pad, and three water slides. One meant for the little kids and two larger slides.
---
We have been staying at the Royal Pacific Hotel for years. It is close to Universal Orlando (see my tips here for Universal here) and it has an amazing pool. This massive pool has numerous areas to enjoy some fun, a giant ship that is a fun splash area for the kids. What I love the most is the constant activities by the staff to keep the kids entertained, including hula hoop contests, volleyball, dance-offs and more. It is the best hotel pool for families in the Universal Orlando area.
---
The Disneyland Resort has three different hotels, and while the Grand Californian is the chicest, but the original iconic Disneyland Hotel has the best pool. The pool was reimagineered in 2015 with a completely new look. Now guests can enjoy sliding down these iconic monorail waterslides.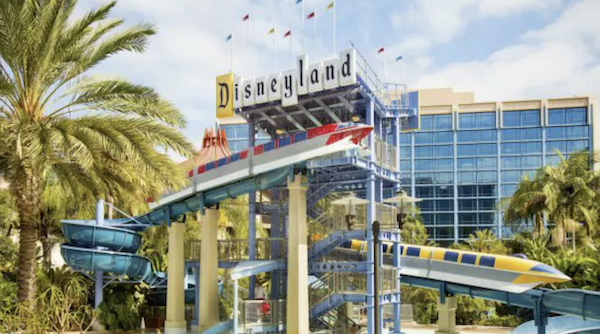 Looking for a more relaxing break there is another pool to sit back and enjoy some quality pool time underneath warm California Sun.
---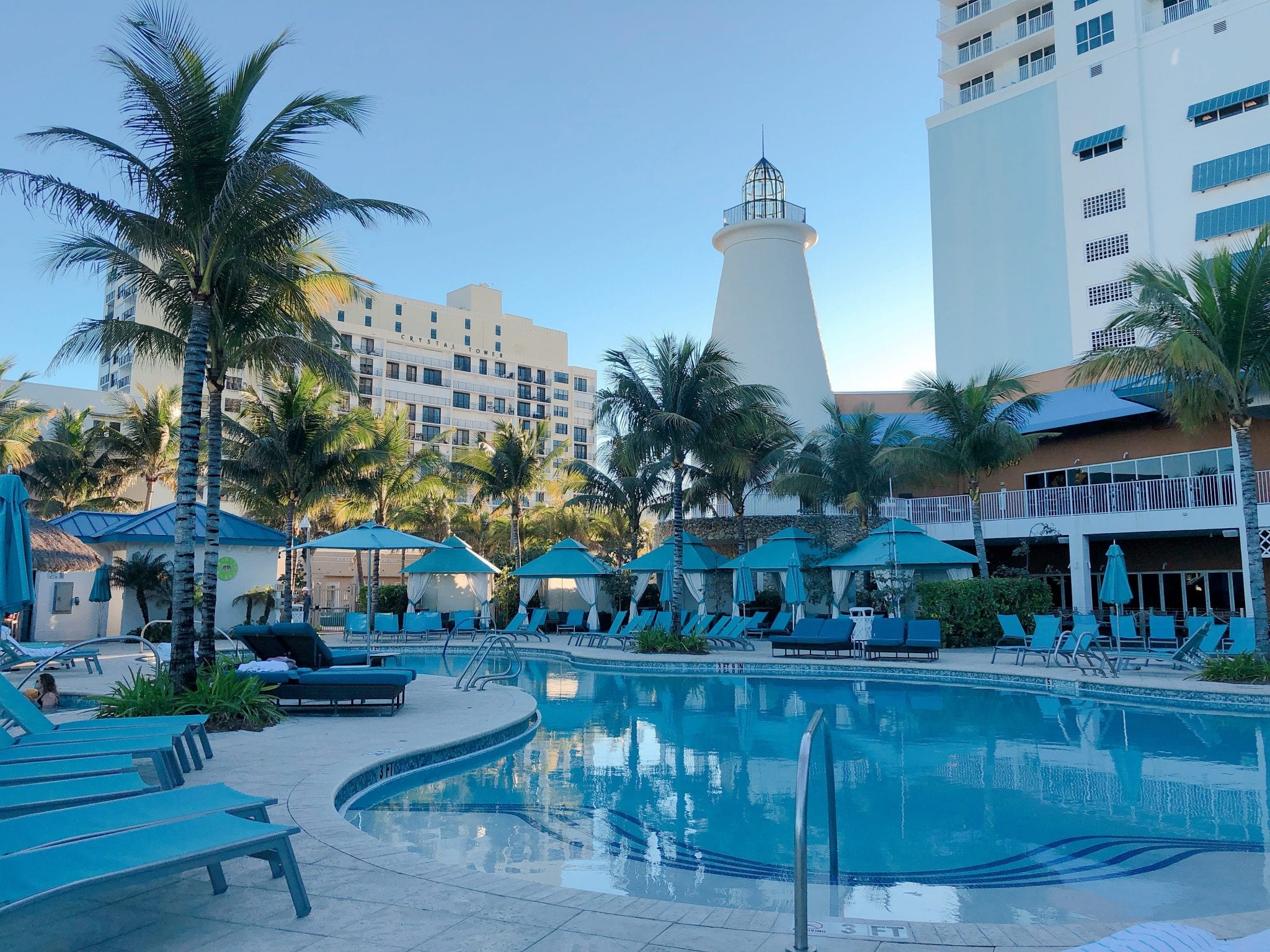 We visited Margaritaville in January of last year and because it is Florida, we got a chance to enjoy the amazing hotel pool. The pool is a great feel with numerous cabanas to relax with the family. The most popular attraction is the FlowRider which has you surfing and boogie boarding to your heart's content. I loved how the pool at Margaritaville is so close to the beach and boardwalk so you can enjoy the activities of the boardwalk and then head right back to the pool.
---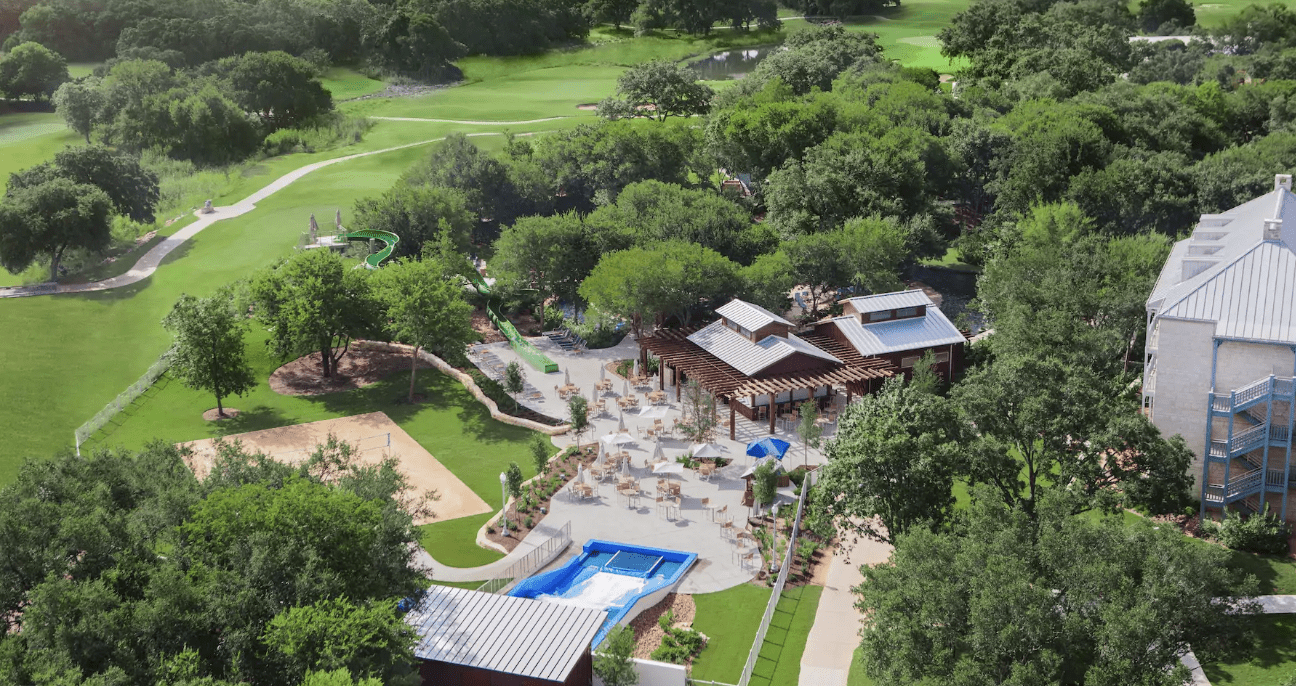 ---
If you have any questions about any of these resorts, please feel free to leave a comment or message us on our Instagram page.
---
Want to continue the list of best hotel pools? Check out our friends over at Travel Mamas, where they list the 30 Best Hotel Pools Around the World. Check it out here!
---
Pin-It for Later: 15 of The Best Hotel Pools for Families in 2023!