It is no secret that we love to travel! Traveling with our Family of 8 has allowed us to gain a lot of experience in what we need and what we don't need when traveling. Baby travel is definitely its own category when it comes to what essentials you need and don't need when traveling with a little one.
When traveling with a baby, it can be overwhelming to think about all of the items you need to pack. Not only do you have to pack your own essentials, but you also have to bring everything your baby needs to be comfortable and safe while on the go. To make your packing easier, it's helpful to make a list of all the baby items you need to bring.
That said, I went ahead and compiled a list of my favorite must-haves for baby travel essentials, so you do not have to!
Baby Travel Essentials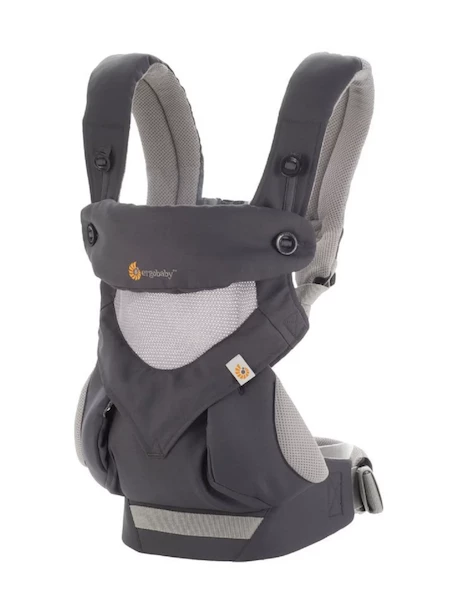 This Ergobaby Baby Carrier is a definite essential for us! I wear this baby carrier through the airport and use this a ton, especially in places like Europe or New York City where there are a lot of stairs and cobblestones.
The JetKids Bedbox Suitcase coupled with the bed kit is handy for 2-5 year olds on an airplane. I normally put it up the whole flight in the bed format so that the little one can't get down and instead can put their legs straight out.
It is a great baby travel essential because they are not able to kick the person in front of them and they are able to play and color with it!
We quickly became obsessed with the Doona Infant Car Seat to Stroller! We strolled this right down the aisle of the plane for the larger planes we flew.
This is super easy and the fact that it is a stroller and car seat all in one makes it so traveling is stress free! Our little one was pushing it at 12 months!
The Supergroup Mineral SunnyScreen in my opinion, is the best sunscreen for babies. It is pricey, but it goes on very smoothly and lasts a really long time. It fits perfectly in a diaper bag and I also use it for my chest, shoulder and face when we travel to Hawaii.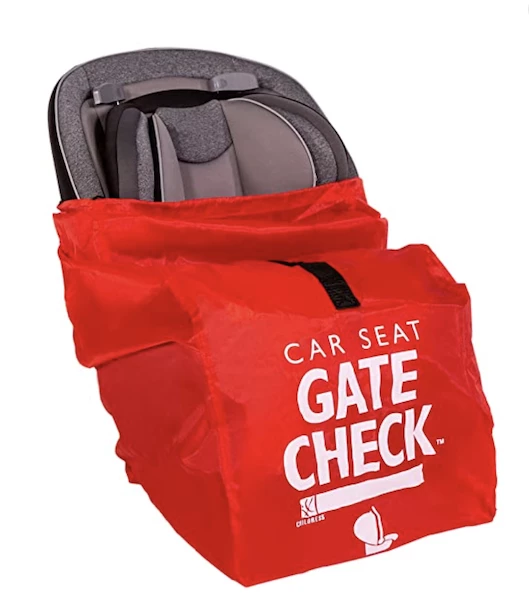 This J.L. Childress Gate Check Bag is a great baby travel essential as it makes your life easier when checking in to your flight. Do you need a gate check bag for your stroller as well? Check this one out here.
If you are planning on traveling to a place that may require bug spray, we highly recommend the Babyganics DEET Bug Spray. We love it because it is made without parabens, sulfates, phthalates, synthetic fragrances or dyes. It is actually made with plant and essential oils of citronella, peppermint, rosemary, lemongrass and geranium.
When we travel, I love to have my own separate changing pad. The Skip Hop portable baby changing pad is my favorite because it is larger and folds up, which is great for baby travel!
When traveling I love to have these soft baby wipe dispensers better than the plastic hard travel cases. I also love that you are able to easily snap them onto the stroller and go! Check them out here.
Whenever I travel with the baby, I always make sure I have Geneva's Infants Acetaminophen with me. Always great to keep in your bag, which is why I normally purchase the smaller one.
Whenever there is baby travel involved, you can almost guarantee that there is going to be a mess to follow. Which is why I LOVE to have these very convenient roll-up bibs with us when we travel with the baby.
Not only do they hold up the messes, they also roll up in size to make it perfect to squeeze in your diaper bag or carry-on. Check them out here.
Another great option for baby sunscreen is Thinkbaby's SPF 50 sunscreen! It is a great full body sunscreen for both the kids and baby during travel. Note though, that it does take a bit to rub in, but at the end of the day, offers great protection!
My favorite travel crib is definitely the Silver Cross Slumber Travel Crib! It is a three-in-one solution because it starts as a newborn bassinet, grows to a toddler crib and then transforms into just a play yard for your little one. We highly recommend to add this to your list of baby travel essentials!
When traveling with a baby, it is always great to have some toys to keep your little one occupied on long flights. I love these gentle monster silicone soft stacking cups from the Gentle Monster Store. Check them out here.
Do you have a drooler on your hands? These organic baby bandana bibs are great to have on hand during travel. I love that they come in different colors and styles to go with your little one's outfit! Check them out here.
If you are on a long flight, I love having these spinning suction cups that I place on the airplane window for the baby. I find that it definitely occupies the baby time on long flights and when we are home, I also place it on the highchair for additional stimulation when I am preparing their meal! Check it out here.
When traveling with our little one, I find that these baby food feeders are great to have to help prevent choking. If the baby wants to snack on fruit, I normally pull out this HaaKaa Baby Food Feeder!
When our baby was 0-6 months old, this was our favorite diaper bag; mainly because f the built-in changing pad. I also loved that the side walls keeps the baby's hands off germs surfaces when you are changing them. Check it out here.
This is our stroller and carseat combo that we have flown with multiple times during our travels. It comes with a mosquito net and rain cover, which was great for Disney World, Orlando and Hawaii! I loved that we could face our little one towards us as he sometimes would get a little overwhelmed when we were in crowds. Check it out here.
My personal favorite baby travel stroller is the bombi Bebee Lightweight stroller. This stroller has great sun coverage, folds flat and you can adjust the backrest any way you choose versus many other baby travel strollers.
I also love the zippered pocket, cup holder and it has a decent storage basket consider it is a travel stroller. Ours also came with a mosquito net and its own travel bag! I like to gate check this and love that the travel bag was in the storage basket so I could easily pop it in there and the stroller wouldn't be touched by all the airline workers.
We have heard so many amazing things about this crib blackout cover when it comes to easy travel with baby. It is a safety breathable blackout cover that can provide the perfect protection for the baby's sleep indoors or outdoors during travel.

Sleeping during travel might be tough for your little one to adapt to. Check out this list of baby sleep tips for travel!
We highly recommend these snack cups whether you are traveling or not. Every parent should have these on hand when they want to give snacks to their baby or toddler. These are great for keeping the mess minimal. Check them out here.
We loved having this when our baby was little. The travel case makes it perfect to grab from your diaper bag without worrying about mess and germs. Check it out here.
I always loved purchasing these swaddle blankets for my kids, because not only are they super soft, but I cannot resist a travel them! Check them out here.
Personally, I loved this Medela Breast Pump for my travels. It not only is portable, it also designed with the PersonalFit Flex Connectors for the best results while pumping. Check it out here.
This super cute and affordable diaper bag would be great to add to your list of baby travel essentials. I love that it comes with a changing pad and fits as a normal backpack. Check it out here.
When traveling to warm places, like Disney World, we loved having this clip-on fan to add to our stroller.
When traveling with our baby, I loved saying organized with this non-slip stroller organizer. I loved snapping it on my Vista Stroller to keep all our things organized!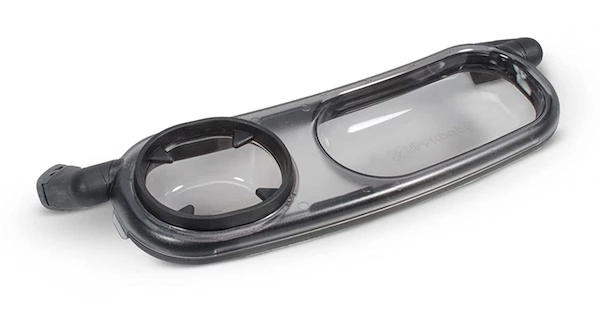 This baby travel snack tray from UPPAbaby is a must! It keeps the mess within the stroller as best as it can and easily snaps on!
---
Rent Travel Baby Gear
Did you know you can rent baby gear specifically catering to traveling? Check out this article to learn more about baby gear rental for travel!
Pin-It for Later: 28 Must-Have Baby Travel Essentials
If you enjoyed our article about 28 Must-Have Baby Travel Essentials, you might also enjoy:
MY BABY REGISTRY ESSENTIALS [WHAT YOU REALLY NEED + WHAT IS WORTH THE SPLURGE!]
TOP 5 MISTAKES PARENTS MAKE WHEN TRAVELING WITH KIDS
FLYING WITH A BABY? OUR BEST TIPS ON HOW TO FLY WITH A BABY!
---