Disney in December is one of my favorite times to be in the parks. The holidays all about family time and holiday cheer, and what better way to combine the two than embark on an adventure to Disney World! We have visited Disney World numerous times as it is our favorite time to visit the parks. There are many daily events catered to the holidays throughout the four Disney World Orlando theme parks.
Pair that with great weather and Floridian sunshine (well, it can be cold in December) and it is a December vacation that can't be beat. If you are spending time at Disney World this December, here is an overview of each park's holiday specialties.
EPCOT in December
December Events in Disney's EPCOT
EPCOT is one of my very favorite Disney World parks to experience in December because you get to see how the holidays are celebrated around the world! They call it the Epcot International Festival of the Holidays. As you walk around the world, you get to experience different Christmas traditions at each country.
Stop in France and here stories from Pere Noel, the French Santa Claus. Head over to Germany and discover the stories of the pickle in the tree. Each country has amazing traditions to discover.
A Delicious International Yuletide Extravaganza
In December, EPCOT harmonizes cultural celebrations and festivities in their International Yuletide Extravaganza, welcoming and informing visitors on different holiday traditions from across the globe. Take part in basking in cultural celebrations all throughout the world, all shared in one place. Learn more about it here!
Candlelight Processional
The Candlelight Processional also takes place in Epcot at the America Gardens Theatre. Beginning November 29th and running through December 30th, the Candlelight Processional consists of guest celebrities narrating the biblical tales of Christmas and the meaning behind it, along with an extravagant orchestra performance creating a grand production altogether. This event brings about closeness and embodies the true meaning of Christmas. Witnessing it with family is truly something special!
Celebrity guests for the Candlelight Processional 2021 are still TBD:
Performance times are held at 5 PM, 6:45 PM, and 8:15 PM from listed dates.
Dining
Food is Disney World EPCOT's forte! You can always find culturally influenced delights at each "country" stop, but during the holidays they bring out all their seasonal favorites. At each of the 11 stops around the World Showcase, you will find revamped holiday menus, new snacks, and even drinks for parents to unwind. With so many locations to choose from around the park, everyone in your group is sure to find something they love.
Some popular choices are the Disney's "kid-approved" Cheese Fondue Bread Bowl. It is huge and perfect for sharing. Take the Peppermint Sundae as a quick soft-serve treat with that holiday flavor on the go while exploring the park.
You also can't miss the elegantly satisfying Maple Bûche de Noël at the Yukon Holiday Kitchen of the Canadian Pavilion or the Celebration Barbecue Pork with Steamed Rice, a tender choice with a glaze kick that comes with a cute fortune cookie! Pair the BBQ with some Bubble Milk Tea for you and the kids, as they are both under the Shanghai Holiday Kitchen at the China Pavilion!
Magic Kingdom – My Favorite Park for Disney in December
Disney's Magic Kingdom Events in December
The big kahuna of it all, the Magic Kingdom!
Castle Dream Lights
During every evening beginning mid-November starts a brief show, Castle Dream Lights. Radiant white lights bedazzle the Cinderella Castle with "A Frozen Holiday Wish," Queen Elsa uses her powers to illuminate the Castle and transform it into an ice palace for all to see.
Take a Ride on the Jingle Cruise
Absolutely my husband's must do attraction. Head to Adventureland to sail away on the "Jingle Cruise"! This holiday revamp of the Jungle Cruise changes the storyline of the attraction by traveling with the ship crew wanting to make their way back home for Christmas. All the jokes you have come to love have been transformed into Christmas themed zingers and it's a great attraction to enjoy a laugh and get in the spirir of the Holidays
Minnie's Wonderful Christmastime Fireworks
You will also want to see Minnie's Wonderful Christmastime Fireworks! This feature is hosted by the lovely Minnie Mouse, where guests celebrate Christmas spirit and magic, all with an array of holiday tunes with fireworks. The bright display is truly a heartfelt spectacle to be shared with loved ones, a great way to end the day at the Magic Kingdom.
Mickey's Very Merry Christmas Party
Mickey's Very Merry Christmas Party is an after-hours event from 7 PM till park closing. It does require a separate admission ticket from the general Magic Kingdom admission. The event showcases a Christmas extravaganza, with Mickey's Once Upon a Christmastime Parade, a Totally Tomorrowland Christmas Show, character dance parties, meet and greets, complimentary cookies and hot cocoa, and more!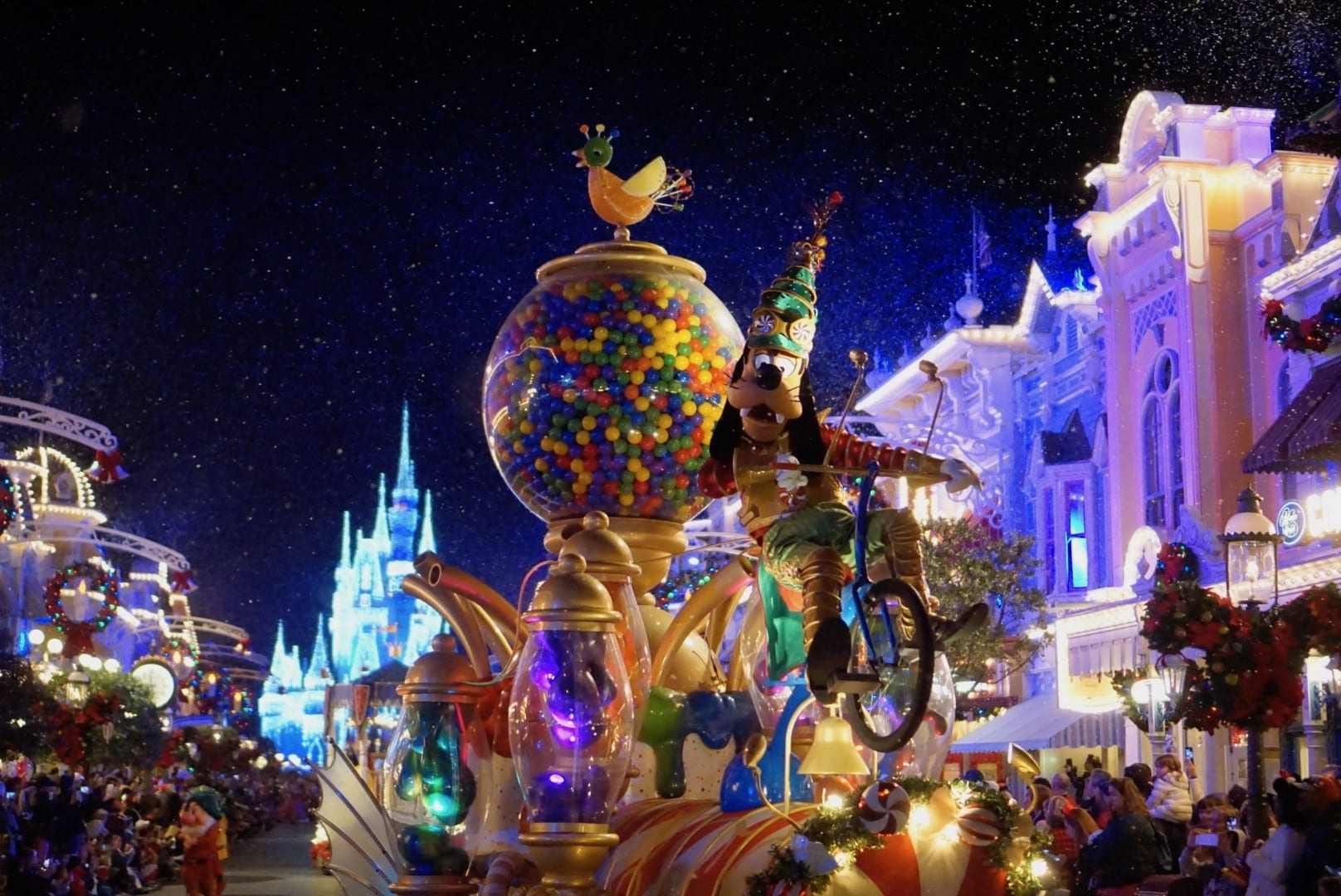 Tips for Disney's Magic Kingdom
The Magic Kingdom is full of holiday hustle and bustle! You will definitely want to use Lightning Lane for your favorite rides. Keep in mind, the four mountains are all known to have long waits; Splash Mountain, Thunder Mountain, and Space Mountain, and the Seven Dwarfs Mine Train.
Another good use for the FastPass in December is for the Jingle Cruise, which Disney puts a holiday twist on. I recommend riding at night as the attraction includes many lights.
If you and the family plan on seeing Minnie's Wonderful Christmastime Fireworks, you will want to snag a spot ahead of time. There are also FastPass+ Viewing Areas available to book.
Disney's Animal Kingdom in December
Disney's Animal Kingdom December Events
Holiday cheer continues in the Animal Kingdom! 2019 will be the first time the entire park will be fully decked out with lights and décor, spreading Christmas spirit!
Something New at Discovery Island
Be on the lookout for the new exhibit this year on Discovery Island, featuring artistically crafted life-sized sculpted winter animal puppets. You will find adorable penguins, arctic foxes, polar bears, and of course, reindeer roaming about!
Holiday Hoopla Dance Party with Chip n' Dale
Guests are invited to an evening Holiday Hoopla Dance Party with Chip n' Dale at Dinoland, USA's Truck-o-Saurus. Come party in Dinoland to dance the night away with Chip, Dale, and other Disney characters in a jolly bash!
Cultural Events at Disney's Animal Kingdom in December
Cultural events take place in two locations at the Animal Kingdom. Visit the Anandupur Theater in Asia, celebrating Diwali, a traditional Indian holiday light show. You can also head to the Village of Harambe in Africa, where a colorful display of African textiles and arrangements are displayed with holiday enhancements.
Pandora is Decking the Halls
Pandora will also be spreading the holiday cheer with Earthling décor intertwined with materials native to the world of Avatar.
The Tree of Life: Awakening
Last but certainly not least is The Tree of Life: Awakening. The tree will glimmer throughout the evening, radiating with a wintry musical performance. It is a beautiful sight to see and a great spot to get a photo with the entire family!
Things To Keep in Mind
These tips ring true throughout the year but will be especially important to keep in mind since Disney is so crowded during December. The Animal Kingdom is home to many thrill rides. If shows are not your style, beating crowds for these rides will be a safe bet in marking them off your checklist. Of course, there is Disney's FastPass+, but if you are unable to acquire a FastPass time, fear not! If you don't mind splitting your party up, the single rider line is a great shortcut. At the notable, fast-paced Expedition Everest rollercoaster, the single rider line usually has a wait of 10 minutes or less. Once we even went three times, one right after the other!
If keeping the party together is a priority on your list, knowing the event showtimes will be of great help. These shows often pull the crowds away from the rides, lessening waits. This is especially true for populated rides such as the Kali River Rapids and Avatar's Flight of Passage whose wait times are notorious for typically being over an hour.
If you do decide to get a FastPass+ for Kali River Rapids, I recommend booking a later time in the day. This way you will be soaked for less of the day!
Hollywood Studios
December Events in Hollywood Studios
Disney's Hollywood Studios is all about lights, camera, action, which becomes double the fun during the holiday season!
Toy Story Land
This year, Toy Story Land will get a holiday makeover, with a 10-foot-tall Hamm sugar cookie sitting at the Park by Woody's Lunch Box. This is a perfect spot to get a quick holiday card selfie in with the family, along with Woody, Buzz, and Jessie dressed in Christmas cheer.
Sunset Season Greetings
Make sure to pop by Sunset Blvd. for the Sunset Season Greetings*! Tower of Terror's Hollywood Tower Hotel comes to life with the dazzling lights and lasers. Guests of all ages, come one, come all, to witness billboards suddenly moving in motion, with Disney characters spreading around their stories with their love of the holiday season.
Characters that are featured during the Sunset Season Greetings include; Mickey Mouse and Minnie Mouse, the cast of Toy Story, The Muppets, and Olaf from Frozen. All with their own tales to tell!
Jingle Bell, Jingle BAM!
Gather around the Chinese Theater at 9 PM for Hollywood Studio's Jingle Bell, Jingle BAM*! This yuletide adventure sets foot with Disney characters trying to get Santa back to the North Pole in time for Christmas Eve. Guests take part in helping the characters with their holiday hijinks, and even a showdown in rescuing Santa to save Christmas!
*Both Sunset Season Greetings and Jingle Bell, Jingle Bam are held inNovember & December.
Dining
There is an optional dessert party for the Jingle Bell, Jingle Bam event, where guests can enjoy holiday delights at a variety of food stations, including a nitrogen dessert station! Spirited beverages will be available for guests over 21 years of age, along with non-alcoholic drinks, including hot cocoa! You will need to book the dessert party in advance. The cost is $89 per adult and $53 for children ages 3-9 from 11/ 8-12/21 and 1/02-1/05. From 12/22 – 1/01, the cost will be $99 per adult and $59 per child (tax and gratuity included.)
However, you can also try the holiday treats at different locations throughout the park! One popular item is The Chocolate Chestnut Pinecone. A beautiful chocolate pinecone served on a praline leaf served at the Backlot Express.
The Apple Cranberry Cobbler, an apple and cranberry cobbler topped with ooey-gooey icing and breadcrumbs served at Hollywood Scoops and Bill's Dockside Diner. And for the adults, have some holiday "cheers" with the Hot Chocolate Flight, made of three glasses of hot cocoa, with vodka, cherry bourbon, vanilla, and Irish liqueur mixed in. You can find this flight at Fairfax Fare.
Disney Springs December Events
December festive fun doesn't just stop at the parks! At Disney Springs you can enjoy some holiday shopping while partaking in festivities with the family.
The Christmas Tree Trail
You can enjoy wonderful crafts and scenery on The Christmas Tree Trail. The trees are all themed after Disney works such as Mickie & Minnie Mouse, Mulan, Aladdin, Toy Story, Star Wars, The Little Mermaid, Frozen, and more! Also, Santa Claus and his sleigh bells will be ringing into Disney Springs each day till December 24th. Guests can take pictures and also use their PhotoPass for memories in meeting Santa!
Stitch's Holiday Gift Hunt
Another fun event for the kids is Stitch's Holiday Gift Hunt. Stitch needs guests to help him find the items he lost all throughout Disney Springs! A good event for the kids to enjoy while parents spend time holiday shopping.
Disney Springs Tree Lighting Ceremony
Stay all day or come by during the evening as a Tree Lighting Ceremony takes place by the Once Upon a Toy fountain. Enjoy a breathtaking view of watching the main Christmas tree bright up the night at Disney Springs.
And there you have it! With highlighted attractions and amenities to enjoy, why wouldn't you want to spend time at Disney in December? With family, friends and the holidays, it's the happiest season of all at the happiest place in the world!
We truly love Disney during the holiday season & make it a priority to experience the magic every year as a family. If you have any questions, you can reach out to me directly through Instagram!
You May Also Like:
Try the Grey Stuff, It's Delicious- The 7 Best Magic Kingdom Restaurants
Disneyland Holiday 2019 – Complete Guide + Tips To Have the Merriest of Times!