You might find yourself pretty hungry as you adventure through the wild at Disney World's Animal Kingdom! Have no fear though, there are delicious eats all throughout the park and we're here to tell you exactly which ones are worth a try. We love all the parks, as you probably noticed, but Animal Kingdom is somewhere we don't mind dropping in multiple times per visit. There is always something new and exciting going on.
Of course, the fact that there are so many delicious places to grab a bite doesn't hurt. Whether you are looking for something out of this world from Pandora or want to grab a bite to eat in Asia before exploring amazing rides like Expedition Everest, here are the best snacks at Animal Kingdom.
Out of this World Snacks in Pandora
Pandora is pretty amazing both visually (especially at night) and with their incredible rides. But we are here to talk about the snacks. Here are some best snacks at Animal Kingdom's Pandora
This is not at all what you would expect if you are a big fan of savory lumpia, this being said it is unique and absolutely worth a try. It is a sweet snack filled with pineapple and cream cheese. You can find this Animal Kingdom snack at Pongu Pongu.
---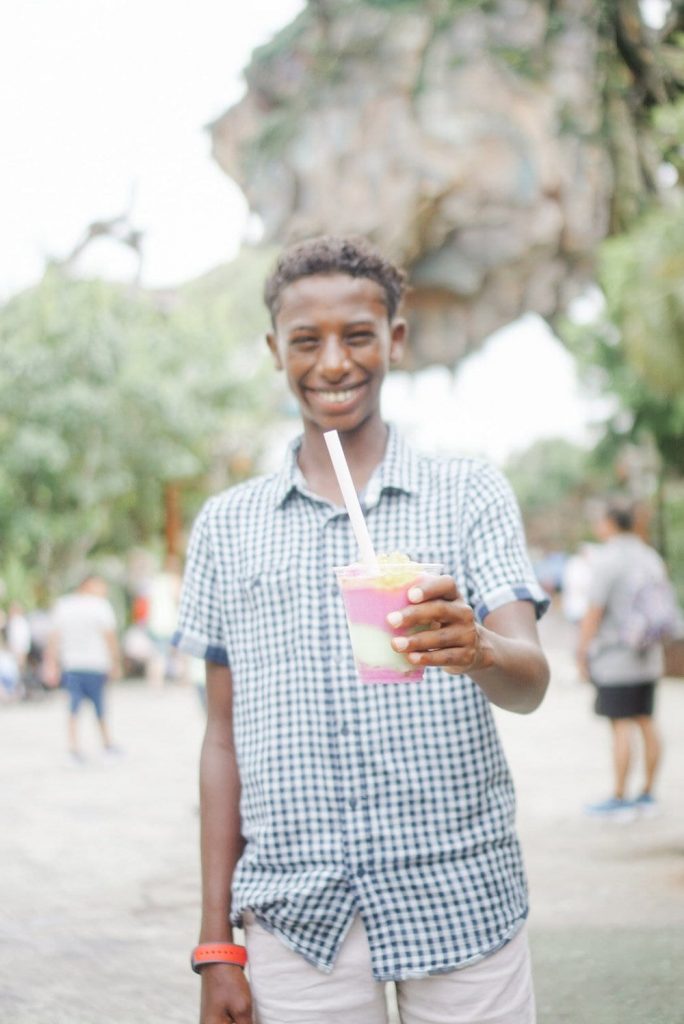 If you are looking to quench your thirst, which we all know is necessary for the Florida heat, head to Pongu Pongu for the Night Blossom. It is a non-alcoholic slushy with layered flavors of apple and pear topped with boba. We love boba in general, so this is one of our favorite drink options in all the parks. Plus, it is on the Disney Dining Plan. If you haven't had the chance to try boba yet, definitely give it a try! Pongu Pongu also offers adult beverages that are pretty delicious if that is more your speed.
---
Snack in Africa at Animal Kingdom
Start off your time in Africa with my favorite savory snack, Grilled Corn. Sure, it is simple but it is also filling and consistently yummy. I actually love this whole stand because they offer healthy choices like fruit, Babybel cheese, and trail mix. These are all great things to keep you fueled throughout the day.
Pineapple Dole Whip is more widely known as a Disneyland snack, but you can get the delicious treat at Animal Kingdom's Tamu Tamu as well. And yes, it tastes exactly the same.
They have both the float and the cup options, as well as alcoholic Tamu Tamu refreshments. Even though the float is over $5, it is on the Disney Dining Plan so it's a great way to get some bang for your buck!
View this post on Instagram

While this cake is, in fact, beautiful, it is also delicious. If you are a coconut lover this is definitely the Animal Kingdom snack for you. It is a coconut cake filled with pineapple and topped with a coconut mousse.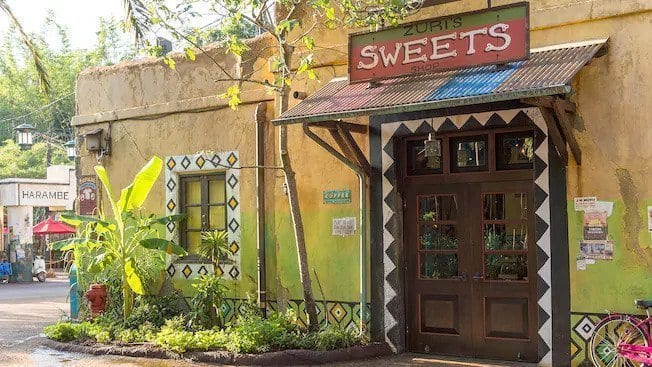 A less widely known snack that is worth a try is a Haystack from Zuri's Sweet Shope. Rather than a restaurant or a food stand, this is truly like a candy shop.
Best of all, you can still use your snack credits here! The Haystack is something different to try that you can't really get anywhere else. It is kind of like a peanut butter brittle, the perfect mix of sweet and salty.
---
You can get these sweet crunchy almonds in many of Disney World's theme parks, but we always find ourselves grabbing them as a quick snack in Animal Kingdom right after our ride on Kali River Rapids. The park just has so much to do that it is nice to be able to grab and grub on the go.
---
Best Snacks in Asia at Animal Kingdom
Asia has some of the best food overall in my opinion. My favorite restaurant in all of Disney World, Yak & Yeti is located in Animal Kingdom's Asia. With that being said, there are also some delicious snacks in Asia.
Looking for a snack or meal in Animal Kingdom, either way, we won't judge! You can get a scrumptious side portion of chicken fried rice at Yak and Yeti Local Foods Cafe. It's a pretty large serving, so you get great bang for your buck.
This might not be for everyone, but I've had frites in Canada. and I have got to say Mr. Kamal's seasoned fries stand up to them. They are smothered in Tzatziki Sauce and an incredible Sriracha Ketchup.
Mr. Kamal's is a food cart that you can find in Asia. There is not much on the menu, but what it does offer sure is delicious and one of the best snacks in Animal Kingdom
Another option from Mr. Kamal's cart are these delicious chicken dumplings. They are fried and perfectly crunchy. My mom's absolute favorite food is dumplings, and even she approves of these! You get three in a serving with a side of ponzu sauce making them a great shareable snack.
Dinoland Snacks! U.S.A.
If you have a big appetite but want to just grab a snack, Dinoland has some of the heartiest snacks around.
While I would say to stick to the more adventurous and unique foods at Animal Kingdom, I understand if you're looking for some comfort food. In this case, you should head to Trilo-Bites. The most beloved snack here is the Buffalo Chicken Chips. The seasoned chips are housemade and perfectly crispy and they are topped with delicious buffalo chicken and bleu cheese dressing.
This is one food item that is not on the dining plan that I would recommend splurging for if you love buffalo chicken!
If you are looking for a quick, spicy bite these poppers are pretty yummy! It comes with three poppers and a yummy ranch dipping sauce, again this is a perfect snack to share.
Discovery Island Snacks
Discovery Island probably has the least amount of food options in all of Animal Kingdom, however it does have some of the best snack in the entire park!
I am not sure if I would normally qualify a pasta dish a snack, but when in Disney World! Many Disney World foodies flock to Animal Kingdom to give this dish a try at Eight Spoon Cafe. They have three different macaroni options; the basic cheese, shrimp and sweet chili sauce, and pulled pork. You can't go wrong with any of them!
If you are looking for an entree option, head to Flame Tree Barbeque for pulled pork, onion ring, and coleslaw topped mac.
What You Need to Know about Animal Kingdom Snacks for the Disney Dining Plan
We love the Disney Dining Plan! However, we know it can be tricky to decide which plan works best for your family. Check out our top tips & tricks here if you are looking to clear up some confusion. Every tier has options for you to get snacks, so no need to worry there. Many of the items below will be available as options for you, and a general rule of thumb is that if it is around $5 it's probably a snack item.
There is no comprehensive list of snacks, but you should just keep your eye out for the purple and white "DDP" symbol next to items. This means it is a Disney Dining Plan food option.
If you have any questions about Animal Kingdom, the Disney Dining Plan, or any other Disney World Vacation Questions, feel free to comment below or check out my Disney World Tips on my Instagram Page!
You May Also Like:
The Best Character Dining at Disney World- Top 7 Places!
The Best Disney Deluxe Resorts + Money Saving Tips When Booking
The Ultimate Guide to the Best Animal Kingdom Rides
Pin for Later: 13 Best Snacks at Animal Kingdom [For the Foodies!]
Latest posts by Emily Myers
(see all)