Are you looking for helpful tips to plan a smooth resale of Disney Vacation Club membership and benefit from its substantial resale value? Almost two decades ago, I embarked on a memorable tour of the Disney Vacation Club with my then-boyfriend and now husband. Not only did it look terrific, but it also tempted us to invest in a DVC property.
A year later, Mike bought our first Disney vacation club property, and I can't tell you how proud I am of his decision. We have beautiful memories of spending a wonderful time with friends and family, which is why I want to go back there every year.
Check out our tips below of how to ensure a smooth resale of Disney Vacation Club.
---
What is Disney Vacation Club?
For those who don't know, DVC or Disney Vacation Club is an improved version of the classic timeshare. You can enjoy an exciting stay at several Disney properties across the U.S., including:
Disney's Vero Beach Resort in Florida
Disney's Hilton Head Island Resort in South Carolina
Disneyland
---
Resale of Disney Vacation Club
But are you considering selling your Disney Club Vacation Club membership?
Maybe you once dreamt of owning a Disney Vacation Club. But now you want to resell your membership after fulfilling your dream.
If you want to resell your DVC membership, that's completely understandable. It is one of the best investment strategies, especially if you think keeping it is no longer in your financial interest. However, you can hold on to it for a while.
In this guide, I will give you some handy tips to help you learn how DVC resales work on the resale market.
So, here's what you need to know.
---
Find out Which DVC Membership You Currently Have
Making sure you have all the information required to sell your DVC membership successfully is one of the first stages in getting ready for the resale of Disney Vacation Club.
There is no resale department in Disney, and you won't be able to resell your membership to Disney. However, there are numerous third parties that you can contact.
There are a few different options for marketing and reselling a DVC contract.
Selling through an instant sale program or a broker is the safest and fastest method of selling your Disney Vacation Club membership.
Let's briefly explore each of these.
---
Resale of your Disney Vacation Club Through an Instant Sale Program
You can instantly choose to sell DVC points by receiving a direct offer from a broker willing to buy the membership immediately. This method gives the quickest turnaround for any DVC resales transaction.
You can receive a legitimate offer to sell your membership within minutes of your request. All DVC transfers, including ROFR transfers, are still subject to the transfer process. However, this fast sale option saves significant time.
However, there's one thing to remember. Generally, the market price is lower than the instant sale offer. Also, note that this option is only for sellers who want to sell their membership immediately because they need more time.
---
Resale of Disney Vacation Club Disney Through a Broker
Another option is to look for a trustworthy resale broker that can guide you through the listing procedure and assist you with your resale contract.
I will now go through some of the critical factors to consider when you choose a broker or a company to help you sell your DVC membership.
Tips to Follow When Selling your DVC Membership through a Broker
Don't Pay Any Upfront Fees
If the broker you chose is demanding an upfront fee, beware. They could be just one of those fly-by-night companies that only produce results by charging you high upfront fees. Instead, listing your timeshare through a licensed Real Estate Broker is the best way to initiate the reselling process.
These brokers specialize in DVC timeshare resale service, and you have to pay them a commission only when they can produce a legal sales contract for your DVC property.
When looking for a professional DVC resale broker, look for someone who has the following:
a thorough understanding of the DVC resale market
a solid track record of successful DVC resales
the latest knowledge about the changing trends in the DVC resale market
a network of potential buyers
When you partner with a professional and licensed DVC resale company or broker, they list your membership on the DVC resale market after determining the best listing price.
---
Carefully Review and Understand the Offers you Receive for Your DVC.
Every former DVC owner will strongly agree that finding the right buyer becomes super-easy as soon as your broker lists the DVC. Screening the offers and choosing the best buyer is the most exciting part of the resale process. When you start receiving offers through emails, here are a few things you must evaluate before you accept any offers from prospective buyers. For example:
Commission costs
Offered amount
Seller-paid closing costs, as mentioned on your listing contract
The contract will be ready for signing after a potential buyer makes an offer and you accept it. Once you sign and execute the agreement, the closure and transferring procedure start immediately.
---
DVC Transfer Contract and Collection of Proceeds
The final step is to sell your Disney Vacation Club membership and transfer it to a new buyer. The same laws govern this deal as any other real estate transaction. A reputed Disney resale company will employ the services of a licensed title company to protect the buyers and sellers throughout the transfer.
This licensed title company will assist with the transfer and register the sale with Disney. After transferring the membership successfully, you receive the proceeds, excluding any outstanding mortgage balance, closing costs, or commissions.
---
What are the Benefits of Reselling your Disney Vacation Club Membership?
That's a question many people ask me when I recommend them to resell their membership.
First, it's a fantastic method to raise money to help with your debts and dues.
Second, although many DVC members like visiting Disney Parks and Resorts, they may not do so annually.
Third, you can pay for a different kind of vacation by selling your allotted points.
Fourth, many times, selling your DVC membership points could be your only choice to retain your membership. Many DVC members in this situation choose to sell DVC points to contribute to the loan of their membership and keep it forever.
Fifth, many people want to invest in DVC memberships. They buy the membership and sell the points immediately for the following few years without ever utilizing any. By continuing to do this, you pay your dues and accelerate the loan repayment. Eventually, they will buy the membership and only worry about paying the yearly dues.
---
Final Thoughts
The entire resale of Disney Vacation Club process is relatively inexpensive. Hence, it will take a little while to sell your DVC memberships. But you may have to observe a certain waiting period. Most listings sell within a month. You can choose a DVC instant sale if you need to sell as quickly as possible.
---
Frequently Asked Questions about Resale of Disney Vacation Club
How long does a DVC membership last?
The contracts for most of the DVC resorts last up to 50 years. 
The Home Resort you choose will determine how long you own your points. The expiration date for each DVC resort varies and is set by Disney. On that date, all ownerships will return to Disney regardless of their issuance date.
How long does it take to complete the resale of a Disney Vacation Club?
On average, it takes roughly ten weeks following the acceptance of the offer.
How is the DVC membership's worth determined?
The resort, the deeded number of points, and the available points are the three most important variables that influence the value of the DVC membership.
Does the purchase of DVC need any upfront costs?
There are no initial costs. Furthermore, anyone requesting an upfront payment may be a scam or is less likely to sell your DVC membership to the best buyer because they have already been compensated. 
---
If you enjoyed our tips on ensuring a smooth resale of Disney Vacation Club, you might also like:
IS DISNEY VACATION CLUB WORTH IT? WE HAVE THE ANSWER!
OUR TOP 5 REASONS YOU SHOULD BOOK A DISNEY CRUISE FROM GALVESTON AND WHAT MAKES IT SO GREAT!
DISNEY CRUISE FOR FLORIDA RESIDENTS: EVERYTHING YOU NEED TO KNOW AND THE BEST PERKS
DISNEY AULANI REVIEW, ULTIMATE GUIDE + 15 MONEY SAVING TIPS
AIRBNB DISNEY WORLD – 15 MAGICAL AIRBNBS NEAR DISNEY
---
Pin-It for later: Best Ways To Ensure a Smooth Resale of Disney Vacation Club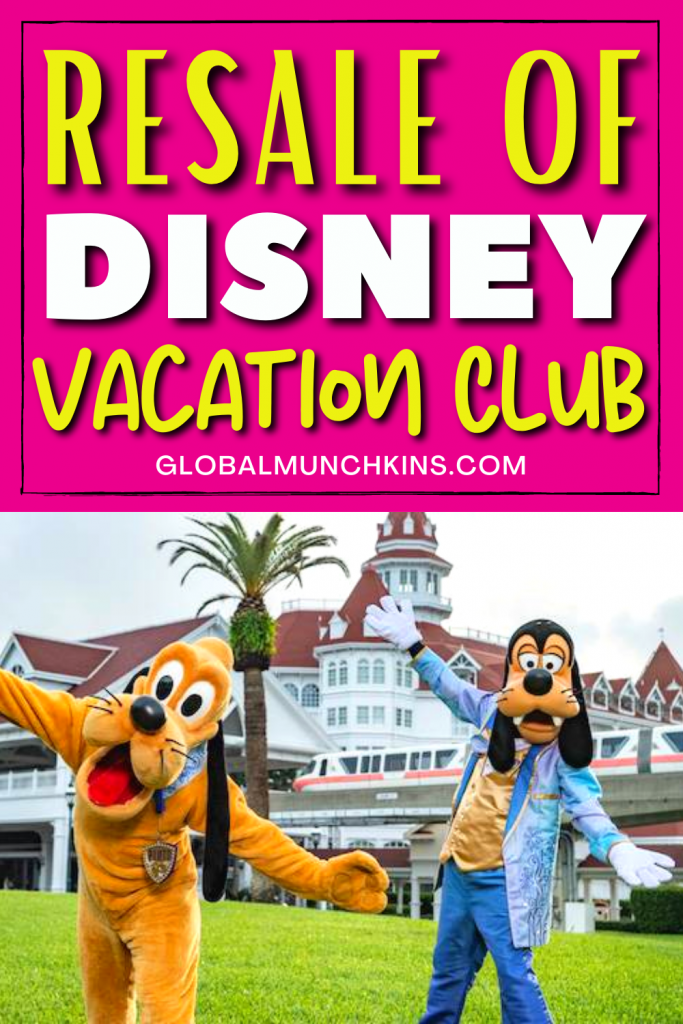 Latest posts by Ashland Hendrix
(see all)