I have now been a Disney Vacation Club Member for almost 20 years now (sheesh I am getting old). In all these years, I have managed to experience every single Disney Vacation Club Resort aka DVC Resort, with the exception of Old Key West. While my favorite resort, Disney's Beach Club will always be top in my heart, the new Disney Riviera was quite impressive. In fact, the Disney Riviera Resort rooms might be the best rooms for families.
Not to mention, guests staying here have some pretty incredible views and an awesome water park. The Riviera would definitely be one of our top recommendations for families planning their Disney World trip. Read on to find out why! 
The Best Layout for a Disney Vacation Club Studio
We stayed in a studio at the Disney Rivera Resort on a recent trip and the one thing that made an immediate impact was the incredibly smart layout of the rooms. Having so many kids, space and organization are key, especially on a Disney trip. This way you get to avoid the tension of being crowded into a small space.
Plus, when you have room to organize everyone's thing, your morning routine will become much smoother. This means you'll get into the parks quicker, too! This room is by far the best layout of any Disney Hotel we have ever stayed in. Read on to find out why we loved our stay so much!
Magical Beds in the Disney Riviera Rooms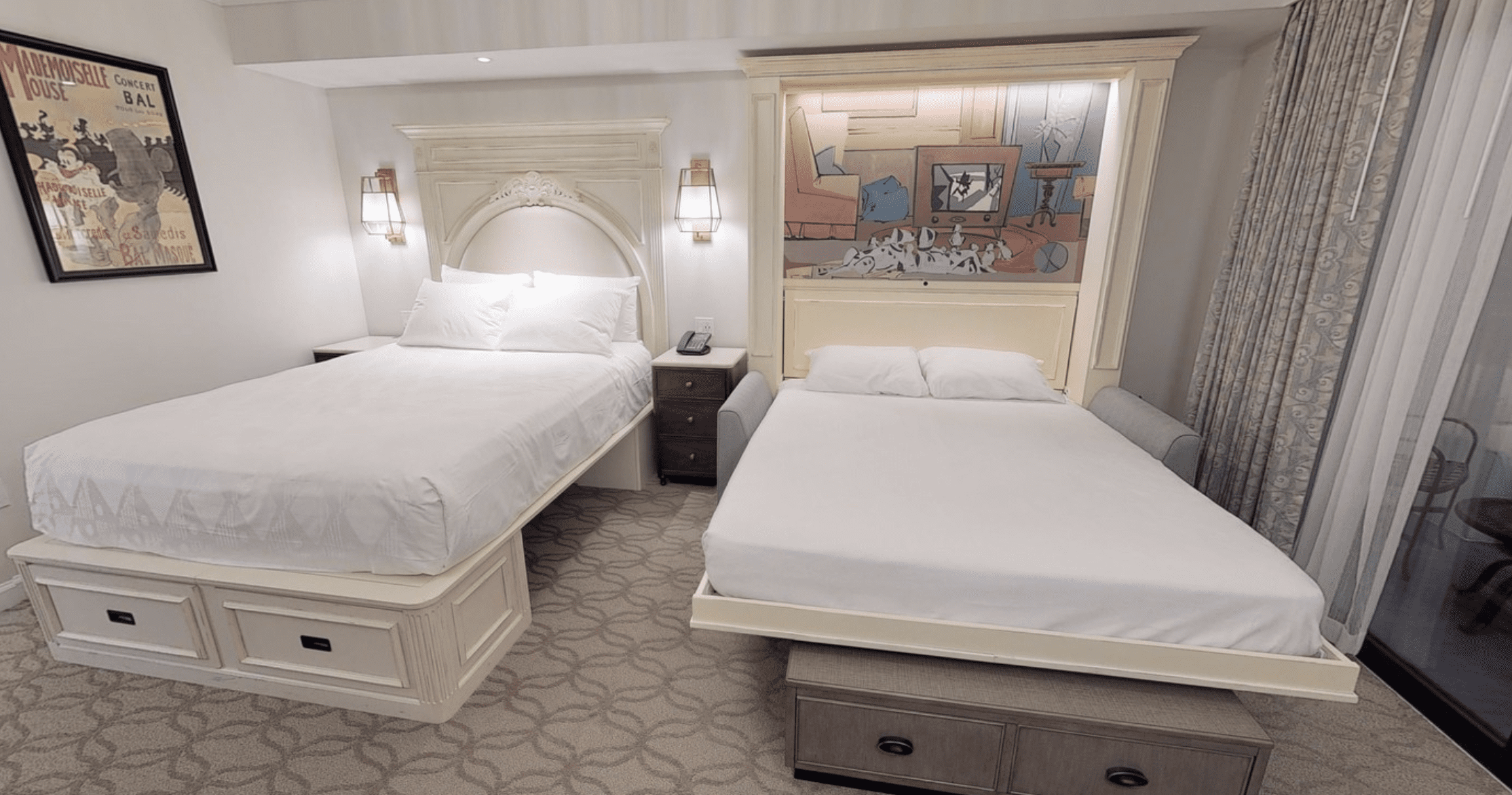 When I entered the Disney Riviera room, I immediately noticed the traditional layout of most Disney Vacation Club Rooms. You have your mini-fridge, microwave, Queen Bed and Pull Out Sofa.
I did not realize till much later that night that the pull out couch was not a pull-out couch at all. In fact, it was a Murphy Bed, which came from the wall and the couch in front of the wall folded down seamlessly. The bed was a queen size pull. Above the Bed was a mural. In fact, you will find several different murals behind the beds.
Another aspect that I love about the Disney Riviera Resort rooms and a feature that have been added to some other DVC rooms lately, is the pull-out twin bed underneath the TV. In our room, a mural of the Tangled backdrop is displayed when the bed is pulled down. My daughter thought it was simply magical, so she slept in her bed the whole night and never climbed into mom and dad's bed. That is a win for everyone!
The best part of these beds is they fold up so easily. This means that there is a ton of space in the rooms when the beds are folded back up.
Amazing Space For Storage
One of the features that I love onboard a Disney Cruise, is the beds. They are situated so that there is plenty of room underneath to slide and store your empty luggage. The Disney Riviera has improved on these beds by having large drawers at the ends of the base of the bed. Plus, you will still enough space to store your luggage!
Double Showers
Having a room full of 5 people trying to get ready early in the morning for the parks can be quite the challenge, especially when you are sharing one shower. The new Disney Rivera Resort rooms feature a double shower. One of which is a glorious shower with a rain shower option!
The other is a shower/tub combo, which is perfect if you have to give the little ones a bath. This made getting ready for the day or a night at Disney Springs so much easier.
Incredible Views
Of course, one thing you have to consider when choosing which DVC Resort is the location. As you probably guessed, Disney's Riviera Resort is in a great location. Because of its unique location, you can see fireworks from two different parks!
Hollywood Studios & Epcot have nightly shows which you can see from the top of the resort restaurant, Topolino's. The two sets of fireworks give you a much better chance of getting a room with a firework view. The other views are not too shabby themselves as you get a view of the new Disney Skyliner and the resort pool.
Disney Riviera Pool
The Disney Riviera Resort Rooms are great but there is more to the resort than just the room itself! Like I said earlier, it is nearly impossible to beat the incredible pool at Disney's Beach Club Resort, but the Disney Riviera is wonderful in its own unique way. I loved the relaxed European vibe of this pool.
It was definitely a different feel from many of the other Disney Resort pools, which we appreciated.
Water Slide
Of course with Disney, you are going to have an amazing water slide. Olivia went up and down this twisting waterslide numerous times throughout our vacation and her smile got bigger each time. It was a great way for her to get some energy out while the rest of us relaxed and took a break from the park.
Kids Splash Play Area
The splash area is a fun area for kids under 48″. Our daughter was very excited for the first time to be under 48″ as she had an amazing time sliding down the junior slides and shooting water in the splash pad. Your little one could easily spend hours in this area.
Lawn Games & Gelato

My husband's favorite part of the pool area was the lawn games. You can find yourself in a fun game of cornhole, or an intense game of Connect 4. Just outside the pool area is a massive lawn and also a place to play bocce ball. After some "intense" lawn games sit back and relax with some amazing gelato.
Easy Transportation to the Parks from Disney Riviera
I will be honest, I was not so sure about the Disney Skyliner. My worry was it would be a long hot ride to the parks. I was wrong, wrong wrong. They are amazing and by far my favorite way to get to the theme parks.
From the Disney Riviera resort, you can easily get to Epcot and Disney's Hollywood Studios in about 10 minutes on the Skyliner. They are nice and breezy to keep you cool and are very large, they can hold up to 10 people. The skyliner station is located right next to the Disney Riviera Resort. It was a short 2 minute walk from our resort room.
You can easily push your stroller on without having to fold it up (So nice). If you are in a wheelchair or need extra assistance there is a separate loading area where you can take your time getting on and off the Skyliner without having to worry about holding anyone up. It was very well thought out.
For Magic Kingdom & Animal Kingdom, you take a Disney Bus and you can choose to take a bus to Epcot or Hollywood Studios, but I would recommend the Skyliner, it is much faster.
Additional Room Options –
As with other Disney Vacation Club Rooms, there are multiple options for rooms. The one-bedroom villa also sleeps 5 people but includes a living room and full kitchen. The two-bedroom villa also includes a living room and a full kitchen and can sleep up to 9 people.
How to Book a Room (and save money!)
You don't need to be a Disney Vacation Club Member to book a room. In fact you can actually rent a room for up to 50% OFF by renting points from vacation club members. You can do this via David's Vacation Rentals. (Check out our full review here of their services)
If you need help planning and booking your magical Walt Disney World vacation, contact our friends at Tink's Magical Vacations. They are truly Disney Experts, and not only are their services FREE, but they will save you both time and money. 
Overall
I hope this peek at the Disney Riviera Resort rooms and its awesome rooms have shown you why we enjoyed our stay so much! Although Disney's Beach Club will always be #1 in our hearts, this resort came in at a close second. Not to mention, the room layout may have been the best we have seen for families when it comes to space and storage. It is truly a great option and should be taken into consideration for your next Disney World trip! 
Have more questions about DVC Resorts? Leave them in the comments or message me on Instagram. We would love to have the chance to help you out!
You May Also Like:
How we SAVE 50% on Disney Resorts with DVC Points- Disney Vacation Club
The Best Disney Deluxe Resorts + Money Saving Tips when Booking!
The Ultimate Disney World Packing List [+ Free Printable Checklist]
Frequently Asked Questions about Disney Riviera Resort
How much does it cost to stay at Disney Riviera Resort?
Typically rooms range from $350 all the way up to $4000. You can also save 40-50% off by renting from Disney vacation club members
Is Disney Riviera Resort a Moderate or Deluxe Resort
The Riviera is a Deluxe resort and is definitely one of the nicer resorts on Disney Property. It has an amazing pool, easy access to several parks and wonderful rooms.
Can you walk from Riviera Resort to the Parks?
No, but you can use the Disney Skyliner to get to Hollywood Studios and Epcot. For Magic Kingdom, Animal Kingdom and Disney Springs you will need to use the Free Disney Buses