Are you in the middle of planning a vacation for spring break or summer break? Is your family interested in outdoor activities like swimming and boating? You might want to consider researching Lake Wallenpaupack rentals as an option for this year's family vacation.
Lake Wallenpaupack is located in Northeastern Pennsylvania in the Poconos. With 52 miles of shoreline, Lake Wallenpaupack is a water lover's paradise where you can sit and unwind amidst the picturesque backdrop of green trees and glistening lake.
While you can spend your days swimming, boating, and soaking up the sun on Lake Wallenpaupack, there are other fun things to do like hiking, shopping, and dining out. If you're considering a getaway at Lake Wallenpaupack then you will need to think about what kind of accommodations you and your family would most enjoy.
Do you want to be right on the lake or a bit away from the action?
Do you need a sizable rental or something a bit more cute and cozy?
Let's dive into the best places to go and things to do, as well as the best Lake Wallenpaupack rentals available today!
---
Best Places to go at Lake Wallenpaupack
Palmyra Township Public Beach
Palmyra Township Public Beach is a great place to swim and sunbathe, and it's open to the public every day during the summer. The calm waters are devoid of rough waves making it perfect for first time paddle boarders or wake surfers that are seeking a more forgiving place to learn. It's also great for children who are new swimmers and getting used to open water.
Dotted along the shoreline you will find boat rentals that you can take out for a fee. Kayaks, canoes, paddle boats and more are available to rent. If you'd rather catch some speed, jet skis are available as well.
If you or the kids are looking to try out wake surfing or water skiing, you can book private lessons individually or in a small group to try something new and fun.
---
Wish for Fish? Wish No More
If you're an avid fisherman, first timer, or introducing your kids to your favorite pastime, fishing at Lake Wallenpaupack will ensure you catch a big one.
The Pennsylvania Fish and Boat Commission makes sure to keep the lake stocked with striped bass, brown trout, and walleye, but what the lake really is known for is their smallmouth bass. Don't let the name fool you, at Lake Wallenpaupack they are actually known to be quite robust in size.

If you want to make sure you definitely catch something, you can get some secrets and tips from local experts like Ray's Charter Guide Service. They will tailor your experience based on your level of expertise, and you're near guaranteed to catch a bass or two.
---
Dine on a Dock
What's a good vacation without trying the local fare? The restaurants and eateries and Lake Wallenpaupack offer a variety of choices for every palate and budget.
Open for breakfast, lunch, and dinner, The Dock on Wallenpaupack is a must if you are staying in Lake Wallenpaupack. Located on the Silver Birches Resort property, The Dock on Wallenpaupack features a water-inspired menu with something for everyone's taste. In the spring and summer months you can dine out on their deck while enjoying jumbo crab cakes, a poke bowl, or one of their seven brick oven style pizzas.
Have you ever wanted to dine out while taking in the views and sounds of a waterfall? Look no further than Glass. Located at the Ledges Hotel, this spectacular restaurant is a delight for your eyes and taste buds. You can sit and enjoy a meal and a drink in their elegant dining room or seated window side and take pleasure in the waterfall while eating tapas such as chicken souvlaki, veggie fried rice, or a cheese & charcuterie board.

Good thing there's always room for ice cream! For a sweet after-dinner treat, Gresham's Ice Cream Shoppe is a counter service establishment that has sundaes, banana splits, milkshakes, soft, and hard ice cream in classic and unique flavors. There is something for everyone in the family. Make sure to load up on the napkins and wet wipes for this one!
---
The Rest is History
If you want to learn a little something while you vacay, Lake Wallenpaupack has no shortage of museums, historical buildings and art galleries to choose from.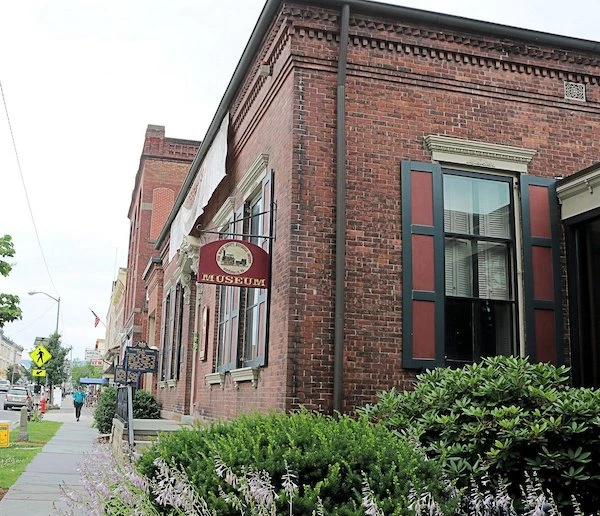 The Wallenpaupack Historical Society is a dedicated nonprofit that aims to preserve the rich history of Lake Wallenpaupack. You can view historical artifacts, learn about the people that built the area, and participate in interactive events.
The Hawley Silk Mill is another great destination. It was built in 1880 and still stands today. While its appearance has changed over the years, you can still immerse yourself in the building's history while browsing their boutiques which feature products produced by locals.

The Dorflinger Glass Museum is a bit of a museum/art gallery combo. In the 1860s, Christian Dorflinger started producing cut lead crystal works of art. Now, the Dorflinger Glass Museum showcases one of the nation's largest collections of Dorflinger glass to marvel at.
---
Where to Stay: The Best Lake Wallenpaupack Rentals
There's always something to do or enjoy at Lake Wallenpaupack, but first things first! You'll need a great place to stay if you want to ease into that lake vacation lifestyle like a pro! Here is our list of the best Lake Wallenpaupack rentals for your next stay!
---
Eagle's Landing on the Delaware
Eagle's Landing on the Delaware offers three cottage rentals for you to choose from. The cottages can sleep up to twelve people and are nestled right on the riverfront. You and your family can walk right out of your front door and go swimming, kayaking or fishing.
Each cottage has a full kitchen, laundry room, and private courtyard. If you're wondering about the name, it is because the cabins are located in the same region where bald eagles nest in the winter.
If you have an eagle-eye, you may even catch some unforgettable wildlife right outside your window!You are definitely going to want to add the Eagle's Landing to your list of Lake Wallenpaupack rentals to consider for your next vacation.
---
Barry and Kari's Lake Harmony Houses
The upscale lodgings at Barry and Kari's Lake Harmony Houses offer a host of modern amenities like a hot tub, fireplace, and ping pong table to name a few. Some of their properties are located mere minutes from the beach so you don't have to worry about the long shlep to and from after a long day out in the sun.
No matter how many people you need to house or how much you would like to spend, Barry and Kari's Lake Harmony Houses have a rental for every size and budget without sacrificing upscale features.
---
Camptel Poconos
Camptel Poconos is on our list of the best Lake Wallenpaupack rentals because it can give you a taste of camping without having to pitch a tent. Touted as a "glamping resort," Camptel Poconos has tiny homes and repurposed shipping containers for you to stay in.
Each lodging comes with all the expected comforts of home such as a kitchen, bathroom, WiFi, and bedroom with access to outdoor grills and firepits.
It is the perfect place you and someone special to cozy up together while taking in the sounds of nature.
---
Keen Lake Camping & Cottage Resort
If you're willing to go a little bit away from Lake Wallenpaupack to the nearby Lake Keen, the accommodations on this privately-owned property manage to have something for everyone.
Whether you want to stay in a cottage, an RV, a luxurious log cabin, or camp lakeside, Keen Lake Camping & Cottage Resort has something for you.
The beautiful property has a pet beach for your furry friend, boat rentals, a pool, a basketball court, and a game room. You and your children can have hours of fun without ever having to leave the grounds.
If you are looking for something further away from the action, consider renting the house on Hermit Island. This house which sits atop Hermit Island is a 3-acre private island for just you and your guests. Talk about peace and quiet!
---
Babbling Brook Cottages
If large campgrounds aren't your thing or you're just looking for something cozier then renting from Babbling Brook Cottages is the perfect option for you.
Aside from having minimal vacation neighbors, you get the benefit of staying in a unique cottage with a warm atmosphere and plenty of space.
With cottage names like The Stargazer and Toasted Marshmallow, each cottage has access to miles of hiking trails and are just minutes away from waterfalls.
Four out of five of the rentals are pet-friendly and come with an outdoor area perfect for your dog to run around or sunbathe so there's no need to leave the furriest member of your family at home!
---
Frequently Asked Questions about Lake Wallenpaupack Rentals
Where can I rent a boat or a jet ski?
The Boat Shop has you covered. You can rent a Runabout, Pontoon, or personal watercraft through their website. Prices vary depending on how long you want to use the boat for. They do not take reservations for personal watercrafts as those are given out first come first serve.
Where can I book a water skiing or wake surfing lesson?
The Boat Shop offers private or group lessons for both. Lessons must be booked by calling 1-570-226-4062.
Do I need a fishing license to fish at Lake Wallenpaupack?
Yes. Anyone over the age of 16 needs to have a valid fishing license before dropping a line. Short-term permits can be purchased here.
How can I book a stay at one of the vacation rentals in this article?
If one or more of the rentals piqued your interest, make sure to check out their website for pricing and availability. All reservations can be done online through each rentals' website.
No matter where you stay at Lake Wallenpaupack, you're bound to have a great vacation! If you enjoyed this list of the best Lake Wallenpaupack rentals, you might also like:
10 AMAZING THINGS TO DO IN LAKE TAHOE IN THE SUMMER. [+WHERE TO STAY]
10 AMAZING AIRBNB GRAND CANYON VACATION RENTALS
10 OF THE BEST FORT MYERS BEACH RENTALS AVAILABLE FOR YOUR SUMMER VACATION
Pin-It for later: The Best Lake Wallenpaupack Rentals and Your Go-To Guide to a Good Time!