A Walt Disney World trip is magical from the start, but staying at a Disney Resort adds more pixie dust to the pile! If you're looking to save on accommodation, Disney World has 5 resorts in several areas of the property with a friendlier price tag compared to the posh Deluxe resorts, but have some more amenities than the value resorts. Disney calls these resorts "moderate resorts" when you are searching on their site. Don't let the name fool you though, they are still pretty magical if you ask me, and we break down the Best Moderate Disney resorts for you.
In my opinion, this is the premier Moderate Disney resort, and if you are looking for the best amenities of all the Disney World Resorts, this is the place to choose. The new Gran Destino tower is stunning (see video below) and the pool is one of the best at Disney World making it the perfect resort to fit within your Disney budget.
Location, Price, and Transportation:
Perched in the Animal Kingdom area right on a lake, is Coronado Springs Resorts. The rooms start at around $215 per night depending on the season. There is bus transportation to all parks. This is a sprawling resort and has some beautiful grounds. We stayed there on our trip to Disney SMMC in 2018 and had a fantastic time.
Theme and Amenities:
Coronado Springs pays its respects to Spanish explorers, artists, and writers using historical architecture and design. The Mayan ruin pool area has a water slide that runs along the backside of the mayan temple. Us adults enjoyed the hot tub as it is the largest outdoor hot tub at Walt Disney World. The resort also has a 24 hr fitness facility and spa! The redesign of the hotel looks beautiful, so if you are headed to Disney World in the next few years keep this resort in mind.
Dining:
This resort has a large quick service dining hall that does get quite bust + a Sit down dinner location. New lounges are opening soon, and of course, you can enjoy some food and cocktails by the pool bars. There are seriously so many options! Be sure to book early (even a month in advance) for dinner at Toledo, the new signature rooftop restaurant. They have delicious tapas that you definitely don't want to miss out on.
Special Experiences:
Bring the family along for Campfire activities as the sun goes down! Coronado Springs also offers a kids playground and arcade. There are also movies under the stars.
New! The Gran Destino Tower!
The New Gran Destino Tower recently opened at Coronado Springs and it is definitely the highlight of this resort. The new tower is now the main entrance for Disney's Coronado Springs and adds 545 new guest rooms (including 50 suites!) as well as a gorgeous two-story lobby.
Check out Gran Destino's amazing Presidential bedroom suite courtesy of our friends from Tink's Magical Vacations.
Location, Price, and Transportation:
Located in the Epcot resort area, rooms at Disney's Caribbean Beach Resort start at $211 per night depending on the season. There is bus transportation to all parks, and starting Fall of 2019, guests can reach Epcot and Disney's Hollywood Studios via Skyliner gondola! Pretty great perks for a moderate Disney Resort!
Theme and Amenities:
This resort celebrates the Caribbean countries of Jamaica, Trinidad, Barbados, Martinique, and Aruba. The grounds are lush and green. There's also a relaxed and tropical energy combined with colorful cultural touches that create the perfect escape. Your little ones (or big ones!) can also let their imagination fly like Peter Pan with pirate themed rooms.
As for the pool area, it is themed like a Spanish Citadel transporting you back centuries into a fortress. There are even waterslides and water cannons!
Dining:
The Old Port Royale serves as a one-stop shop for all dining options; sit down, quick service, and grab and go. This is super convenient on a busy morning or after long days in the park. At the port, you will find the Centertown Market and the Market Grab & Go. At these places, you can find sandwiches, smoothies, and plenty of snacks. Also, keep in mind you can order pizza to your room through the Disney Resorts Pizza Delivery.
If you would like to have a sit-down Caribbean meal, head to Sebastian's Bistro. Their menu is full of surf and turf options like mahi-mahi and jerk chicken. They have also got some delicious specialty drinks. Reservations are strongly recommended for Sebastian's Bistro, as dinner spots fill up quickly!
Special Experiences:
At this resort, you'll find beach campfires, movies under the stores, and even fishing. Kiddos ages 4 to 12 can jump aboard the Pirate Adventure Cruise! Older kids can collect clues and solve the Mysteries of Barefoot Bay.
Location, Price, and Transportation:
Located in the Disney Springs area, rooms start at $227 a night depending on the season. There is bus transportation to parks, and boat transportation to Disney Springs! I love that it is located so close to Disney Springs, as our family actually loves spending time there on our Disney World vacations. Although this is a moderate Disney Resort, there is plenty to see and do.
Theme and Amenities:
Cobblestone streets, gas lamps, and little balconies will all transport you to beautiful New Orleans. At this resort, you will experience the historic New Orleans French Quarter, filled with romantic and detailed touches. There is a Mardi Gras themed pool with a serpent water slide the kiddos will love, and the Scat Cat's Club for the kids at heart (with cocktails and a one-man jazz band). You can even take a horse-drawn carriage ride around the property!
Dining:
This resort has fewer dining options onsite, but you can find much more at Disney Springs and Port Orleans – Riverside right next door. Simply take a water taxi! There is a quick service restaurant as well as two bar lounges at the resort that gives guests a taste of the French Quarter. Again, you can have pizza delivered to the room after a long day or for lunch straight from Disney.
Special Experiences:
Feel like having a movie night? French Quarter offers complimentary Disney movie screenings outdoors, for all ages! You can also release your inner artist at the Scat Cat Lounge's painting class. Be sure to check the calendar for special experience dates and times.
Location, Price, and Transportation:
This "sister" resort to the French Quarter is also located in the Disney Springs area, with rooms starting at $227. There is bus transportation to all parks, as well as a boat ride to Disney Springs
Theme and Amenities:
The Riverside resort celebrates the southern charm of the Bayou! Royal-themed rooms are available, complete with princess touches from Tiana and her friends. Your family will love the Tom Sawyer-themed pool area with a catch and release fishing hole. This moderate Disney Resort is also dog-friendly!
Dining:
Boatwright's Dining Hall cooks up Southern flare in casual sit down environment (make a reservation just to be safe!). The Riverside Mill Food Court has quick service and grab and go items! For adults, there are two lounges, including a pool bar near the swimming hole. Don't forget, there are tons of dining options nearby at Disney Springs!
Special Experiences:
Need to loosen up before you head into the parks? Guests can enjoy poolside yoga on select mornings! This resort also offers horse-drawn carriage rides and outdoor movie screenings for everyone to enjoy.
Location, Price, and Transportation:
The Cabins at Disney's Fort Wilderness Resort is the only "moderate" priced resort located in the Magic Kingdom Resort Area! Cabins starting at $341 per night (depending on the season!). Bus transportation will take you to all the parks. You and your family could also take a boat cruise to Magic Kingdom, Disney's Wilderness Lodge, and Disney's Contemporary Resort.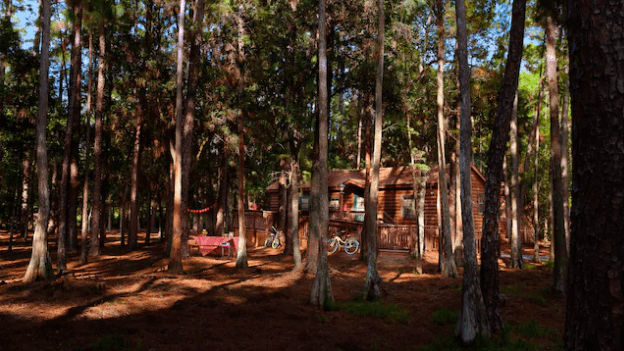 Theme and Amenities:
Explore the classic American frontier and outdoor spirit in a forest setting, filled with wildlife! This resort is dog-friendly, so you can bring your pup along for the adventure. The private rustic cabins are equipped with a full kitchen and all the modern necessities that the pioneers would have loved!
Dining:
The Cabins at Disney's Fort Wilderness Resort is home to the knee-slappin' Hoop-Dee-Doo Musical Revue dinner and show. We actually tried the Hoop-Dee-Doo revue for the first time and it was an absolute blast and the mashed potatoes are A-Mazing! Be sure to reserve in advance! You can visit the Trail's End Restaurant for any meal of the day, buffet style! The Chuck Wagon food truck, open only at dinner time, serves camping classics like burgers and hot dogs. Don't forget to stop by Crockett's Tavern for a cocktail or beer!
Special Activities:
Are your kiddos feeling like Merida? Check out the Fort Wilderness Archery Experience! Families can also join in at Chip 'N' Dale's Campfire Sing-A-Long, or enjoy a pony ride along the trails. Be sure to check the calendar for dates and times!
Something for Everyone!
There is sure to be a moderate Disney World resort that fits your family's needs. Make a list of what is important to you, such as location, amenities, and price. Consider the activities for kiddos, and adults! There is something for every kid, and kid at heart, at a Walt Disney World Resort. Happy planning!
How to Book!
We always recommend using a travel agent for booking a Disney World Vacation. Disney World is a vacation that involves a ton of planning. We highly recommend our friends at Tink's Magical Vacations. They are truly Disney Experts, and not only are their services FREE, but they will save you both time and money. Don't just take our word for it, check out all their amazing testimonials.
Planning a Disney World Trip: Start Here!
Latest posts by Mama Munchkin
(see all)