Magical Walt Disney World vacations may not always have a magical price tag, but staying at one of the Disney Value Resorts can help your family save quite a bit of money! We've created a quick guide to help you choose between the Walt Disney World's 5 value resorts. These are the least expensive of the resorts, but don't let them fool you. You will probably be amazed at all the amenities still offered. Not to mention, you still get the full experience of Disney magic when it comes to service and extra touches.
While we have stayed off property (and still had a wonderful time), there is something more special about staying onsite. We recommend doing so if you have got the chance! Below you will find information on the Disney All Star Resorts, which there are 3 of. These are typically going to be the most friendly to your wallet. You will also find two more resorts; Pop Century and Art of Animation. If you are are looking for more hotel options, Disney offers moderate or deluxe options as well.
#6 Disney's All-Star Resorts
Walt Disney World has three All-Star Value Resorts in close proximity to each other, all offering incredible nightly rates. Rooms start between $99-$112 per night depending on the season and size of your party. All three resorts are located in the Animal Kingdom area and include complimentary bus transportation to all the Disney parks (and Disney Springs). Trust me, having this transportation available to you is a game changer!
Theme and Amenities: Lights! Camera! Action! Take a red carpet vacation and celebrate the movie making magic at the All-Star Movie's Resort! Cool off at Sorcerer Mickey's Fantasia themed pool, or take a dip in the Duck Pond Pool and imagine yourself in The Mighty Ducks movies. There is a kiddie pool as well for those younger movie stars.
Dining: The World Premiere Food Court has something for every celebrity in your party! There are 5 quick service stations to choose from, serving breakfast, lunch, and dinner.
Special Experiences: End your perfect day with a family movie night. The All-Star Movies Resort offers free outdoor movie screenings of your favorite Disney classics. There is also an arcade, playground, and jogging trail for those energetic superstars! Talk about great value for a Disney Resort!
Theme and Amenities: Get your groove on, rock out, or kick those heels up! Music lovers will have the best time at Disney's All-Star Music Resort. Take a dip in the guitar-shaped pool (it's heated!), or check out the Piano Pool and the deck of black and white keys! There is a kiddie pool as well for younger kiddos. This resort also offers Family Suites, that can fit up to 6 rockstars.
Dining: The Intermission Food Court can satisfy all your cravings, with quick service and grab and go items! It is open all day (6:30 am until midnight!), so you can keep your whole party happy and rock on with your day. The resort also features late night pizza delivery, and adults can find specialty beverages at the Singing Spirits Pool Bar.
Special Experiences: Check out free outdoor movie screenings on select nights, drum up some fun at the Note'able Games Arcade, or jazz up your little one's day at the playground!
Theme and Amenities: Embrace your inner athlete at Disney's All-Star Sports Resort. This resort features classic sports like basketball, baseball, football, tennis, and surfing! Catch some rays at the Surfboard Bay Pool, or hit a home run at the Grand Slam Pool.
Dining: Fuel up for the day at the End Zone Food Court! It offers a winning lineup of classic American style burgers, hot dogs, pizza and more. Daily hours are 6:30 am to midnight, so you can find breakfast, lunch, and dinner options. Next to the Surfboard Bay Pool adults can try out refreshing specialty drinks. Don't forget about late night pizza delivery that comes straight to your room!
Special Experiences: Experience complimentary outdoor movies with your team, win big at the Game Point Arcade, or score some fun at the playground! You can also get some cardio in on the jogging trail.
If you can stretch your budget a little bit, check out these two additional Disney Value Resorts! They are slightly more expensive but are incredibly themed.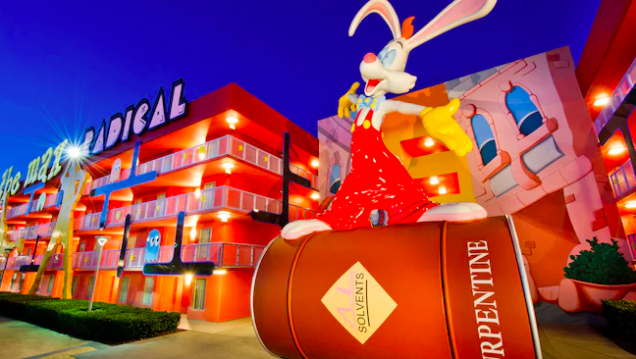 Located in the Wide World of Sports area, rooms at Disney's Pop Century Resort start at $131 per night depending on the season and party size. This is a great value considering all this Disney Resort has to offer. There is complimentary bus transportation to all parks, and beginning Fall of 2019, guests will be able to soar on the Skyliner to visit EPCOT and Disney's Hollywood Studios.
Theme and Amenities: Time for a throwback! Disney's Pop Century Resort takes you back in time to experience the decades. This resort has three pools to choose from, each representing a different decade! Check out the groovy Hippy Dippy Pool for a 1960's vibe, but refurbishment is starting winter 2020, so don't wait! Visit the 1950's at the Bowling Pool, or experience the 1990's at the Computer Pool.
Dining: Everything POP Shopping and Dining has you covered with several quick service options and even merchandise! You can use your My Disney Experience app to mobile order and skip the lines. Adults can enjoy themed beverages at the Petals Pool Bar. Don't forget about pizza delivery that comes right to you while you relax in your room.
Special Experiences: The whole family can enjoy free outdoor movie screenings, a playground in the 70s area, and games from all the decades at the Fast Forward Arcade!
This is my favorite Disney Value Resort as the theming is absolutely incredible from the pools to the rooms. It is such an adorable hotel.
Location, Price, and Transportation: Last but not least on the value resort list, you can find Disney's Art of Animation Resort right across from Pop Century Resort on Hourglass Lake. Rooms start at $157 per night (depending on the season and party size), with free bus transportation to all parks. Just like the Pop Century Resort, guests will be able to take the Skyliner gondolas to EPCOT and Disney's Hollywood Studios starting Fall 2019.
Theme and Amenities: Celebrate the magic of animation, and discover how your favorite Disney characters come to life at the Art of Animation Resort! Stay in a Lion King, Cars, or Nemo themed family suite to add extra magic to your stay. If you have no preference between the movies, you can make it a surprise for check-in! Standard rooms come with Little Mermaid theme.
The resort is dog-friendly, and has the largest resort pool at Walt Disney World! Keep in mind that the Big Blue Pool will be closed for refurbishment starting fall 2020, so swim on over while you can! The Cozy Cone pool and Flippin' Fins pool will still be open so you can cool off with your favorite characters.
Dining: Landscape of Flavors offers quick-service and fast casual American dining from early morning to midnight, so you can satisfy those cravings at any time of day. Adults can find refreshing beverages (even frozen cocktails) at the Drop Off Pool Bar. This resort also offers pizza delivery to your room!
Special Experiences: Check out free outdoor movie screenings, the Pixel Play Arcade, and the Righteous Reef playground with the whole family. You can also use the Play Disney Parks during your stay at the resort!
Perks of Staying at a Disney World Property
There are several perks when you are staying at a Disney World Resort vs. staying off property.
Free Transportation:
When you stay at a Disney Resort, whether it is a deluxe, moderate or value resort you get to enjoy Free Transportation to and from the airport via Magical Express (ending December 31, 2021). During your stay, you can enjoy all of Disney's Free Transportation, including their 300+ buses, the monorails, boats, and the new Disney Gondola's.
Disney Magic –
There is something inexplicably magical about staying at a Disney Resort. You can't just point out one thing that creates that Disney feel, it really is all the little things. From the incredibly helpful staff, to the little things like little tv areas at check-in for the kids and stickers they hand out to kids.
Disney Resorts help carry on that magical experience from the parks to the resort. My kids love coming back to a room with staff playing games in the lobby or pool, and they love when the housekeepers make something into mickey mouse ears. All in all, it is just so much fun to experience a Disney value resort.
Overall
These Walt Disney World Resorts offer a magical stay and at a great value, so check them out! If you need any help planning your vacation, please feel free to reach out to us in the comments. We do consider ourselves the experts after all. And lastly, wherever you decide to rest your head have a magical trip!
How to Book a Disney World Resort Stay:
If you need help planning and booking your magical Walt Disney World vacation, contact our friends at Tink's Magical Vacations. They are truly Disney Experts, and not only are their services FREE, but they will save you both time and money. But don't take just our word for it. check out all of their amazing Testimonials.
Planning a Disney World Trip? – Start Here!
---
---
You May Also Like:
Disney Cruise vs Disney World – Which to Choose and Why
The BEST Grocery Store Near Disney World + WDW Packing List
Disney World Stroller Rental – Should You Bring Your Own?
Latest posts by Mama Munchkin
(see all)