Visiting Walt Disney World Resort, one of the most magical places on Earth, may seem like a dream come true for some, but for others who might have mobility issues, Disney World might not be on the top of their bucket list. My mother in law needed the use of a Disney World Scooter Rental, so we are here to give you the ins and outs of planning a trip with a scooter rental. This includes the pros and cons, where to get a rental, pricing and more.
Who should use a Disney World Scooter Rental
If you are a person who experiences pain when walking or has a hard time getting around, rent a scooter. Typically, when you walk around Disney World you average about 15,000 steps a day or over 5-miles, especially if you are visiting Epcot. This can put a lot of stress on someone and can make the vacation less than magical. Disney World is extremely scooter friendly, with tons of space for scooters to get around and easy parking near big rides. You are on vacation, so if it is tough to get around, whether you are on crutches or just have trouble walking long distance, a Disney scooter rental is a great idea.
Where can you Rent Scooters?
Scooters are available at each of the front of the parks for rental on a first come, first serve basis and no reservations are accepted according to Disney's policies. Rental prices are $50 a day plus a $20 security deposit. At the Disney Water Parks the deposit is $100
Disney World does have some rules about renting the scooters. You must be 18 years old to rent the scooter and operate it and a valid photo ID is required. There is a maximum weight limit of 450 pounds for the Disney World scooter rentals, outside companies might be different. The scooters are not designated to hold more than one person and you are not allowed to ride with a child in your lap. Although, we found the kids will somehow find a way onto your lap.
Save Money and Have the Scooter the Full Time with offsite rentals!
If you aren't into waking up early and waiting in line for your scooter, then you can rent one in advance through an approved third-party service. This also helps if you are spending numerous days at the park. If you rent a scooter from Disney World, it is a one-day rental, where if you rent one from an approved third-party vendor, you can rent it for numerous days at a time, plus it will save you a ton of money.
Save Hundreds of Dollars on a Disney Scooter Rental
We used Florida Mobility Rentals and for 7 days and paid $189 total. If we went through Disney World the same 7 days would have been $350! The rule of thumb is if you are staying 3 days or more definitely book through a company like Florida Mobility Rentals. They have a ton of different wheelchair and ecv rentals, so you can choose the one best suited for you.
Bonus Perks of Renting through a Third Party
Have the Scooter the Entire Time – Not just at the Parks
Renting a scooter from a third-party vendor is also smart if you need assistance getting from the parking lot to the park. If you want to rent the scooter from Disney World itself, you will need to get yourself into the park without the assistance from the scooter. Then means a long walk from the parking lot.
Scooters Dropped off at your hotel!
This is one of the best perks. The scooters are dropped off at one of the Disney World Hotels. That means you don't have to wait in line every day to purchase a scooter.
Here is a list of all the approved third-party vendors through Disney World, like I said before we used Florida Mobility Rentals and they were fantastic :
Buena Vista Scooter Rentals
Best Prince Scooters and Strollers
Apple Scooter
ScooterBug
Some other services might require you to be physically at the drop-off and pick-up locations for your scooter rental. Typically, the scooter rental will give you a one-hour window in which you can drop off or pick up the scooter and you cannot leave the scooter with bell services on your departure day. You also cannot leave the scooter with the bellhop during your stay, so you might want to double check if you use a different service then what is listed above.
Tips when renting a Disney World Scooter
Taking the Mobility Scooter to your Room
If you decide to take a scooter into your room, make sure it is an ADA-accessible room. This will give you more room to store your scooter and access to a ramp so your scooter can easily move to the second floor if needed. You also need to be aware that the scooter needs to fit through the door easily, so be cautious when driving the scooter into your room. Otherwise, ask the resort if you can park the scooter in the hallway.
Transportation with an ECV Rental
The Disney Buses and Boats are setup to pick people up with scooters and properly strap the scooters into place. If you are staying at a Disney World hotel, the buses have a pick up/drop-off location at each hotel with designated signs for whatever park you want to attend that day.
The buses pick up/drop off about every twenty minutes, so you aren't waiting too long. If you are using a scooter look for a roped off line you can wait in. The line is typically larger so you scooter can easily fit between the ropes and make sure your entire party stays together.
When the bus arrives, a ramp will be lowered, and the driver will assist you in getting on the bus with your scooter. Scooters are always the first to load on pickup and the last to unload. When using the scooter on the bus you have two options, you can sit on the scooter while the bus is moving and be strapped in or move to a seat.
Going through Security
Security is the same for everyone who attends Disney World. If you can walk through the metal detector, then you will be asked to park your scooter and walk through. If you are unable to walk, then you can move around the detector and be wanded down. Your bags will also be check regardless if you move from the scooter or not.
Visiting Attractions with a Scooter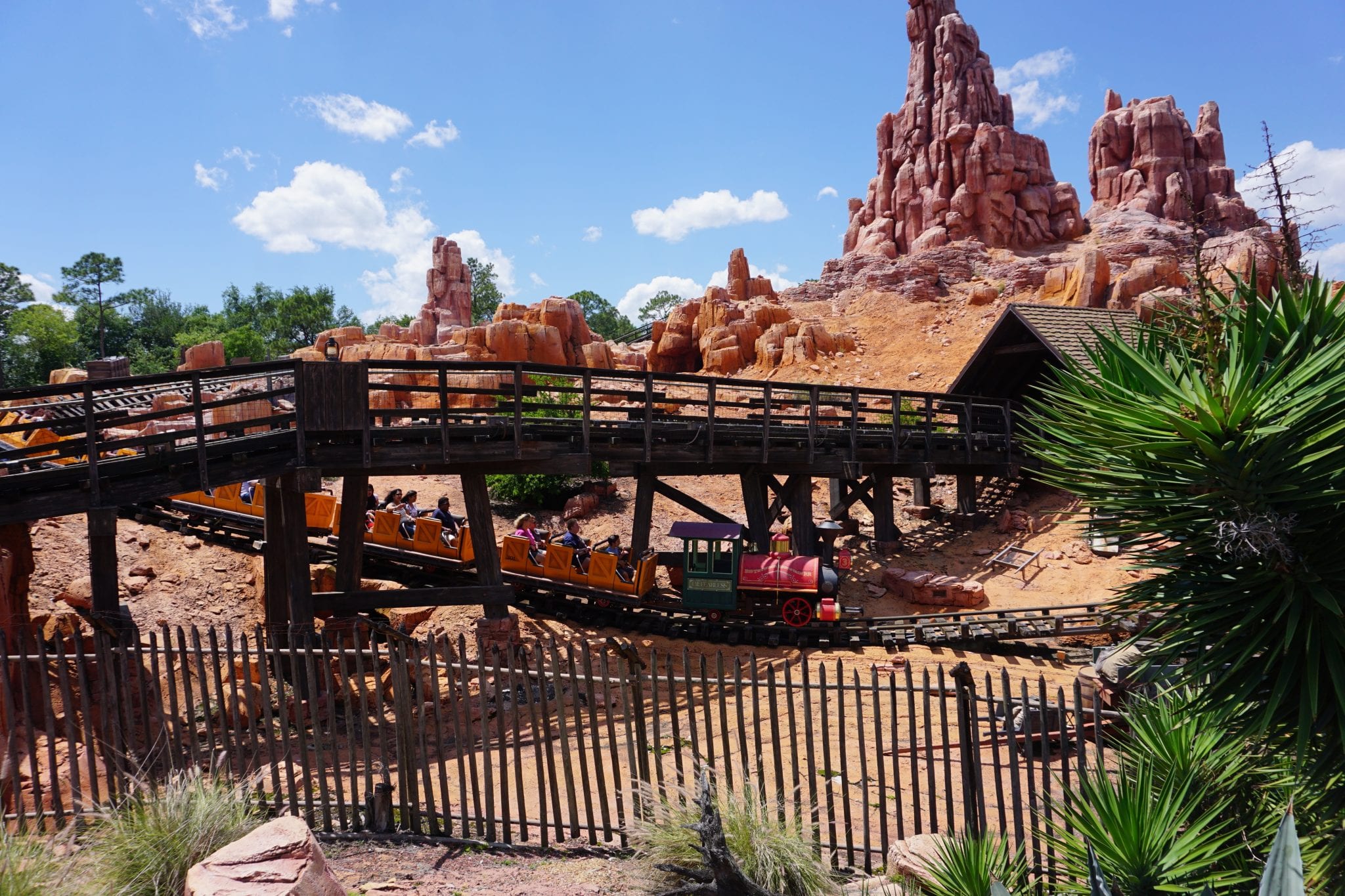 Most of the attractions are scooter friendly but each attraction has its own rules when it comes to the scooter. Usually, you can ride the scooter up until you get onto the ride. Some of the rides do require you to move to a Disney World wheelchair and others will have a shorter line for you to wait in.
Download the My Disney Experience App to see what rides are accessible and which aren't. There are also Cast Members at the beginning of every ride that can assist you if you get a bit confused or don't want to check the app. Also, be prepared because some attractions in the Magic Kingdom just aren't scooter friendly and require a lot of walking but ask a cast member and they will be able to guide you to easily access the ride.
Downsides to renting a Scooter
The one downside to renting a scooter at Disney World is the crowds and the toll it can take of the scooter rider. People typically don't pay attention to the people around them while roaming the parks and that means a lot of people walking in front of or stopping in front of a scooter. Kids constantly dart out in front of the scooter as well, so the driver of the scooter needs to be on their quickest reflex to stop the scooter.
When crowds are large, navigating a scooter through the park could be a slow and difficult process. To help combat this, don't go to Disney World at rope drop and instead enjoy a nice breakfast. Also, try not to go to the most popular rides first and enjoy the park a little, let the crowds thin out. Disney World will always be busy but with a little planning, you can make the trip a little easier for a scooter rider.
If you are wondering more about scooter rentals at Disney World you can visit the guest service tab on the Disney World website. There they tell you more of the rules about scooter rentals and where you can find them at the Disney World parks.
If you have any questions about Disney World Scooter Rental, leave a message in the comments!
If you need help planning and booking your magical Walt Disney World vacation, contact our friends at Tink's Magical Vacations. They are truly Disney Experts, and not only are their services FREE, but they will save you both time and money.
Planning a Disney World Vacation? Start Here
---
---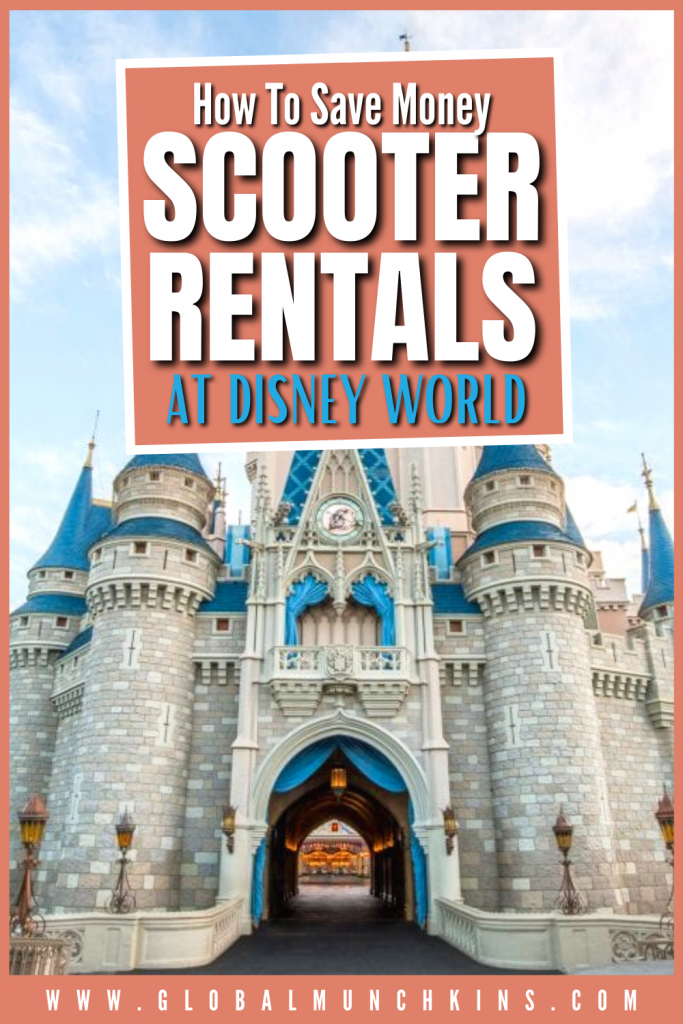 You Might Also Enjoy:
Disney World Tips & Tricks [Over 75 Amazing MUST KNOW Tips]
Disney Cruise vs Disney World- Which to Choose and Why
The Disney World Stroller Rental; Should you Bring Your Own?
Latest posts by Mama Munchkin
(see all)